Chalala Mission Project
Project for Infrastructure
SOM Class of 2017 Chalala Mission Project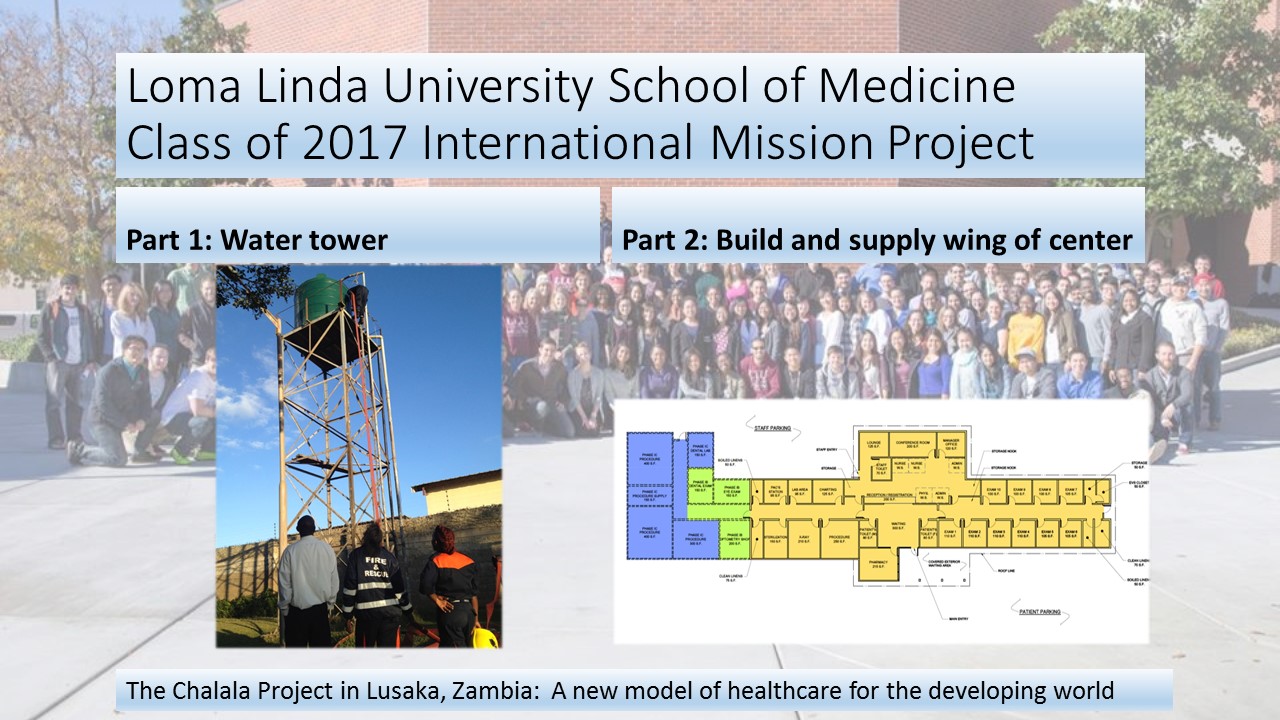 The Ebola crisis in Western Africa, which has already taken so many lives and is yet to be fully resolved, clearly demonstrated the need for continued development of health-care systems in developing countries. Without infrastructure, developing countries are unable to handle a crisis and many lives are lost. In the case of a contagious disease, failure to contain the problem allows it to spread further worsening the crisis.
For the international project of the Loma Linda University School of Medicine Class of 2017, we wanted to do our part in improving health outcomes in developing countries as a class. Taking to mind the old adage "An ounce of prevention is worth a pound of cure," we decided to work with a project in a non-Ebola region to pre-emptively improve a health-care system before a crisis struck.
As a class, we will be supporting a project by Adventist Health International (AHI). We decided to partner with them on a project that is a new model of healthcare for the African continent. In Lusaka, Zambia, an ambitious project has been started in the suburb of Chalala. A modern multi-specialty clinic will be constructed on this property. The Chalala clinic will focus on three key areas as it becomes a model for health-care systems in developing countries.
First, it will seek to prevent the "brain drain" which often occurs in developing countries. This term alludes to the reality that many residents of a developing country who become educated will leave the country for opportunities elsewhere. We want to establish a modern clinic where trained health professionals will be adequately compensated and feel a sense of ownership in a health-care system in their own country.
Second, by incorporating many specialties into one clinic, we will be able to introduce the concept of interdisciplinary education. The United States and other developed countries are just starting to appreciate the benefits of training health-care professionals from different fields together. Our goal is to implement this at the Chalala Clinic in a pioneering effort. Local students will be trained together in an integrated approach to maximize their learning and improve patient care. As an additional benefit, once students appreciate the benefits of this model they will be more likely to invest themselves in furthering this system within their own country.
Third, the benefit of providing a range of services in partnership with a primary care clinic is that a sustainable model can be created without reducing health-services to the under-served. At Chalala clinic, certain optional, elective procedures paid for by those who can afford them will be used to subsidize essential medical care to those who cannot afford treatment. In this manner, Chalala clinic will be self-sustaining, not dependent on outside donors, while still providing compassionate care to those in need.
As a university group, specifically the Class of 2017 of the Loma Linda University School of Medicine, we are excited about this opportunity to partner with Adventist Health International and the Chalala Clinic Project. This project will assist with funding the construction of the Chalala clinic and the purchase of initial medical supplies. Please look through the other parts of our website for more information. We hope you choose to partner with us on this exciting project!
Class of 2017
School of Medicine
Loma Linda University
Amount raised so far = $13,771