R. Bruce Wilcox, PhD
Professor
Basic Sciences
Division of Biochemistry
School of Medicine
Loma Linda University
Loma Linda, CA 92350
U.S.A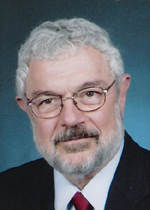 Research Interest
Selected Publications
Wilcox RB, Nelson JC (2009) Counterpoint: legitimate and illegitimate tests of free-analyte assay function: we need to identify the factors that influence free-analyte assay results.Clin Chem. 55(3):442-4.
Nelson JC, Yoo EW, Wilcox RB (2008) Accuracy issues in free thyroxine testing methods. Semin Perinatol. 32(6):403-6. Review.
Fritz KS, McKean AJ, Nelson JC, Wilcox RB. (2008) Analog-based free testosterone test results linked to total testosterone concentrations, not free testosterone concentrations. Clin Chem. 54(3):512-6.
Fritz KS, Weiss RM, Nelson JC, Wilcox RB. (2007) Unequal concentrations of free T3 and free T4 after ultrafiltration. Clin Chem. 53(7):1384-5.
Fritz KS, Wilcox RB, Nelson JC. (2007) Quantifying spurious free T4 results attributable to thyroxine-binding proteins in serum dialysates and ultrafiltrates. Clin Chem. 53(5):985-8.
Fritz KS, Wilcox RB, Nelson JC. (2007) A direct free thyroxine (T4) immunoassay with the characteristics of a total T4 immunoassay. Clin Chem. 53(5):911-5.
Nelson JC, Wang R, Asher DT, Wilcox RB. (2004) The nature of analogue-based free thyroxine estimates. Thyroid. 14(12):1030-6.
Kaptein EM, Wilcox RB, Nelson JC.(2004) Assessing thyroid hormone status in a patient with thyroid disease and renal failure: from theory to practice. Thyroid. 14(5):397-400.
isher DA, Nelson JC, Carlton EI, Wilcox RB. (2000) Maturation of human hypothalamic-pituitary-thyroid function and control. Thyroid. 10(3):229-34.
Wang R, Nelson JC, Weiss RM, Wilcox RB. (2000) Accuracy of free thyroxine measurements across natural ranges of thyroxine binding to serum proteins. Thyroid. 10(1):31-9.