Ravi Goyal, MD, PhD
Assistant Professor
Basic Sciences
Division of Physiology
School of Medicine
Loma Linda University
Loma Linda, CA 92350
U.S.A
Phone:  (909) 558-4352
Fax:  (909) 558-4029
E-mail: rgoyal@llu.edu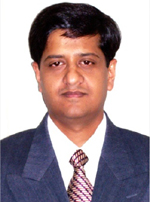 Research Interest
Despite groundbreaking work in defining the genetic and epigenetic basis for cancer, hypertension, type-2 diabetes, neurodegenerative disorders, and other clinical conditions; therapies still remain palliative. I amd attempting to develop an innovative approach to treat underlying epigenetic defects (promoter DNA methylation/demethylation) common to these disorders. Several studies have demonstrated significant changes in DNA methylation, which switches DNA between Hetrochromatin and Euchromatin, an important factor in the pathogenesis of these disorders. Furthermore, hypermethylation of Angiotensin Converting Enzyme, BRACA1, p53, and hypomethylation of c-myc, ras, and other genes involved in these disorders, provide rationale to devise therapies that targets DNA methylation. During the past several decades, attempts have been made to target DNA methylation by pharmacological agents such as 5-aza-2'-deoxycytidine, arabinofuranosyl-5-azacytosine, MG-98 and others. Cell/Gene specificity provides the single greatest challenge, however. We have developed an innovative approach to overcome this. The potential to translate these approaches to the bedside, is a the major strategic plan. We start with identifying the alterations in promoter DNA methylation with diseases. Then with novel zinc finger proteins, which can recognize specific DNA sequences, we are conducting experiments to fuse methylase or demethylase enzymes, and attempt to change methylation in a desired direction, in both cell culture and animal models, to achieve the promise of gene therapy. The approaches are not limited to the diseases mentioned above; they will be beneficial in future research in many ways. For instance, it will help to fulfill the dream of stem cell therapy by directing cellular differentiation, generating epigenetic transgenic mice strains by selectively targeting, at the embryonic stage, promoter DNA methylation of a single gene at specific CpG Island. Importantly, the ability to selectively modify promoter DNA methylation, as a therapy in vivo, could revolutionize the treatment of diverse genetic diseases, and fulfill the therapeutic promise of the Human Genome Project.
The second project is to elucidate the mechanisms involved in long-term hypoxia acclimatization. As widely accepted, in response to hypoxia exposure, hypoxia inducible factor 1α (HIF1α) plays a crucial role in cell survival. Notably, with long-term hypoxia exposure HIF1α levels returns to the basal level. Mechanisms are not known, however. Moreover, silencing of HIF1α in the acute phase of hypoxia abolishes the long-term hypoxia-induced up-regulation of a number of genes. Thus, HIF1α appears to be crucial in long-term regulation of these genes, despite its return to the basal level with continued hypoxia. This may be possible through epigenetic modifications of the DNA by HIF1α. Thus, to elucidate HIF1α-mediated long-term gene regulation and to gain mechanistic insights, we are currently examining HIF1α induced transcriptional epigenetic changes and cellular adaptive responses. Furthermore, our studies demonstrate post-translational phosphorylation of ERK with chronic hypoxia. In the current studies we are conducting experiment to test the hypothesis that hypoxia exposure leads to HIF1α-mediated changes in the gene expression by transcriptional epigenetic regulation. We also are working on the associated hypothesis that retrograde mitochondrial signaling is involved in the constitute ERK phosphorylation.
Selected Publications
Goyal R, Wong C, Wickle, JV, Longo LD. Antenatal maternal protein deprivation: Sexually dimorphic programming of the pancreatic renin-angiotensin system. Accepted in Journal of the Renin-Angiotensin-Aldosterone System.
Goyal R and Longo LD. Maternal Protein Deprivation: Sexually Dimorphic Programming of Hypertension in the Mouse. Accepted in Hypertension Research.
Goyal R and Longo LD. Gene Expression in Sheep Carotid Arteries: Major Changes with Maturational Development. Pediatric Res. 2012 PMID 22565503
Hartman RE, Kamper J, Goyal R, Stewart JM, Longo LD. Blood Pressure and Behavioral Spectrum in Mice. Physiology and Behavior. Nov 2011 PMID 22154805
Goyal R, Henderson DA, Chu, N, Longo LD. Ovine Middle Cerebral Artery Characterization and Quantification of Ultrastructure and Other Features: Changes with Development. Am J Physiol Regul Integr Comp Physiol. 2011 PMID 22116510.
Goyal, R., Papamatheakis, D., Loftin, M., Vranchken, K., Dawson, A., Osman, N., Blood, AB, Pearce, W., Longo, L. & Wilson, S. (2011c) Long-Term Maternal Hypoxia: The Role of Extracellular Ca2+ Entry During Serotonin-Mediated Contractility in Fetal Ovine Pulmonary Arteries. Reprod Sci. 2011 Oct;18(10):948-62.
Papamatheakis DG, Vemulakonda S, Blood Q, Goyal R, Rbalcava M, Vrancken K, Bennett A, Dawson A, Osman NJ, Blood AB, Pearce WJ, Longo LD, Wilson SM. Preservation of serotonin-mediated contractility in adult sheep pulmonary arteries following long-term high-altitude hypoxia. High Alt Med Biol. 2011 Fall;12(3):253-64
Goyal R, Leitzke A, Goyal D, Gheorghe CP, Longo LD. Antenatal Maternal Hypoxic Stress: Adaptations in Placental Renin-Angiotensin System. Placenta 32(2):134-9, 2010
Goyal R, Leitzke A, Goyal D, Gheorghe CP, Longo LD. Antenatal Maternal Hypoxic Stress: Adaptations in Fetal Lung Renin-Angiotensin System. Reproductive Sci. 18(2):180-189, 2011
Goyal R, Mittal A, Chu N, Arthur RA, Zhang L, Longo LD. Maturation and Long-Term Hypoxia-Induced Acclimatization Responses in PKC-Mediated Signaling Pathways in Ovine Cerebral Arterial Contractility. Am J Physiol, 299(5):R1377-86 2010
Goyal R, Mittal A, Chu N, Zhang L, Longo LD. Alpha1-Adrenergic Receptor Subtype Function in Fetal and Adult Cerebral Arteries. Am J Physiol, 298(6):H1797-806, 2010.
Goyal R, Yellon S, Longo LD, Greenwood EM, Placental gene expression in a rat 'model' of placental insufficiency. Placenta, 31(7): 568-575, 2010.
Gheorghe CP, Goyal R, Mittal AS, and Longo LD. Gene expression in the placenta: Maternal stress and epigenetic responses. Intl J Devel Biol, 54:507-523, 2010.
Goyal R, Goyal D, Leitzke A, Longo L.D. Brain renin-angiotensin system: Fetal epigenetic programming by maternal low protein diet. Reprod Sci, 17(3):227-238, 2010.
Goyal R, Galffy A, Fields, SA, Mittal A, Longo LD. Maternal protein deprivation-mediated alterations in systemic renin-angiotensin system in fetal mice. Reprod Sci, 16(9):894-904, 2009.
Goyal R, Angermann JE, Ostrovskaya O, Buchholz JN, Smith GD, Wilson, SM. Enhanced capacitative calcium entry and sarcoplasmic-reticulum calcium storage capacity with advanced age in murine mesenteric arterial smooth muscle cells. Exp Gerontol 44: 201-207, 2009.
Gheorghe CP, Goyal R, Holweger JK, and Longo LD. Placental gene expression responses to maternal protein restriction in the mouse. Placenta, 30(5):411-7, 2009.
Goyal R, Mittal A, Chu N, Zhang L, Longo LD. Maturation and role of PKC-mediated contractility in ovine cerebral arteries Am J Physiol, 294(6): H2242-52, 2009.
Goyal R, Creel KD, Chavis EJ, Smith GD, Longo LD and Wilson SM. Maturation of intracellular calcium homeostasis in sheep pulmonary arterial smooth muscle cells. Am J Physiol Lung Cell Mol Physiol 295: L905-L914, 2008.
Ostrovskaya O, Goyal R, Osman N, McAllister CE, Pessah IN, Hume JR and Wilson SM. Inhibition of ryanodine receptors by 4-(2-aminopropyl)-3,5-dichloro-N,N-ethylaniline (FLA 365) in canine pulmonary arterial smooth muscle cells. J Pharmacol Exp Ther 323: 381-390, 2007.