Training Director
Carlos Fayard, PhD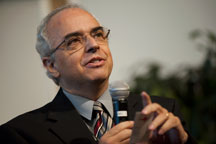 Dr. Carlos Fayard completed his undergraduate training in Argentina, and pursued his doctoral degree in psychology at the California School of Professional Psychology in San Diego. He has been involved in the training of medical students, Psychiatry residents, and Clinical Psychology interns since 1988. After serving for 6 years as a bilingual psychologist at Patton State Hospital, he joined Loma Linda University Department of Psychiatry where he currently is in private practice, working with individuals and couples. In addition, Dr. Fayard is the Director of Psychotherapy Training for the Psychiatry residency program, the Chair of the Committee on Religion & Psychiatry, and coordinates the Religion & Psychiatry elective for senior medical students. As part of the Clinical Psychology internship program, Dr. Fayard teaches a year-round seminar on Diversity and Spirituality as applied to the process of psychotherapy, and an Advanced Evidence-Based Psychotherapy Seminar, which is a joint course for Clinical Psychology interns and Psychiatry Residents. He provides weekly individual supervision to Clinical Psychology interns and Psychiatry residents.
Dr. Fayard is the Assistant Director for Mental Health Affairs in the Health Ministries Department of the world headquarters of the Seventh-day Adventist church. In this capacity, he has lectured and consulted locally and internationally. He is also a consultant to the Catholic Diocese of San Bernardino, California.
Area of specialty: Integration of spirituality and psychotherapy
Clinical & Research interests: Integration of spirituality and psychotherapy; neurobiological basis of spirituality
Selected references:
Fayard, C., Hernandez, B. C., Anderson, B. & Harding, G. IV (Eds.). (2011). A Christian worldview and mental health: Adventist perspectives. Berrien Springs, MI: Andrews University Press.
Fayard, C., Pereau, M. J., Ciovica, A. (2009). 'Love the Lord with all your mind': Explorations on a possible neurobiology of the experience of God and some implications for the practice of psychotherapy. Journal of Psychology and Christianity, 28, 167-181.
---
Program Faculty
ANTONIA CIOVICA, PH.D.
Associate Program Director
---
Supervisors
Maria Arellano, PhD
William Britt, III, PH.D., ABN
Scott Wenger, PhD