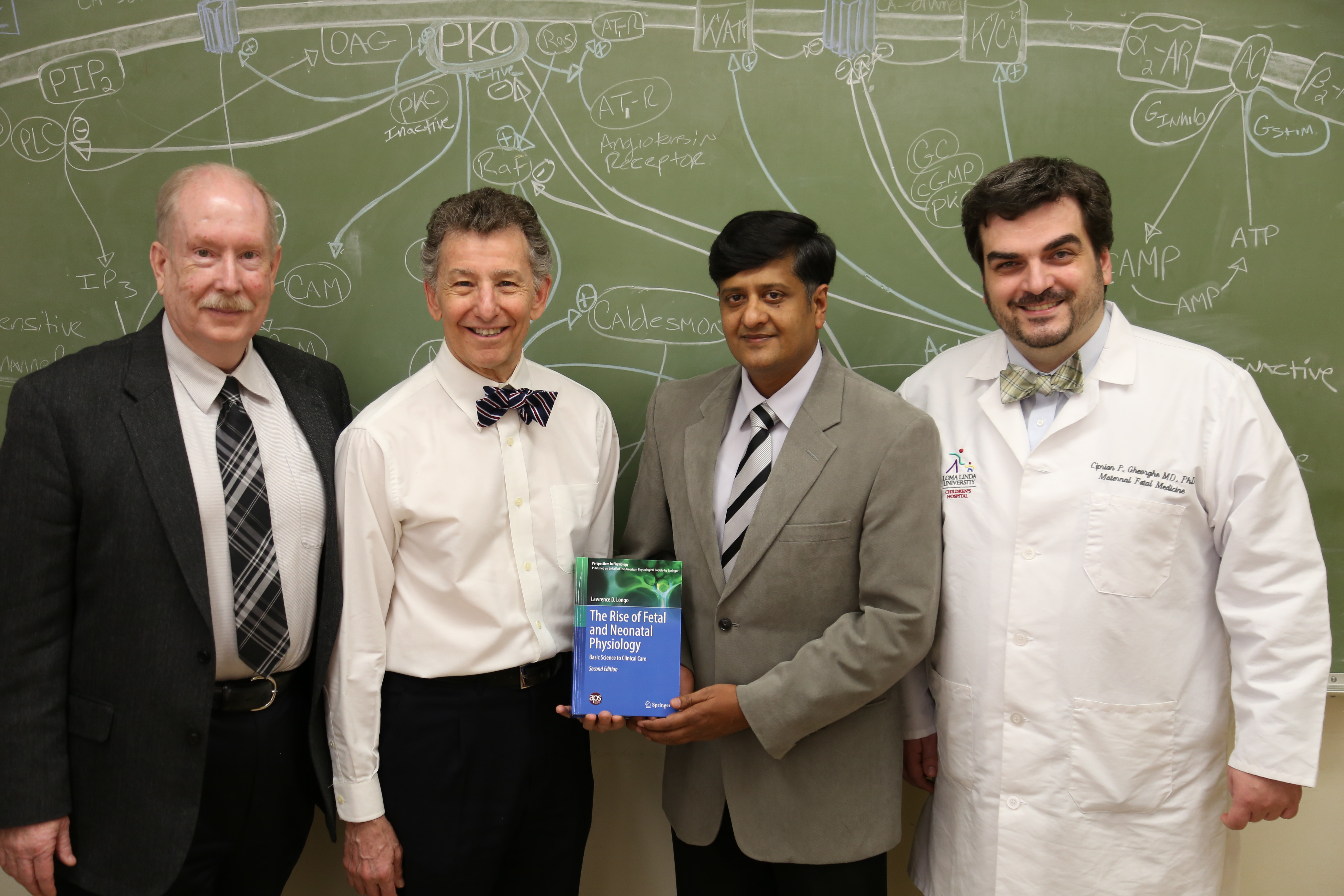 By khwang - April 25, 2018
In 2013, Lawrence D. Longo, MD, published "The Rise of Fetal and Neonatal Physiology," a history of the development of the field of fetal physiology. The well-regarded book was a featured publication of the 125th anniversary of the American Physiological Society and researchers clamored for more topics to be covered. This led to Longo's effort to prepare a second expanded revision. He labored valiantly to conclude this work, but the cumulative effect of time and faltering health left this revision unfinished. To honor his life's work, colleagues and trainees from the Lawrence D. Longo, MD Center for Perinatal Biology collaborated to bring the book to publication.
Twenty years ago, no one could imagine that a visiting college student who had heard Longo lecture on vascular development would work with and contribute to the revision of "The Rise of Fetal and Neonatal Physiology: Second Edition." Ciprian Gheorghe, then a sophomore at Pacific Union College, left the lecture knowing that he wanted to come back to Loma Linda University School of Medicine to learn from Longo.
"I was impressed with how humble he was. I had read his papers and knew the caliber of his work, and yet he was so unassuming," Gheorghe said. "I really wanted to research with him." In 1999 he would become Longo's last graduate student.
Gheorghe would go on to study the effect fetal stress has on the placenta and how fetal stress leads to lifelong disease. Longo would encourage him to pursue a residency at the Albert Einstein College of Medicine in New York and fellowships at Yale University School of Medicine and the University of Texas Health Science Center. Longo believed that each scientist had the opportunity to "make a great contribution to life," Gheorghe said, and he pushed his students to pursue training all over the world.
This tenacious spirit drove Longo to work on his second book until his death, transforming his hospital room into an office stacked high with papers and reference material. When word broke of his passing on Jan. 5, 2016, his colleagues knew the book must be published.
Led by professor Steven M. Yellon, PhD, with the assistance of professor Michael A. Kirby, PhD, assistant professor Gheorghe, MD, PhD, as well as former postdoctoral fellow and associate professor, Ravi Goyal, MD, PhD, and Justo Alonso, MD, set off on a year-long effort to complete "The Rise of Fetal and Neonatal Physiology: Second Edition" – a comprehensive and expanded history of the field of fetal and neonatal development. In keeping with Longo's vision, the book pulls threads from early scientific discovery in the 17th century, through to the present day, making connections between the first observations of fetal physiology and modern-day research questions and challenges. The second edition is nearly twice as long as the first edition.
"The first book is the only title of its kind," Kirby said. "It became a landmark text for graduate students and residents."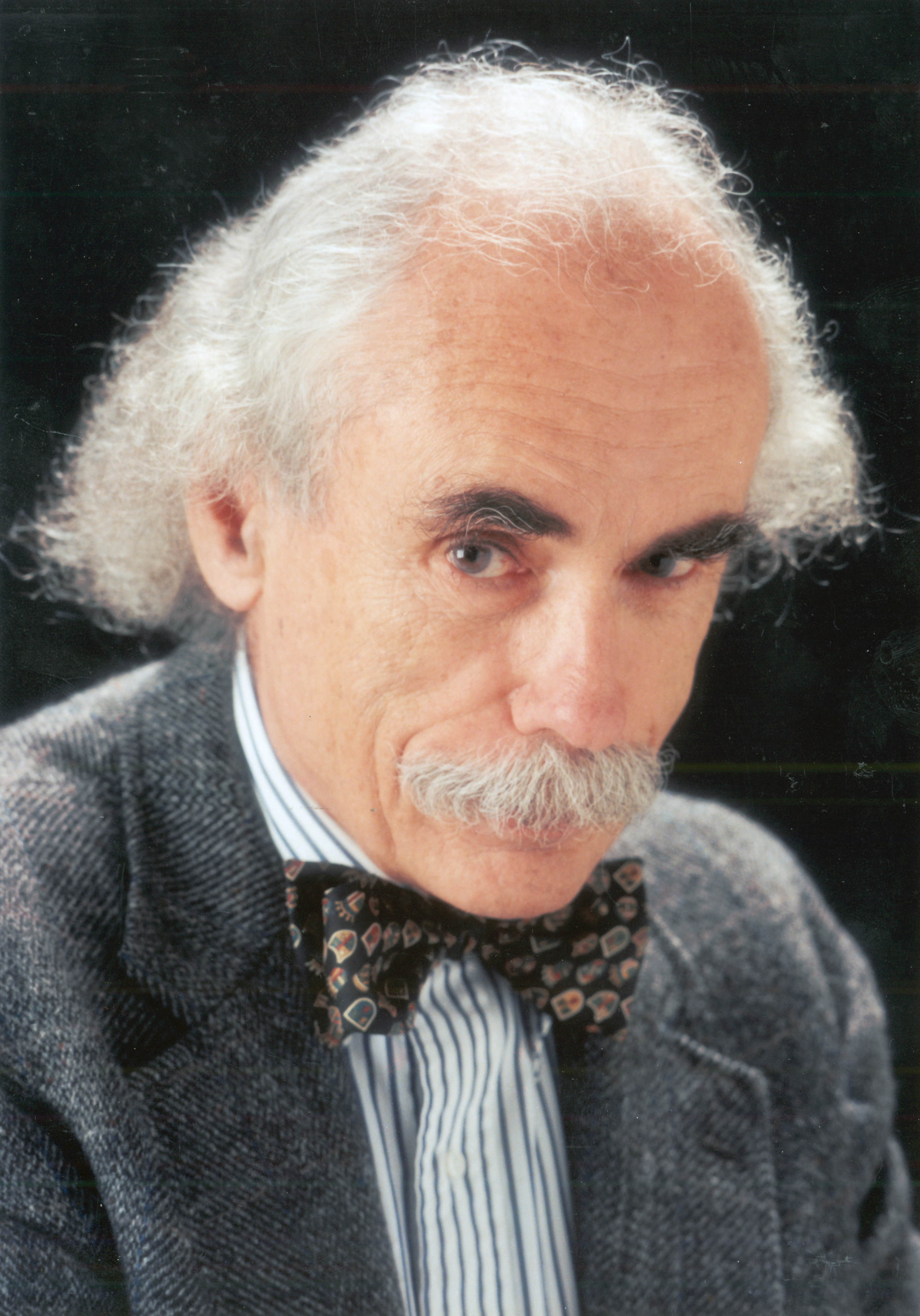 As a medical historian and personal friend of many of the founding fathers of the field, Longo strove to cultivate an appreciation among young investigators and clinical researchers of the work that came before them with the first book. It became a best-seller among those in the field, with more than 30,000 individual chapter downloads from the publisher. But it wasn't long before Longo was hard at work on the second edition, expanding sections, adding chapters and hunting down references based on the dozens of letters he received after publication of the first.
His thirst to understand was insatiable, said Yellon, who served as senior editor of the second edition. "He wanted to help others understand, and he didn't feel like he had done enough. With over 300 papers published and an amazing curriculum vitae, he still felt humble enough to want to do more."
That humility coupled with his exceptional body of work is what set him apart from other researchers, said Kirby, who first met Longo in 1986 when he joined the then-named Center for Perinatal Biology at LLUSM. Despite a meteoric rise to scientific prominence that included 44 years of continuous funding from the NIH, contributions to the Surgeon General's report on smoking and maternal health, and establishment of the Reproductive Scientist Development Program, Longo never sought the limelight. His only focus was on the health of mothers and babies.
"He used to say with better understanding comes better treatments and with better treatments comes better survival rates," Kirby added.
Longo's drive to understand why – why do women who smoke have babies with low birth weights, why does the cervix soften and disappear during labor, why do maternal stressors have lasting impacts on the health of their children – is what helped advance the field and launch the careers of many young scientists.
Sitting in Longo's former office, Ravi Goyal is an example of the kind of voracious researcher and clinical scientist Longo helped to shape.
In 2005, when Goyal was a PhD candidate at the University of Mississippi, his adviser contacted Longo to ask about a hypoxic sheep model bred 12,500 feet above sea level. Straightaway, Longo sent tissue samples to their lab. Where others would have likely coveted high-priced experimental samples, Longo frequently sent sheep tissue to colleagues all around the world.
The price tag was no issue to him, Goyal said. "He used to say, if you think research is expensive, try disease."
After completing his PhD, Goyal pursued a postdoctoral position with Longo and later joined the faculty at LLUSM. When Longo died, Goyal took over his National Institutes of Health grants, which had three years of funding remaining. Looking back, Goyal said Longo had a lasting influence on his writing and on his research philosophy.
"His thing was don't just keep doing what you're doing, keep reinventing yourself," he explained. "If someone has figured out what you're trying to do, don't keep trying to do that thing. Take the next step. Let's leap over and start over."
Gheorghe, who joined the faculty of the School of Medicine in 2017, couldn't agree more with Goyal. Although he was one of the last graduate students to work in Longo's lab, Gheorghe watched him change his research interests and focus many times throughout the last decade of his career. Longo urged him to always be intellectually curious and to not be afraid of where the data was heading. If it weren't for him, Gheorghe said, he would never have pursued fetal and neonatal research. "He completely changed my specialty and interests," Gheorghe said. "You can find his fingerprints all over so many people's careers. That was always his focus: Building people up to succeed and recruiting talented people to Loma Linda."
Due to the generosity of Lawrence D. Longo's children – Camilla Davis, Celeste de Tessan, Anthony Longo and Elisabeth Longo – all proceeds from the book will be donated to the American Physiological Society.
Steven M. Yellon, PhD, member of the Center since 1985, served as senior editor on this project; Michael A. Kirby, PhD, member of the Center since 1986, served as editor; Ciprian Gheorghe, MD, PhD, doctoral student with Dr. Longo 2000-2006, contributed to chapters 11 and 12; Ravi Goyal, MD, PhD, postdoctoral fellow with Dr. Longo 2007-2009, contributed to chapters 12 and 15; Justo Alonso, MD, Fogarty fellow with Dr. Longo 1988, contributed to chapter 14; and Jimin Suh and Charlotte Marshall served as editors' assistants. Dr. Longo taught us all, in word and deed, to persevere.