Assistant Professor
Basic Sciences
Division of Biochemistry
School of Medicine
Mortensen 219
11085 Campus St
Loma Linda University
Loma Linda, CA 92354
U.S.A
Phone:(909) 558-7691
Fax:(909) 558-4887
E-mail: junternaehrer 'at' llu.edu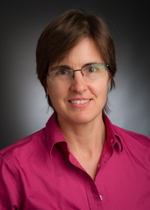 Research Interest
During mammalian development, transcription factors and microRNAs both provide input to direct gene expression and determine lineage decisions. Some of these same pathways are recapitulated during oncogenesis and metastasis. Transcription factors controlling epithelial-mesenchymal transition are important both during development and in cancer. MiRNAs are critical for control of gene expression and thus cell fate decisions and are often involved in temporal switches in lineage decisions. These two classes of developmental regulators have been shown to influence one another, but their mutual regulatory functions are not completely understood. In the Unternaehrer lab we use tissue culture and mouse models to study the interplay between EMT factors and miRNAs in development and in cancer. We model gastrulation by differentiating mouse embryonic stem cells (ESC) to the primitive streak fate. We have characterized several ovarian cancer cell lines and patient-derived cells for their epithelial vs. mesenchymal phenotype, and for their stemness characteristics. We are using an orthotopic patient-derived ovarian cancer xenograft (PDX) model to study the roles of EMT transcription factors including Snail, and miRNAs including let-7, in ovarian cancer progression and metastasis. The PDX is being used as a preclinical model to test manipulation of these factors as a therapy for ovarian cancer.
A major focus of our research is the mechanism by which stemness is regulated. Loss of let-7 miRNA is a contributor to the cancer stem cell (CSC) phenotype in many cancers. The mechanisms that decrease let-7 expression in cancer are incompletely understood, and we are examining regulation at transcriptional and epigenetic levels.  
During postdoctoral studies at Harvard Medical School, Dr. Unternaehrer studied the mechanism of reprogramming mouse and human somatic cells to pluripotency. Surprisingly, factors involved in EMT are upregulated and play a positive role in the early stages of the induced pluripotent stem (iPS) cell generation process. The miRNA let-7 is downregulated at time points when these factors are increased, and Snail binds the promoter of several let-7 family members.
Selected Publications
Wang H, Unternaehrer JJ. Epithelial-mesenchymal Transition and Cancer Stem Cells: At the Crossroads of Differentiation and Dedifferentiation. Dev Dyn. 2019 Jan;248(1):10-20. doi: 10.1002/dvdy.24678. Epub 2018 Nov 22. Review. PubMed PMID: 30303578.
Cajigas-Du Ross CK, Martinez SR, Woods-Burnham L, Durán AM, Roy S, Basu A, Ramirez JA, Ortiz-Hernández GL, Ríos-Colón L, Chirshev E, Sanchez-Hernandez ES, Soto U, Greco C, Boucheix C, Chen X, Unternaehrer J, Wang C, Casiano CA.RNA sequencing reveals upregulation of a transcriptomic program associated with stemness in metastatic prostate cancer cells selected for taxane resistance. Oncotarget. 2018 Jul 13;9(54):30363-30384. doi: 10.18632/oncotarget.25744. eCollection 2018 Jul 13. PubMed PMID: 30100995; PubMed Central PMCID: PMC6084384.
Hojo N, Huisken AL, Wang H, Chirshev E, Kim NS, Nguyen SM, Campos H, Glackin CA, Ioffe YJ, Unternaehrer JJ. Snail knockdown reverses stemness and inhibits tumour growth in ovarian cancer. Sci Rep. 2018 Jun 7;8(1):8704. doi: 10.1038/s41598-018-27021-z. PubMed PMID: 29880891; PubMed Central PMCID: PMC5992154.
Hao J, Unternaehrer J, Cui X, Cheng N, Oji Y. Regulation of Stemness in Carcinoma Cells. Stem Cells Int.2017;2017:7681769. doi: 10.1155/2017/7681769. Epub 2017 Jul 27. PubMed PMID: 28819365; PubMed Central PMCID: PMC5551519.
Nicholas DA, Zhang K, Hung C, Glasgow S, Aruni AW, Unternaehrer J, Payne KJ, Langridge WHR, De Leon M. Palmitic acid is a toll-like receptor 4 ligand that induces human dendritic cell secretion of IL-1β. PLoS One. 2017;12(5):e0176793. doi: 10.1371/journal.pone.0176793. eCollection 2017. PubMed PMID: 28463985; PubMed Central PMCID: PMC5413048.
Kim NS, Mbongue JC, Nicholas DA, Esebanmen GE, Unternaehrer JJ, Firek AF, Langridge WH. Chimeric Vaccine Stimulation of Human Dendritic Cell Indoleamine 2, 3-Dioxygenase Occurs via the Non-Canonical NF-κB Pathway. PLoS One. 2016;11(2):e0147509. doi: 10.1371/journal.pone.0147509. eCollection 2016. PubMed PMID: 26881431; PubMed Central PMCID: PMC4755608.
Unternaehrer JJ, Zhao R, Kim K, Cesana M, Powers JT, Ratanasirintrawoot S, Onder T, Shibue T, Weinberg RA, Daley GQ.The epithelial-mesenchymal transition factor SNAIL paradoxically enhances reprogramming. Stem Cell Reports. 2014 Nov 11;3(5):691-8. doi: 10.1016/j.stemcr.2014.09.008. Epub 2014 Oct 11. PubMed PMID: 25316190; PubMed Central PMCID: PMC4235745.
Zhao R, Deibler RW, Lerou PH, Ballabeni A, Heffner GC, Cahan P, Unternaehrer JJ, Kirschner MW, Daley GQ. A nontranscriptional role for Oct4 in the regulation of mitotic entry. Proc Natl Acad Sci U S A. 2014 Nov 4;111(44):15768-73. doi: 10.1073/pnas.1417518111. Epub 2014 Oct 16. PubMed PMID: 25324523; PubMed Central PMCID: PMC4226071.
Shyh-Chang N, Locasale JW, Lyssiotis CA, Zheng Y, Teo RY, Ratanasirintrawoot S, Zhang J, Onder T, Unternaehrer JJ, Zhu H, Asara JM, Daley GQ, Cantley LC. Influence of threonine metabolism on S-adenosylmethionine and histone methylation. Science. 2013 Jan 11;339(6116):222-6. doi: 10.1126/science.1226603. Epub 2012 Nov 1. PubMed PMID: 23118012; PubMed Central PMCID: PMC3652341.
Xu C, Fan ZP, Müller P, Fogley R, DiBiase A, Trompouki E, Unternaehrer J, Xiong F, Torregroza I, Evans T, Megason SG, Daley GQ, Schier AF, Young RA, Zon LI. Nanog-like regulates endoderm formation through the Mxtx2-Nodal pathway. Dev Cell. 2012 Mar 13;22(3):625-38. doi: 10.1016/j.devcel.2012.01.003. PubMed PMID: 22421047; PubMed Central PMCID: PMC3319042.
Onder TT, Kara N, Cherry A, Sinha AU, Zhu N, Bernt KM, Cahan P, Marcarci BO, Unternaehrer J, Gupta PB, Lander ES, Armstrong SA, Daley GQ. Chromatin-modifying enzymes as modulators of reprogramming. Nature. 2012 Mar 4;483(7391):598-602. doi: 10.1038/nature10953. PubMed PMID: 22388813; PubMed Central PMCID: PMC3501145.
Kim K, Zhao R, Doi A, Ng K, Unternaehrer J, Cahan P, Huo H, Loh YH, Aryee MJ, Lensch MW, Li H, Collins JJ, Feinberg AP, Daley GQ. Donor cell type can influence the epigenome and differentiation potential of human induced pluripotent stem cells. Nat Biotechnol. 2011 Nov 27;29(12):1117-9. doi: 10.1038/nbt.2052. PubMed PMID: 22119740; PubMed Central PMCID: PMC3357310.
Unternaehrer JJ, Daley GQ. Induced pluripotent stem cells for modelling human diseases. Philos Trans R Soc Lond B Biol Sci. 2011 Aug 12;366(1575):2274-85. doi: 10.1098/rstb.2011.0017. Review. PubMed PMID: 21727133; PubMed Central PMCID: PMC3130418.
Bloom O, Unternaehrer JJ, Jiang A, Shin JS, Delamarre L, Allen P, Mellman I. Spinophilin participates in information transfer at immunological synapses. J Cell Biol. 2008 Apr 21;181(2):203-11. doi: 10.1083/jcb.200711149. Epub 2008 Apr 14. PubMed PMID: 18411312; PubMed Central PMCID: PMC2315669.
Jiang A, Bloom O, Ono S, Cui W, Unternaehrer J, Jiang S, Whitney JA, Connolly J, Banchereau J, Mellman I. Disruption of E-cadherin-mediated adhesion induces a functionally distinct pathway of dendritic cell maturation. Immunity. 2007 Oct;27(4):610-24. doi: 10.1016/j.immuni.2007.08.015. Epub 2007 Oct 11. PubMed PMID: 17936032; PubMed Central PMCID: PMC2151979.
Unternaehrer JJ, Chow A, Pypaert M, Inaba K, Mellman I. The tetraspanin CD9 mediates lateral association of MHC class II molecules on the dendritic cell surface. Proc Natl Acad Sci U S A. 2007 Jan 2;104(1):234-9. doi: 10.1073/pnas.0609665104. Epub 2006 Dec 26. PubMed PMID: 17190803; PubMed Central PMCID: PMC1765441.
Tesar BM, Walker WE, Unternaehrer J, Joshi NS, Chandele A, Haynes L, Kaech S, Goldstein DR. Murine [corrected] myeloid dendritic cell-dependent toll-like receptor immunity is preserved with aging. Aging Cell. 2006 Dec;5(6):473-86. doi: 10.1111/j.1474-9726.2006.00245.x. PubMed PMID: 17129212.
Zwickey HL, Unternaehrer JJ, Mellman I. Presentation of self-antigens on MHC class II molecules during dendritic cell maturation. Int Immunol. 2006 Jan;18(1):199-209. doi: 10.1093/intimm/dxh363. Epub 2005 Dec 16. PubMed PMID: 16361313.
Yan J, Wolff MJ, Unternaehrer J, Mellman I, Mamula MJ. Targeting antigen to CD19 on B cells efficiently activates T cells.Int Immunol. 2005 Jul;17(7):869-77. doi: 10.1093/intimm/dxh266. Epub 2005 Jun 20. PubMed PMID: 15967786.
Chow AY, Unternaehrer JJ, Mellman I. MHC class II. . In: Measuring Immunity:. Lotze MT, Thomson AW, editors. San Diego and London: Elsevier Academic Press; 2005. Chapter 2; p.12-22.
Meyer zum Bueschenfelde CO, Unternaehrer J, Mellman I, Bottomly K. Regulated recruitment of MHC class II and costimulatory molecules to lipid rafts in dendritic cells. J Immunol. 2004 Nov 15;173(10):6119-24. doi: 10.4049/jimmunol.173.10.6119. PubMed PMID: 15528348.
Balamuth F, Leitenberg D, Unternaehrer J, Mellman I, Bottomly K. Distinct patterns of membrane microdomain partitioning in Th1 and th2 cells. Immunity. 2001 Nov;15(5):729-38. PubMed PMID: 11728335.
Turley SJ, Inaba K, Garrett WS, Ebersold M, Unternaehrer J, Steinman RM, Mellman I. Transport of peptide-MHC class II complexes in developing dendritic cells. Science. 2000 Apr 21;288(5465):522-7. doi: 10.1126/science.288.5465.522. PubMed PMID: 10775112.
Gatti E, Velleca MA, Biedermann BC, Ma W, Unternaehrer J, Ebersold MW, Medzhitov R, Pober JS, Mellman I. Large-scale culture and selective maturation of human Langerhans cells from granulocyte colony-stimulating factor-mobilized CD34+ progenitors. J Immunol. 2000 Apr 1;164(7):3600-7. doi: 10.4049/jimmunol.164.7.3600. PubMed PMID: 1072571