Associate Professor & Biochemistry, Graduate Program Director
Basic Sciences
Division of Biochemistry
School of Medicine
Loma Linda University
Loma Linda, CA 92350
U.S.A
Phone:(909) 558-4000 Ext. 81397
Fax:(909) 558-0177
E-mail: nwall@llu.edu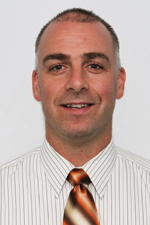 Research Interest
The goal of my lab's research is to investigate the contribution extracellular (exosomal) survivin makes to the resistance of cancers to stress-induced cell death in the tumor microenvironment. Specifically, we are identifying the functional role of survivin in promoting cancer cell survival in the presence of stress as well as investigating the functional significance of exosomal release of survivin from stressed cancer cells. The paradigm shift to focus less on the autonomous functions of the cancer cell and more on the heterotypic interactions that go on in the tumor microenvironment is a niche that allows my lab to define itself in a manner that doesn't directly compete with established survivin investigators.  We have thus laid the groundwork for our research by developing effective measures of characterizing the release of survivin to the extracellular space, the uptake of survivin into cancer cells and surrounding non-cancer cells, and its proliferative and therapy resistance-inducing mechanisms.
Web Presence:
Center for Health Disparities: Nathan Wall, PhD
Selected Publications
Khan S, Aspe JR, Asumen MG, Almaguel F, Odumosu O, Acevedo-Martinez S, De Leon M, Langridge W, Wall NR.  Extracellular, cell-permeable survivin inhibits apoptosis while promoting proliferative and metastatic potential. British Journal of Cancer 100(7):1073-1086, 2009.
Galloway NR, Aspe JR, Sellers C, Wall NR. Enhanced antitumor effect of combined gemcitabine and proton radiation in the treatment of pancreatic cancer. Pancreas 38(7) 782-790, 2009.
Aspe JR and Wall NR. Survivin-T34A: molecular mechanism and therapeutic potential. OncoTargets and Therapy, 3:247-254, 2010.
Khan S, Jutzy JMS, Aspe JR, McGregor D, Neidigh JW, Wall NR.  Survivin is released from cancer cells via exosomes. Apoptosis, 16(1): 1-12, 2011.
Khan S, Jutzy JMS, Valenzuela MMA, Turay D, Aspe JR, Ashok A, Mirshahidi S, Mercola D, Lilly MB, Wall NR.  Plasma-Derived Exosomal Survivin, a Plausible Biomarker for Early Detection of Prostate Cancer. PLoS One, 7(10): 1-10, 2012.
Jutzy JMS, Khan S, Valenzuela MMA, Milford TM, Payne KJ, Wall NR. Tumor-released survivin inhibits T cell proliferation and alters CD4+ T cell cytokine profiles to induce a pro-tumor environment. Cancer Microenvironment, 6(1): 57-68, 2013.
de Necochea-Campion R, Chen CS, Mirshahidi S, Howard FD, Wall NR.  Clinico-Pathologic Relevance of Survivin Splice Variant Expression in Cancer.  Cancer Letters, 339(2): 167-174, 2013.
Aspe JR, Diaz Osterman CJ, Jutzy JMS, Deshields S, Whang S, Wall NR.  Enhancement of Gemcitabine sensitivity in pancreatic adenocarcinoma by novel exosome-mediated delivery of the Survivin-T34A mutant. J Extracellular Vesicles, 3: 1-9, 2014.
Khan S, Ferguson H, Turay D, Perez M, Mirshahidi S, Yuan Y, Wall NR.  Early diagnostic value of Survivin and its alternative splice variants in breast cancer. BMC Cancer, 14(1):176, 2014.
Galloway NR, Diaz Osterman CJ, Reiber K, Jutzy JMS, Li F, Sui G, Soto U, Wall NR.  Ying Yang 1 regulates the transcriptional repression of Survivin.  Biochemical and Biophysical Research Communications, 445(1): 208-213, 2014.
Valenzuela MMA, Neidigh JW, Wall NR. Antimetabolite treatment for Pancreatic Cancer. Chemotherapy, 3(3): 1-7, 2014.
Valenzuela MMA, Castro IV, Gonda A, Osterman CD, Jutzy JMS, Aspe JR, Khan S, Neidigh JW, Wall NR.  Cell death in response to antimetabolites directed at ribonucleotide reductase and thymidylate synthase.  OncoTargets and Therapy, 8: 495-507, 2015.
Valenzuela MMA, Ferguson Bennit HR, Gonda A, Diaz-Osterman CJ, Hibma A, Khan S, Wall NR.  Exosomes secreted from human cancer cell lines contain inhibitor of apoptosis (IAP). Cancer Microenvironment, 8(2): 65-73, 2015.
Diaz Osterman CJ, Lynch JC, Leaf P, Gonda A, Fergusen Bennit HR, Griffiths D, Wall NR. Curcumin modulates pancreatic adenocarcinoma cell-derived exosomal function. Accepted for Publication, PLoS One, 10(7): e0132845, 2015.
Díaz Osterman CJ, Gonda A, Stiff TR, Sigaran U, Asuncion Valenzuela MM, Ferguson Bennit H, Moyron RB, Khan S, Wall NR. Curcumin Induces Pancreatic Adenocarcinoma Cell Death via Reduction of the Inhibitors of Apoptosis.  Accepted for Publication, Pancreas, 2015.
Turay D, Khan S, Osterman CD, Curtis MP, Khaira B, Neidigh JW, Mirshahidi S, Casiano CA, Wall NR. Proteomic profiling of serum-derived exosomes from ethnically diverse prostate cancer patients. Accepted for Publication, Cancer Investigation, 2015.