Assistant Research Professor
Basic Sciences
Division of Biochemistry
School of Medicine
Loma Linda University
Loma Linda, CA 92350
U.S.A
Phone:(909) 558-4000 Ext. 81368
Fax:(909) 558-0177
E-mail:salmakhan@llu.edu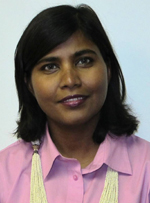 Research Interest
According to the California Cancer Registry, thyroid cancer incidence is higher in young Filipino Americans than Caucasians or any other Asian women.  This report highlights how the distribution of risk factors among Californians can impact the cancer burden in this state.  Overall, out of 35% of Californians with thyroid cancer show 6% points higher than the national average.  Very few risk factors are known that predispose to the development of thyroid cancer.  Thyroid carcinogenesis is a multistep process involving a multifactorial interplay between genetic and environmental factors. As a Cancer Biologist, intensive training in Clinical Oncology, Molecular Genetics and Pathology, my research interest is to elucidate how Genetic and environmental factor interplay in thyroid cancer health and gender disparities.  My focus is to elucidate the underlying mechanism of the disease and prevent the further progression from well-differentiated to poorly differentiated thyroid cancer. The research project is divided into two parts: Clinical problem analysis (translational): how a minimally invasive molecular biomarker can distinguish benign from malignant nodules; basic science: how differential molecular mechanism determines thyroid cancer health disparities.
Selected Publications
Khan S, Bennit FHR, Wall NR. The emerging role of exosomes in Survivin secretion. Histol & Histopathol, 30:43-50, 2015.
Khan S, Bennit FHR, Valenzuela MMA, Turay D, Diaz Osterman CJ, Moyron RB, Esebanmen GE, Ashok A, Wall NR. Localization and up regulation of Survivin in cancer health disparities: a clinical perspective. Biol: Target & Therapy, 9:1-11, 2015.
Khan S, Bennit FHR, Perez M, Yuan Y, Mirshahidi S, and Wall NR. Early diagnostic value of Survivin and its alternative splice variants in breast cancer. BMC Cancer doi: 10.1186/1471-2407-14-176, 2014.
Khan S, Jutzy JMS, Valenzuela MM, Turay D, Aspe JR, Ashok A, Lilly MB, Wall NR. Plasma-derived exosomal survivin, a plausible biomarker for early detection of prostate cancer. PLOS ONE 7: e46737. doi:10.1371, 2012.
Khan S, Jutzy JMS, Aspe JR, McGregor DW, Neidigh JW, Wall NR. Survivin is released from cancer cells via exosomes. Apoptosis 16(1): 1-12, 2011.
Khan S, Jutzy JMS, Aspe JR, Valenzuela MM, Park J, Turay D, Wall NR. Application of Membrane Vesicles for Cancer Therapy. Advances in Cancer Therapy ISBN 979-953-307-209-7, 2011.
Khan S, Aspe JR, Asumen MG, Almguel F, Odumosu O, Acevedo-Martinez C, De Leon M, Wall NR. Extracellular, cell-permeable survivin inhibits apoptosis while promoting proliferative and metastatic potential. Br J Cancer 100:1073-1086, 2009.
Khan S, Kumagai T, Vora J, Bose N, Sehgal I, Koeffler PH, Bose S. PTEN promoter is methylated in a proportion of invasive breast cancers. Int J Cancer 112(3): 407-410, 2004.
Turay D, Khan S, Osterman CD, Curtis MP, Khaira B, Neidigh JW, Mirshahidi S, Casiano CA, Wall NR. Proteomic profiling of serum-derived exosomes from ethnically diverse prostate cancer patients. Cancer Investigation, 34:1-11, 2016.
Diaz-Osterman CJ, Gonda A, Stiff TR, Sigaram U, Valenzuela MMA, Bennit FHR, Myron RB, Khan S, Wall NR. Curcumin induces pancreatic adenocarcinoma cell death via reduction of the inhibitors of apopotosis. Pancreas, 45:101-109, 2016.
Valenzuela MMA, Ferguson HR, Diaz Osterman CJ, Aspe JR, Khan S, Neideigh J, Wall NR. Inhibitors of Apoptosis Proteins (IAPs) in antimetabolite treated pancreatic cancer cell lines lines-derived exosomes. Onco Targets Ther 8: 495-507, 2015.
Valenzuela MMA, Ferguson HR, Gonda A, Diaz Osterman CJ, Hibma A, Khan S, Wall NR. Exosome secreted from human cancer cell lines contain inhbitors of apoptosis. Cancer Microenviront DOI 10, 1007/s12307-015-0167-9, 2015.
Jutzy JMS, Khan S, Valenzuela MM, Milford TM, Payne KJ, Wall NR. Tumor-released Survivin inhibits T cell proliferation and alters
CD4+ T cell cytokine profiles to induce a pro-tumor microenvironment. Cancer Microenviront 6(1):57-68. doi: 10.1007/s12307-012-0096-9, 2012.
Pisarska MD, Bentsi-Barnes I, Barlow G, Khan S, Kuo F. LATS1 phosphorylates Forkhead L2 and regulates its activity as a transcriptional repressor of the Steroidogenic Acute Regulatory Gene. Am J Physiol Endocrinol Metab 299: 101-109, 2010.
Pisarska MD, Kuo F, Tang D, Zarrini P, Khan S, Ketefian A. Expression of Forkhead Transcription Factors in Human Granulosa Cells. Fertil Steril 91(4 Suppl): 1392-1394 2008.
Ketefian A, Khan S, Zarrini P, L. Kao, M. Pisarska. P-712 Expression of forkhead transcription factors in human granulose cells. Fertil Steril 86(3 Suppl): S397, 2006.
Kumetz L, Khan S, Zarrini P, Trivax B, Kao LC, Pisarska MD. FoxL2, a gene associated with premature ovarian failure, interacts with large tumor suppressor gene 1 (Lats1). Fertil Steril (3 Suppl): S11-S12, 2006.