Assistant Research Professor
Basic Sciences
Division of Biochemistry
School of Medicine
Loma Linda University
Loma Linda, CA 92350
U.S.A
Phone:(909) 558-4000 Ext. 81368
Fax:(909) 558-0177
E-mail:salmakhan@llu.edu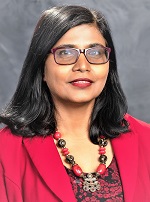 Research Interest
According to the California Cancer Registry, thyroid cancer incidence is higher in young Filipino Americans than Caucasians or any other Asian women.  This report highlights how the distribution of risk factors among Californians can impact the cancer burden in this state.  Overall, out of 35% of Californians with thyroid cancer show 6% points higher than the national average.  Very few risk factors are known that predispose to the development of thyroid cancer.  Thyroid carcinogenesis is a multistep process involving a multifactorial interplay between genetic and environmental factors. As a Cancer Biologist, intensive training in Clinical Oncology, Molecular Genetics and Pathology, my research interest is to elucidate how Genetic and environmental factor interplay in thyroid cancer health and gender disparities.  My focus is to elucidate the underlying mechanism of the disease and prevent the further progression from well-differentiated to poorly differentiated thyroid cancer. The research project is divided into two parts: Clinical problem analysis (translational): how a minimally invasive molecular biomarker can distinguish benign from malignant nodules; basic science: how differential molecular mechanism determines thyroid cancer health disparities.
Selected Publications
K. Rood, K. Begum, H. Wang, Y.C. Wangworawat, R. Davis, C.R. Yamauchi, M.C. Perez, A.A. Simental, R.T. Laxa, C. Wang, S. Roy, S. Khan, Differential Expression of Non-Coding RNA Signatures in Thyroid Cancer between Two Ethnic Groups, Current Oncology 28(5) (2021)
Mull B, Davis R, Munir I, Perez MC, Simental AA, Khan S. Differential expression of vitamin D binding protein in thyroid cancer health disparities. Oncotarget 2021
Afroz S, Afroze T, Davis R, Khan S. Role of obesity-induced inflammatory cytokines on breast and thyroid cancer therapeutics: a literature review. J Cancer Biol Therap 2021.
Afroz S, Ahammed MR, Malik M, Masud P, Khan S. COVID-19 outbreaks with cancer comorbidities: Clinical and Therapeutic Challenges: A comprehensive Review. J Cancer Biol Therap 2021
Walter S, Khan S. Building my Village 2021: Book chapter: Transgenerational aspects of Women in Medicine.
Choi SK, Roberts K, Frank E, Foulad D, Mirshahidi S, Perez M, Firek A, Simental A, Khan S . Analysis of Differential Enigma gene expression in thyroid cancer vs. benign nodules. J Invest. Med:68: DOI: 10.1136/jim-2019-WMRC.70; 2020
Santiago K, Chen Wongworawat Y, Khan S. Differential MicroRNA-Signatures in Thyroid Cancer Subtypes. J Oncol. 2020 Jun 3;2020:2052396. doi:10.1155/2020/2052396. PMID: 32565797; PMCID: PMC7290866.
Nyasani E, Munir I, Perez M, Payne K, Khan S. Linking obesity-induced leptin-signaling pathways to common endocrine-related cancers in women. Endocrine. 2019 Jan;63(1):3-17. doi: 10.1007/s12020-018-1748-4. Epub 2018 Sep 14. PMID:30218381.
Gonda A, Kabagwira J, Senthil GN, Ferguson Bennit HR, Neidigh JW, Khan S, Wall NR. Exosomal survivin facilitates vesicle internalization. Oncotarget. 2018 Oct 9;9(79):34919-34934. doi: 10.18632/oncotarget.26182. PMID: 30405884; PMCID:PMC6201849.
Firek AA, Perez MC, Gonda A, Lei L, Munir I, Simental AA, Carr FE, Becerra BJ, De Leon M, Khan S. Pathologic significance of a novel oncoprotein in thyroid cancer progression. Head Neck. 2017 Dec;39(12):2459-2469. doi:10.1002/hed.24913. Epub 2017 Oct 11. PMID: 29024261.
Campbell PS, Mavingire N, Khan S, Rowland LK, Wooten JV, Opoku-Agyeman A, Guevara A, Soto U, Cavalli F, Loaiza-Pérez AI, Nagaraj G, Denham LJ, Adeoye O, Jenkins BD, Davis MB, Schiff R, Brantley EJ. AhR ligand aminoflavone suppresses α6-integrin-Src-Akt signaling to attenuate tamoxifen resistance in breast cancercells. J Cell Physiol. 2018 Jan;234(1):108-121. doi: 10.1002/jcp.27013. Epub 2018 Aug 4. PMID: 30076704; PMCID: PMC6202151.
Khan S, Simpson J, Lynch JC, Turay D, Mirshahidi S, Gonda A, Sanchez TW, Casiano CA, Wall NR. Racial differences in the expression of inhibitors of apoptosis (IAP) proteins in extracellular vesicles (EV) from prostate cancer patients. PLoS One. 2017 Oct 5;12(10):e0183122. doi:10.1371/journal.pone.0183122. PMID: 28981528; PMCID: PMC5628787.
Ferguson Bennit HR, Gonda A, Oppegard LJ, Chi DP, Khan S, Wall NR. Uptake of lymphoma-derived exosomes by peripheral blood leukocytes. Blood Lymphat Cancer. 2017 Feb 28;7:9-23. doi: 10.2147/BLCTT.S130826. PMID: 31360082; PMCID: PMC6467345.
Khan S, Ferguson Bennit H, Asuncion Valenzuela MM, Turay D, Diaz Osterman CJ, Moyron RB, Esebanmen GE, Ashok A, Wall NR. Localization and upregulation of survivin in cancer health disparities: a clinical perspective. Biologics. 2015 Jul 9;9:57-67. doi: 10.2147/BTT.S83864. PMID: 26185415; PMCID: PMC4501680.
Turay D, Khan S, Diaz Osterman CJ, Curtis MP, Khaira B, Neidigh JW, Mirshahidi S, Casiano CA, Wall NR. Proteomic Profiling of Serum-Derived Exosomes from Ethnically Diverse Prostate Cancer Patients. Cancer Invest. 2016;34(1):1-11. doi: 10.3109/07357907.2015.1081921. Epub 2015 Nov 4. PMID:26536157; PMCID: PMC4732892.
Díaz Osterman CJ, Gonda A, Stiff T, Sigaran U, Valenzuela MM, Ferguson Bennit HR, Moyron RB, Khan S, Wall NR. Curcumin Induces Pancreatic Adenocarcinoma Cell Death Via Reduction of the Inhibitors of Apoptosis. Pancreas. 2016 Jan;45(1):101-9. doi: 10.1097/MPA.0000000000000411. PMID:26348467; PMCID: PMC4679699.
Khan S, Bennit HF, Wall NR. The emerging role of exosomes in survivin secretion. Histol Histopathol. 2015 Jan;30(1):43-50. doi: 10.14670/HH-30.43. Epub 2014 Jul 14. PMID: 25020159; PMCID: PMC4489405.
Valenzuela MM, Ferguson Bennit HR, Gonda A, Diaz Osterman CJ, Hibma A, Khan S, Wall NR. Exosomes Secreted from Human Cancer Cell Lines Contain Inhibitors of Apoptosis (IAP). Cancer Microenviron. 2015 Aug;8(2):65-73. doi: 10.1007/s12307-015-0167-9. Epub 2015 May 16. PMID: 25982218; PMCID: PMC4542824.
Asuncion Valenzuela MM, Castro I, Gonda A, Diaz Osterman CJ, Jutzy JM, Aspe JR, Khan S, Neidigh JW, Wall NR. Cell death in response to antimetabolites directed at ribonucleotide reductase and thymidylate synthase. Onco Targets Ther. 2015 Feb 26;8:495-507. doi: 10.2147/OTT.S79647. PMID: 25767396; PMCID: PMC4354452.
Khan S, Bennit HF, Turay D, Perez M, Mirshahidi S, Yuan Y, Wall NR. Early diagnostic value of survivin and its alternative splice variants in breast cancer. BMC Cancer. 2014 Mar 12;14:176. doi: 10.1186/1471-2407-14-176. PMID: 24620748; PMCID: PMC3995700.
Jutzy JM, Khan S, Asuncion-Valenzuela MM, Milford TA, Payne KJ, Wall NR. Tumor-released survivin induces a type-2 t cell response and decreases cytotoxic T cell function, in vitro. Cancer Microenviron. 2013 Apr;6(1):57-68. doi: 10.1007/s12307-012-0096-9. Epub 2012 Feb 10. PMID: 22322461; PMCID: PMC3601219.
Khan S, Jutzy JM, Valenzuela MM, Turay D, Aspe JR, Ashok A, Mirshahidi S, Mercola D, Lilly MB, Wall NR. Plasma-derived exosomal survivin, a plausible biomarker for early detection of prostate cancer. PLoS One. 2012;7(10):e46737. doi: 10.1371/journal.pone.0046737. Epub 2012 Oct 16. PMID: 23091600; PMCID:PMC3473028.
Khan S, Jutzy JM, Aspe JR, McGregor DW, Neidigh JW, Wall NR. Survivin is released from cancer cells via exosomes. Apoptosis. 2011 Jan;16(1):1-12. doi:10.1007/s10495-010-0534-4. PMID: 20717727; PMCID: PMC3174681.
Pisarska MD, Kuo FT, Bentsi-Barnes IK, Khan S, Barlow GM. LATS1 phosphorylates forkhead L2 and regulates its transcriptional activity. Am J Physiol Endocrinol Metab. 2010 Jul;299(1):E101-9. doi:10.1152/ajpendo.00534.2009. Epub 2010 Apr 20. PMID: 20407010; PMCID: PMC2904049.
Pisarska MD, Kuo FT, Tang D, Zarrini P, Khan S, Ketefian A. Expression of forkhead transcription factors in human granulosa cells. Fertil Steril. 2009 Apr;91(4 Suppl):1392-4. doi: 10.1016/j.fertnstert.2008.04.054. Epub 2008 Aug 9. PMID: 18692812.