Professor & Director Neurosurgery Center for Research Training and Education
Basic Sciences
Division of Biochemistry
School of Medicine
Loma Linda University
Loma Linda, CA 92350
U.S.A
Phone:(909) 558-7070
Fax:(909) 558-0472
E-mail: wkirsch@llu.edu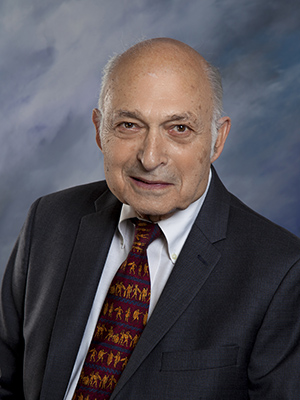 Research Interest
Our laboratory is involved in three major projects. We continue with our objective to define the role of iron metabolism aberrations in the pathogenesis of Alzheimer's disease (AD). We are continuing to follow a cohort of carefully selected elderly control and mildly cognitively impaired (MCI) subjects with sequential psychometric studies, special MRI and magnetic resonance spectroscopy (MRS) brain images that have been specifically designed to evaluate iron content as well as peripheral blood studies that relate to cellular iron metabolism. The special brain MRI studies (known as SWI - susceptibility weighted imaging) continue to be validated by direct biochemical assays as well as SWI assays of human brains that are afflicted with amyloid angiopathy. SWI has proven to be a much more sensitive radiologic biomarker for microvascular brain disease than conventional GRE-T2* imaging. Another project is a search for biomarkers of schizophrenia. The diagnosis of schizophrenia (SZ) relies on subjective interviews and clinical observation and cannot be made until symptoms have been present for at least 6 months. A laboratory measurement for diagnosing SZ does not yet exist. Therefore, much effort is devoted to finding a biological marker for SZ. The present study is a small part of a much larger study in which our laboratory, in collaboration with George Mason University, has been searching for a biomarker in schizophrenic sweat. Using online liquid chromatography-tandem mass spectrometry (LC-MS/MS), we have generated the most comprehensive proteomics characterization of sweat to date and have identified several candidate SZ biomarker proteins. We are also interested in developing a topical and internal hemostat derived from chitosan. The market for effective hemostatic agents is large, worldwide, and very diverse. These products can be used in surgical and clinical settings and trauma. Military applications are also a strong possibility. Our initial focus will be dialysis patients. These patients visit dialysis centers three times weekly for treatments that require large size needle sticks in their arms. Presently, only manual compression is used to stop the bleeding from the needle sticks which takes a long time to achieve hemostasis. Longer compression time could damage the vascular access and may require another surgery to reestablish blood flow. Currently no product is marketed directly to control bleeding from the AV access site. We anticipate being able to produce an inexpensive, effective bleeding control chitosan product for this market.  The product now has FDA approval for topical use.  Patents for this product have been filed and work is currently on its way to meet our development goals.
Selected Publications
Kido DK, Kirsch W, Ayaz M, Boikov A, McAuley G, Schrag M.  Chapter 12.  Imaging cerebral microbleeds with SWI.  In:  Susceptibility Weighted Imaging in MRI : Basic Concepts and Clinical Applications.  Eds EM Haacke and J Reichenbach.  Wiley Publisher; 2010: 185-209.
Schrag M, Dickson A, Jiffry A, Kirsch D, Vinters HV, Kirsch W.  The effect of formalin fixation on the levels of brain transition metals in archived samples.  Biometals, accepted June 2010.
Darwanto A, Curtis M, Schrag M, Kirsch W, Xu G, Neidigh JW, Zhang K.  A modified "cross talk" between histone H2B K123 ubiquitination and H3 K79 methylation.  J Biol Chem 2010 Jul;285(28):21868-76.
Schrag M, McAuley G, Pomakian J, Jiffry A, Tung S, Mueller C, Vinters HV, Haacke EM, Holshouser B, Kido D, Kirsch W.  Correlation of hypointensities in susceptibility-weighted images to tissue histology in dementia patients with cerebral amyloid angiopathy:  a postmorem MRI study.  Acta Neuropathol 2010;119:291-302. PMID 19937043
Mueller C, Zhou W, VanMeter A, Heiby M, Magaki S, Ross MM, Espina V, Schrag M, Dickson C, Liotta L, Kirsch WM.  The heme degradation pathway is a promising serum biomarker source for the early detection of Alzheimer's disease.  Journal of Alzheimer's Disease, 2010;19(3):1081-1091.
McAuley G, Schrag M, Sipos P, Sun S-W, Obenaus A, Neelavalli J, Haacke EM, Holshouser B, Madácsi R, Kirsch W.  Quantification of punctate iron sources using magnetic resonance phase.  Magnetic Resonance in Medicine, 2010;63:106-115.
Ayaz M, Boikov AS, Haacke EM, Kido DK, Kirsch WM.  Imaging microbleeds using susceptibility weighted imaging:  one step toward detecting vascular dementia.  JMRI Journal of Magnetic Resonance Imaging, 2010;31:142-148.
Calles MC, Usón JM, Kirsch WM, Zeebregts CJ, Usón J.  Chapter XIII.  Anastomosis Microvascular con Anastoclips Metálicos No Penetrantes.  In:  Centro de Cirugia de Minima Invasion Jesus Uson, Ed.  Manual de Microcirugia Vascular y Nerviosa 2a Ed.  Cáceres Spain:  Imprenta F.L. Garcia; 2009:183-188.
Mueller C, Magaki S, Schrag M, Ghosh MC, Kirsch WM.  Iron regulatory protein 2 is involved in brain copper homeostasis.  Journal of Alzheimer's Disease, 2009;18:201-208.
Kirsch WM, McAuley G, Holshouser B, Petersen F, Ayaz M, Vinters HV, Dickson C, Haacke EM, Britt III W, Larsen J, Kim I, Mueller C, Schrag M, Kido D. Serial Susceptibility Weighted MRI measures brain iron and microbleeds in dementia.  Journal of Alzheimer's Disease, 2009;17:599-609.
Manova ES, Habib CA, Boikov AS, Ayaz M, Khan A, Kirsch WM, Kido DK, Haacke EM.  Characterizing the mesencephalon with suscpeptibility weighted imaging.  AJNR Am J Neuroradiol, Mar 2009;30:569-574.
Bartnik Olson B, Holshouser BA, Britt W, Mueller C, Baqai W, Patra S, Petersen F, Kirsch WM.  Longitudinal metabolic and cognitive changes in mild cognitive impairment patients.  Alzheimer Disease & Associated Disorders – an International Journal, 2008;22(3):269-277.
Magaki S, Yellon SM, Mueller C, Kirsch WM.  Immunophenotypes in the circulation of patients with mild cognitive impairment.  J of Psychiatric Research, 2008(Feb);42(3):240-246.
Larsen JP, Britt III W, Kido D, Bartnik Olson BL, Holshouser BA, Kirsch WM.  Susceptibility-Weighted Magnetic Resonance imaging in the evaluation of dementia.  Radiology Case Reports, 2007;2(4):1-4.  Available: http://radiology.casereports.net/index.php/rcr/article/view/102/379
Manova ES, Habib CA, Boikov AS , Ayaz M, Khan A, Kirsch WM, Kido DK, Haacke EM.  Imaging the mesenscephalon with susceptibility seighted imaging.  Am J Neuroradiol, Accepted 2008.
Magaki S, Mueller C, Fox J, Kim J, Snissarenko E, Chin V, Ghosh MC, Kirsch WM.  Regional dissection and determination of loosely bound and non-heme iron in the developing mouse brain.  Brain Res, 2007;1158:144-150. 
Magaki S, Raghavan R, Mueller C, Oberg KC, Vinters HV, Kirsch WM.  Iron, copper, and iron regulatory protein 2 in Alzheimer's disease and related dementias.  Neuroscience Letters, 2007;4185:72-76.
Magaki S, Mueller C, Dickson C, Kirsch W.  Increased production of inflammatory cytokines in mild cognitive impairment.  Experimental Gerontology, 2007(Mar);42(3):233-240.
Haacke EM, Ayaz M, Khan A, Manova ES, Krishnamurthy B, Gollapailli L, Ciulla C, Kim I, Petersen F, Kirsch W.  Establishing a baseline phase behavior in magnetic resonance imaging for determining normal versus abnormal iron content in the brain.  Journal of Magnetic Resonance Imaging.  2007;26:256-264.