Associate Research Professor
Department of Medicine & Basic Sciences
Loma Linda University, Cancer Center, Biospecimen Laboratory
Division of Microbiology and Molecular Genetics
Loma Linda University
Loma Linda, CA 92350
U.S.A
Phone:(909) 651-5082
Fax:(909) 558-0219
E-mail: smirshahidi@llu.edu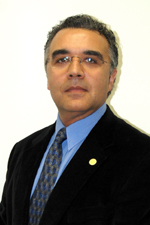 Research Interest
My research interest at LLU is to understand the cytotoxicity effects of local anesthetics (LAs) and Non-steroidal anti-inflammatory medications (NSAID's) in sarcomas such as osteosarcoma. Also I am interested in to understand the effects of these agents on lung metastasis because the most common site to which osteosarcoma metastasizes is the lungs. In addition, my research interest is also to understand the underlying cellular and molecular mechanisms that govern the response of tumor cells to immunotherapy used in combination with chemotherapy lung cancers. As Director of the Biospecimen Laboratory of the Loma Linda University Cancer Center (LLUCC), I serve as collaborator with several translational research investigators to facilitate research leading to treatments and cures for cancer. Biospecimen laboratory is responsible to facilitate access to high quality annotated human biospecimens from cancer patients to translational investigators. The biospecimens from cancer patients are collecting and processing, after informed consent and under IRB approval. All biospecimens are associated with clinical information.
Selected Publications
Mirshahidi S, Shields TG, de Necochea-Campion R, Yuan X, Janjua A, Williams NL, Mirshahidi HR, Reeves ME, Duerksen-Hughes P, Zuckerman LM. Bupivacaine and Lidocaine Induce Apoptosis in Osteosarcoma Tumor Cells. Clin Orthop Relat Res. 2021 Jan 1;479(1):180-194. PMID: 33009230
Xu Y, Payne K, Pham LHG, Eunwoo P, Xiao J, Chi D, Lyu J, Campion R, Wasnik S, Jeong IS, Tang X, Baylink DJ, Chen CS, Reeves M, Akhtari M, Mirshahidi S, Marcucci G, Cao H. A novel vitamin D gene therapy for acute myeloid leukemia. Transl Oncol. 2020 Dec;13(12).PMID: 32956997
Zuckerman LM, Frames WL, Mirshahidi HR, Williams NL, Shields TG, Otoukesh S, Mirshahidi S. Antiproliferative effect of bupivacaine on patient-derived sarcoma cells. Mol Clin Oncol. 2020 Sep;13(3):7.PMID: 32754321
Mirshahidi S, de Necochea-Campion R, Moretta A, Williams NL, Reeves ME, Otoukesh S, Mirshahidi HR, Khosrowpour S, Duerksen-Hughes P, Zuckerman LM. Inhibitory Effects of Indomethacin in Human MNNG/HOS Osteosarcoma Cell Line In Vitro. Cancer Invest. 2020 Jan;38(1):23-36. PMID: 31770037
Otoukesh S, Sanchez T, Mirshahidi S, Wallace D, Mirshahidi H. ASCEND-8 pharmacokinetic, safety, and efficacy data for ceritinib 450 mg with food in patients with anaplastic lymphoma kinase-positive non-small cell lung Cancer: A clinical perspective. Cancer Treat Res Commun. 2019;20:100149.PMID: 31075537 Clinical Trial.
Zuckerman LM, Frames WL, Elsissy JG, Shields TG, de Necochea-Campion R, Mirshahidi HR, Williams NL, Mirshahidi S. The effect of non-steroidal anti-inflammatory drugs on osteosarcoma cells. Eur Rev Med Pharmacol Sci. 2019 Mar;23(6):2681-2690. PMID: 30964195
Zhang X, Mirshahidi S, Chen CS. Decontamination of Biobank Facilities. Methods Mol Biol. 2019;1897:227-241. PMID: 30539448 Review.
Mirshahidi HR, Mirshahidi S. Efficacy of crizotinib inhibiting specific molecular pathways in non-small-cell lung carcinoma. Expert Rev Anticancer Ther. 2015 Apr;15(4):375-85. PMID: 25797684 Review.