Assistant Research Professor
Basic Sciences
Division of Microbiology
School of Medicine
Loma Linda University
Loma Linda, CA 92350
U.S.A
Phone:(909) 651-5082
Fax:(909) 558-0219
E-mail: smirshahidi@llu.edu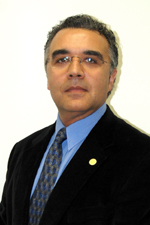 Research Interest
My research interest is to understand the underlying cellular and molecular mechanisms that govern the response of tumor cells/tissues to molecular targeted therapies used in combination with chemotherapy or radiation therapy in cancers and especially squamaous carcinoma cell of head and neck.
Selected Publications
Khan NA, Mirshahidi S, Mirshahidi HR. A novel insertion mutation on exon 20 of epidermal growth factor receptor, conferring resistance to erlotinib. Case Rep Oncol. 2014 Jul 16;7(2):491-6.
Tang H, Mirshahidi S, Senthil M, Kazanjian K, Chen CS, Zhang K. Down-regulation of LXR/RXR activation and negative acute phase response pathways in colon adenocarcinoma revealed by proteomics and bioinformatics analysis. Cancer Biomark. 2014;14(5):313-24.
Kayhan B, Ozdamar SO, Padberg W, Kayabas U, Aharoni R, Mirshahidi S. Immune response in the liver under conditions of infection, malignancy, and transplantation. J Immunol Res. 2014:709126. 
Hsu HW, de Necochea-Campion R, Williams V, Duerksen-Hughes PJ, Simental AA Jr, Ferris RL, Chen CS, Mirshahidi S Linifanib (ABT-869), enhances cytotoxicity with poly (ADP-ribose) polymerase inhibitor, veliparib (ABT-888), in head and neck carcinoma cells. Oral Oncol. 2014 Jul;50(7):662-9.
Early diagnostic value of survivin and its alternative splice variants in breast cancer. Khan S, Bennit HF, Turay D, Perez M, Mirshahidi S, Yuan Y, Wall NR. BMC Cancer. 2014 Mar 12;14:176.
Hsu HW, Wall NR, Hsueh CT, Kim S, Ferris RL, Chen CS, Mirshahidi S. Combination antiangiogenic therapy and radiation in head and neck cancers. Oral Oncol. 2014 Jan;50(1):19-26.
Necochea-Campion Rd, Chen CS, Mirshahidi S, Howard FD, Wall NR. Clinico-pathologic relevance of Survivin splice variant expression in cancer. Cancer Lett. 2013 Oct 10;339(2):167-74.
Hsu HW, Gridley DS, Kim PD, Hu S, de Necochea-Campion R, Ferris RL, Chen CS, Mirshahidi S. Linifanib (ABT-869) enhances radiosensitivity of head and neck squamous cell carcinoma cells.Oral Oncol. 2013 Jun;49(6):591-7.
Khan S, Jutzy JM, Valenzuela MM, Turay D, Aspe JR, Ashok A, Mirshahidi S, Mercola D, Lilly MB, Wall NR. Plasma-derived exosomal survivin, a plausible biomarker for early detection of prostate cancer. PLoS One. 2012;7(10).
Whitney JB, Mirshahidi S, Lim SY, Goins L, Ibegbu C, Anderson DC, Raybourne RB, Frankel FR, Judy Lieberman J., Ruprecht RM. Prior exposure to an attenuated Listeria vaccine does not reduce immunogenicity: pre-clinical assessment of the efficacy of a Listeria vaccine in the induction of immune responses against HIV. J Immune Based Ther Vaccines. 2011; 9:2.
Sadegh-Nasseri S, Dalai SK, Korb Ferris LC, Mirshahidi S. Suboptimal engagement of the T-cell receptor by a variety of peptide-MHC ligands triggers T-cell anergy. Immunology. 2010; 129(1):1-7.
Mirshahidi S, Kramer VG, Whitney JB, Dranoff G, Anderson KS, Ruprecht RM. Overlapping synthetic peptides encoding TPD52 as breast cancer vaccine in mice: Prolonged survival. Vaccine. 2009; 13;27(12):1825-33.
Popov S, Mirshahidi S, Essono S, Song R, Wang X, and Ruprecht RM. Generation of recombinant vaccinia viruses via green fluorescent protein selection. DNA and Cell Biol. 2009; 28(3): 103-108.
Dalai S, Mirshahidi S, Morrot A, Zavada F, Sadegh-Nasseri S. Anergy in Memory CD4+ T Cells is induced by B cells. J Immunol. 2008; 181(5):3221-31.
Chou C-L, Mirshahidi S, Khoruzhenko S, Sadegh-Nasseri S. Short Peptide Sequences Mimic HLA-DM Functions. Molecular Immunology 2008; 45(7):1935-43.
Song RJ, Chenine A-L, Rasmussen RA, Ruprecht CR, Mirshahidi S, Grisson RD, Xu W, Whitney JB, Goins LM, Ong H, Li P-L, Shai-Kobiler E, Wang T, Mc Cann CM, Zhang H, Wood C, Kankasa C, Secor WE, McClure HM, Strobert E, Else JG, Ruprecht RM.  Molecularly cloned SHIV-1157pd3N4:  a highly replication competent, mucosally transmissible R5 simian-human-immunodeficiency virus encoding HIV clade C env.  J Virol. 2006; 80:8729-38.
Jiang S, Song R, Popov S, Mirshahidi S, Ruprecht RM.  Overlapping synthetic peptides as vaccines.  Vaccine. 2006; 24:6356-65.
Mirshahidi S, Korb-Ferris LC, Sadegh-Nasseri S.  The magnitude of TCR engagement is a critical predictor of T cell anergy or activation.  J Immunol. 2004; 172:5346-55.
Mirshahidi S, Haung CT, Sadegh-Nasseri S.  Anergy in peripheral memory CD4+ T cells induced by low avidity engagement of T cell receptor.  J Exp Med 2001; 194:719-31.
Korb LC, Mirshahidi S, Ramyar K, Sadighi Akha AA, Sadegh-Nasseri S.  Induction of T cell anergy by low numbers of agonist ligands.  J Immunol. 1999; 162:6401-9.