Professor
Basic Sciences
Division of Physiology
School of Medicine
Loma Linda University
Loma Linda, CA 92350
U.S.A
Phone:  (909) 558-4325
Fax:  (909) 558-4029
E-mail: gpower@llu.edu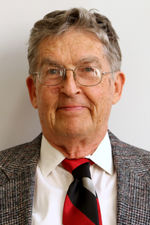 Research Interest
Fetal and placental physiology, vascular control, gas exchange, pulmonary physiology, mathematical modeling, nitrite and adenosine metabolic rate control, translational physiology to clinical use.
Selected Publications
Terry MH, Merritt TA, Harding B, Schroeder H, Merrill-Henry J, Mazela J, Gregory TJ, Segal R, Power GG, Blood AB. (2010) .Pulmonary distribution of lucinactant and poractant alfa and their peridosing hemodynamic effects in a preterm lamb model of respiratory distress syndrome. Pediatr Res. 2010 Sep;68(3):193-8.
Zavorsky GS, Blood AB, Power GG, Longo LD, Artal R, Vlastos EJ. (2010) CO and NO pulmonary diffusing capacity during pregnancy: Safety and diagnostic potential. Respir Physiol Neurobiol. 170(3):215-25.
Jensen EC, Bennet L, Fraser M, Power GG, Hunter CJ, Gunn AJ. (2010) Adenosine A(1) receptor mediated suppression of adrenal activity in near-term fetal sheep. Am J Physiol Regul Integr Comp Physiol. 298(3):R700-6.
Blood AB, Tiso M, Verma ST, Lo J, Joshi MS, Azarov I, Longo LD, Gladwin MT, Kim-Shapiro DB, Power GG. (2009) Increased nitrite reductase activity of fetal versus adult ovine hemoglobin. Am J Physiol Heart Circ Physiol. 296(2):H237-46.
Conahey GR, Power GG, Hopper AO, Terry MH, Kirby LS, Blood AB. (2008) Effect of inhaled nitric oxide on cerebrospinal fluid and blood nitrite concentrations in newborn lambs. Pediatr Res. 2008 Oct;64(4):375-80.
Power GG, Bragg SL, Oshiro BT, Dejam A, Hunter CJ, Blood AB. (2007) A novel method of measuring reduction of nitrite-induced methemoglobin applied to fetal and adult blood of humans and sheep. J Appl Physiol. 103(4):1359-65.
Blood AB, Power GG. (2007) In vitro and in vivo kinetic handling of nitrite in blood: effects of varying hemoglobin oxygen saturation. Am J Physiol Heart Circ Physiol. 293(3):H1508-17.
Bennet L, Roelfsema V, Dean JM, Wassink G, Power GG, Jensen EC, Gunn AJ. (2007) Regulation of cytochrome oxidase redox state during umbilical cord occlusion in preterm fetal sheep. Am J Physiol Regul Integr Comp Physiol. 292(4):R1569-76.
Nishida N, Blood AB, Hunter CJ, Bragg S, Williams J, Pearce WJ, Power GG. (2006) Role of prostanoids in the regulation of cerebral blood flow during normoxia and hypoxia in the fetal sheep. Pediatr Res. 60(5):524-9.
Dejam A, Hunter CJ, Pelletier MM, Hsu LL, Machado RF, Shiva S, Power GG, Kelm M, Gladwin MT, Schechter AN. Erythrocytes are the major intravascular storage sites of nitrite in human blood. Blood. 106(2):734-9.