Assistant Professor
Basic Sciences
Division of Physiology
School of Medicine
Loma Linda University
Loma Linda, CA 92350
U.S.A
Phone:  (909) 558-4000 Ext. 81302
Fax:  (909) 558-0177
E-mail: jfigueroa@llu.edu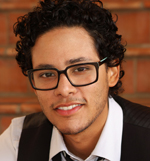 Research Interest
The Fig NeuroLab™
Dr. Figueroa and his research group benefit from using Labguru's Lab Management solutions.
Nutrient-Based Strategies to Increase Resilience to Stress
Post-traumatic stress disorder (PTSD) is recognized as an incapacitating chronic syndrome, reflecting a disorder of cognitive, emotional and physiological processing and recovery from the initial reaction to a potentially traumatic event. This psychobiological health disorder affects more than 24.4 million survivors of traumatic events, including military conflicts, terrorist attacks, natural disasters, sexual assaults, and childhood physical abuse. To date, pharmacotherapy for PTSD has been opportunistic, building almost exclusively on empirical observations with drugs approved for other psychiatric indications. The identification of stress-diet interactions that may predispose the brain to PTSD could lead to more effective treatments and ameliorate the differential health outcomes in minority and health disparity populations.
Scientifically, The Fig NeuroLab™ is primarily focused on understanding the mechanisms that control resilience to stress. In particular, we are interested in tracing how nutrition regulates (mal)adaptive neuroplasticity responses following stress. A common thread among our studies is the use of clinically relevant PTSD models combined with animal behavior, electrophysiology, cell and molecular biology, confocal microscopy, neuroimaging, and nutrimetabolomics to define the relative contribution and mechanisms of dietary omega-3 fatty acids towards neuronal plasticity and stress resilience. From a translational perspective, we seek to rapidly advance our discoveries in the lab and clinic into effective functional foods and nutraceutical interventions that improve the rehabilitation potential of affected patients. Academically, our laboratory is focused on promoting diversity in the biomedical research workforce. The overarching goal is to enhance the development of talented neuroscientist from all population sectors and academic levels
Selected Publications
Vega-Torres, J. D., Haddad, E., Lee, J. B., Kalyan-Masih, P., Maldonado W. I., Lopez-Perez, L., Piñero-Vazquez, D., Arroyo-Torres, Y., Santiago-Santana, J. M., Obenaus, A., Figueroa, J. D. (2018) Juvenile Obesity Leads to Abnormal Neural and Behavioral Substrates Underpinning Fear and Anxiety. Brain, Behavior and Immunity, In Press, https://doi.org/10.1016/j.bbi.2018.01.011
Kalyan-Masih, P., Vega-Torres, J.D., Miles, C., Haddad, E., Rainsbury, S., Baghchechi, M., Obenaus, A., Figueroa, J.D. (2016) Western high-fat diet consumption during adolescence increases susceptibility to traumatic stress while selectively disrupting hippocampal and ventricular volumes. Society for Neuroscience eNeuro, 3(5), 1-24, https://doi.org/10.1523/ENEURO.0125-16.2016
Figueroa J.D., Illan M.S., Licero J., Cordero K., Miranda J.D., De Leon M. (2015). Fatty acid binding protein 5 (FABP5) modulates docosahexaenoic acid (DHA)-induced recovery in rats undergoing spinal cord injury. Journal of Neurotrauma, Epub ahead of print. http://doi.org/10.1089/neu.2015.4186
Figueroa, J.D., & De Leon, M. (2014). Neurorestorative targets of dietary long-chain omega-3 fatty acids in neurological injury. Molecular Neurobiology, 50(1), 197–213. http://doi.org/10.1007/s12035-014-8701-1
Figueroa, J.D., Cordero, K., Serrano-Illan, M., Almeyda, A., Baldeosingh, K., Almaguel, F.G., & De Leon, M. (2013). Metabolomics uncovers dietary omega-3 fatty acid-derived metabolites implicated in anti-nociceptive responses after experimental spinal cord injury. Neuroscience, 255, 1–18. http://doi.org/10.1016/j.neuroscience.2013.09.012
Figueroa, J.D., Cordero, K., llán, M.S., & De Leon, M. (2013). Dietary Omega-3 Polyunsaturated Fatty Acids Improve the Neurolipidome and Restore the DHA Status while Promoting Functional Recovery after Experimental Spinal Cord Injury. Journal of Neurotrauma, 30(10), 853–868. http://doi.org/10.1089/neu.2012.2718
Figueroa, J.D., Cordero, K., Baldeosingh, K., Torrado, A.I., Walker, R.L., Miranda, J.D., & De Leon, M. (2012). Docosahexaenoic acid pretreatment confers protection and functional improvements after acute spinal cord injury in adult rats. Journal of Neurotrauma, 29(3), 551–566. http://doi.org/10.1089/neu.2011.2141