Associate Professor
Basic Sciences
Division of Physiology
School of Medicine
Loma Linda University
Loma Linda, CA 92350
U.S.A
Phone:  (909) 558-7115
Fax:  (909) 558-0825
E-mail: rsun@llu.edu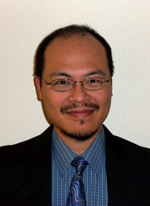 Research Interest
Neurodegeneration, a pathological process leading to neuronal loss, is commonly seen in several neurological diseases including stroke, Multiple Sclerosis, Alzheimer's disease, and Glaucoma, despite the diversity of their initial insults. Studies toward an early detection and effective treatments of neurodegeneration will provide significant clinical impacts. In my lab, we investigate the mechanism of neurodegeneration based on cell and animal models. We have developed novel technologies to specify functional and structural degeneration of axons and myelin, and their associations with inflammation and oxidative stress using magnetic resonance imaging (MRI), visual evoked potentials (VEP), optical coherence tomography (OCT), and florescence immunohistochemistry.
Specific research interests include:
To understand the mechanism of neurodegeneration
To non-invasively specify the pathological process of neurodegeneration by inventing novel imaging technologies
To incorporate functional and structural measurements of the central nervous system during development and degeneration
To explore novel therapeutic interferences to alter the fates of a degenerative cell.
Selected Publications
Nishioka C, Poh C, Sun SW*, Diffusion Tensor Imaging Reveals Visual Pathway Damage in Patients with Mild Cognitive Impairment and Alzheimer's Disease. JOURNAL OF ALZHEIMER'S DISEASE. 2015 Jan 1;45(1):97‐107.
Sun SW *, Nishioka C, Labib W, Liang HF, Axonal terminals exposed to amyloid beta may not lead to presynaptic axonal damage. JOURNAL OF ALZHEIMER'S DISEASE 45 (2015) 1139–1148.
Sun SW *, Liang HF, Mei J, Xu D, Shi WX, In vivo DTI of Amyloid β‐induced White Matter Damage in Mice. JOURNAL OF ALZHEIMER'S DISEASE. 2014 Jan 1;38(1):93‐101.
Sun SW *, Mei J, Tuel K, Comparison of Mouse Brain DTI Maps Using K‐space Average, Image‐space Average, or No Average Approach, Magnetic Resonance Imaging. 2013 Nov;31(9):1532‐6 PMCID: PMC3904870
Sun SW*, Thiel T, Liang HF. Impact of Repeated Topical-Loaded Manganese-Enhanced MRI on the Mouse Visual System. Invest Ophthalmol Vis Sci 2012.
Xie M, Wang Q, Wu TH, Song SK, Sun SW*. Delayed axonal degeneration in slow Wallerian degeneration mutant mice detected using diffusion tensor imaging. Neuroscience 2011;197:339-347.
Sun SW*, Campbell B, Lunderville C, Won E, Liang HF. Noninvasive topical loading for manganese-enhanced MRI of the mouse visual system. Invest Ophthalmol Vis Sci 2011;52(6):3914-3920.
Sun SW, Chen YJ, Chou KH, Chu WC. Keyhole and zero-padding approaches for reduced-encoding diffusion tensor imaging of the mouse brains. Magn Reson Imaging 2010;28(10):1413-1419.
McAuley G, Schrag M, Sipos P, Sun SW, Obenaus A, Neelavalli J, Haacke EM, Holshouser B, Madacsi R, Kirsch W. Quantification of punctate iron sources using magnetic resonance phase. Magn Reson Med 2010;63(1):106-115.
Sun SW*, Liang HF, Xie M, Oyoyo U, Lee A. Fixation, not death, reduces sensitivity of DTI in detecting optic nerve damage. Neuroimage 2009;44(3):611-619.
Ou X, Sun SW, Liang HF, Song SK, Gochberg DF. The MT pool size ratio and the DTI radial diffusivity may reflect the myelination in shiverer and control mice. NMR Biomed 2009;22(5):480-487.
Ou X, Sun SW, Liang HF, Song SK, Gochberg DF. Quantitative magnetization transfer measured pool-size ratio reflects optic nerve myelin content in ex vivo mice. Magn Reson Med 2009;61(2):364-371.
Xu J, Sun SW, Naismith RT, Snyder AZ, Cross AH, Song SK. Assessing optic nerve pathology with diffusion MRI: from mouse to human. NMR Biomed 2008;21(9):928-940.
Sun SW, Liang HF, Cross AH, Song SK. Evolving Wallerian degeneration after transient retinal ischemia in mice characterized by diffusion tensor imaging. Neuroimage 2008;40(1):1-10.
Sun SW, Liang HF, Schmidt RE, Cross AH, Song SK. Selective vulnerability of cerebral white matter in a murine model of multiple sclerosis detected using diffusion tensor imaging. Neurobiol Dis 2007;28(1):30-38.
Sun SW, Liang HF, Trinkaus K, Cross AH, Armstrong RC, Song SK. Noninvasive detection of cuprizone induced axonal damage and demyelination in the mouse corpus callosum. Magn Reson Med 2006;55(2):302-308.
Shimony JS, Burton H, Epstein AA, McLaren DG, Sun SW, Snyder AZ. Diffusion tensor imaging reveals white matter reorganization in early blind humans. Cereb Cortex 2006;16(11):1653-1661.
Sun SW, Song SK, Harms MP, Lin SJ, Holtzman DM, Merchant KM, Kotyk JJ. Detection of age-dependent brain injury in a mouse model of brain amyloidosis associated with Alzheimer's disease using magnetic resonance diffusion tensor imaging. Exp Neurol 2005;191(1):77-85.
Sun SW, Neil JJ, Liang HF, He YY, Schmidt RE, Hsu CY, Song SK. Formalin fixation alters water diffusion coefficient magnitude but not anisotropy in infarcted brain. Magn Reson Med 2005;53(6):1447-1451.
Song SK, Yoshino J, Le TQ, Lin SJ, Sun SW, Cross AH, Armstrong RC. Demyelination increases radial diffusivity in corpus callosum of mouse brain. Neuroimage 2005;26(1):132-140.
Lin CY, Sun SW, Hong CY, Chang C. Unsupervised identification of white matter tracts in a mouse brain using a directional correlation-based region growing (DCRG) algorithm. Neuroimage 2005;28(2):380-388.
Sun SW, Song SK, Hong CY, Chu WC, Chang C. Directional correlation characterization and classification of white matter tracts. Magn Reson Med 2003;49(2):271-275.
Sun SW, Neil JJ, Song SK. Relative indices of water diffusion anisotropy are equivalent in live and formalin-fixed mouse brains. Magn Reson Med 2003;50(4):743-748.
Sun SW, Song SK, Hong CY, Chu WC, Chang C. Improving relative anisotropy measurement using directional correlation of diffusion tensors. Magn Reson Med 2001;46(6):1088-1092.