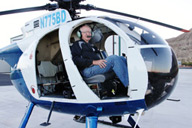 In July, 2012, I had the grant funds for an adventure with practical purposes. It was an aerial photography trip in southern Utah. The purpose was to collect geology research data, and to document the amazing geological structure of Utah and adjacent areas in Arizona and Colorado. The still and video photography will be used in the education of our students and for preparing a video on our geology research. For me it was a new experience to be sitting in a small helicopter with no doors, with the wind blowing past six inches from my right elbow at 80 to 120 miles per hour, and with a lot of nothing between me and the ground below!
Our photography adventure took us over Zion National Park, the series of cliffs in the Grand Staircase National Monument, Canyonlands National Park, Lake Powell, and western Grand Canyon. Our pilot knew southern Utah like we know our own homes, and knew where we could legally fly. We avoided the tourist parts of the parks, but some places we could fly were three times as awesome as the places the tourists see! Our pilot had a contract with a Native American tribe for flights over a portion of the Grand Canyon that was beautiful.
We photographed, with video and still cameras, research study areas where the rocks of interest are exposed along high cliffs. Areas that are nearly inaccessible from the ground were easily filmed from our aerial perch. I can see the benefits of helicopters in geology research, so we will no doubt need to contact our pilot again in the future.
Leonard Brand,
Chair
Earth and Biological Sciences