News & Events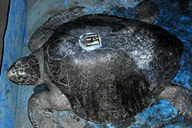 On September 23, 2012, Dr. Stephen G. Dunbar launched the 5th satellite transmitter on an olive ridley (Lepidochelys olivace) sea turtle from the community of El Venado, Honduras. The turtle was named after one of the young ladies in the community (Loanis) that assists with the collection of eggs that are placed in a hatchery for the incubation period of approximately 45 days. Once hatched, the baby turtles are released from the beach to begin their pelagic stage of life. "There has been so little work done on sea turtles in Honduras, that everything ProTECTOR is doing here is essentially new research territory" says Dunbar, ProTECTOR president and associate professor in the Department of Earth and Biological Sciences at Loma Linda University. Aside from the work of ProTECTOR in tracking turtles from Honduras, there is no other information about where turtles come from to nest in the country, or where they go after they nest. Loanis will provide Dr. Dunbar's lab with important insights as to where some of the turtles that nest along the south coast of Honduras may be residing during the year, and what kinds of obstacles they may be overcoming each time they migrate to and from the nesting grounds in the Gulf of Fonseca in Honduras.
Featured Stories
Same rattlesnake, different venom
Animal venoms contain many different proteins that each perform a specific role in contributing to the various physiological effects...
Geology from the Air
In July, 2012, I had the grant funds for an adventure with practical purposes. It was an aerial photography trip in southern Utah.
Bahama Iguana Conservation Center
On a barren, sparsely vegetated cay in the Bahamas, a handful of curious iguanas cautiously approached a small group of people...