Associate Professor
Director, Translational Research
Research Director, Pediatric Leukemia Research Program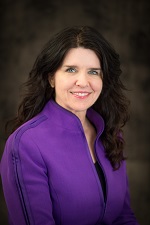 Research Interest
Dr. Payne's research interest is immune cell development and function in health, disease, and in immunotherapy. Research in her lab is currently focused on understanding disease mechanisms and developing novel therapies for a high-risk form of B cell acute lymphoblastic leukemia (B-ALL) that disproportionately affects Hispanic children. Thus, this work has the potential to reduce the health disparity in B cell leukemia for Hispanics/Latinos which make up the majority of patients at Loma Linda University Children's Hospital. This work is currently funded by an NIH R01 award. Discoveries in Dr. Payne's lab are being developed as a therapy through a start-up company, Elf Zone, Inc. that she established together with the Loma Linda Incubator, N3Eight. Dr. Payne's laboratory together with Elf Zone, Inc. is currently funded by an NIH R43 (SBIR, Small Business Innovative Research) grant.
Background
Dr. Payne received her doctorate in microbiology and immunology from the University of Oklahoma Health Sciences Center where she defined some of the early events in mouse B cell development. (Blood, PMID 10397738; Immunity, PMID 10755620.) As a postdoctoral fellow at Children's Hospital Los Angeles, Dr. Payne's research focused on the role of the Ikaros DNA binding proteins (Journal of Immunology, PMID 11489963; Journal of Immunology,  PMID 12626565) in the production of cells of the blood and immune system. As an Assistant Professor at the University of Southern California Keck School of Medicine, under NIH-K01 funded studies, Dr. Payne defined the role of IL-7 in human B cell development (Journal of Immunology, PMID 19299724). Dr. Payne joined Loma Linda University in 2006, where she is now an Associate Professor in the Department of Pathology and Human Anatomy, with secondary appointments in Pediatrics and Medicine. Her research laboratory is located in the Center for Health Disparities and Molecular Medicine. Dr. Payne also serves as the Director of Translational Research for the Cancer Center and the School of Medicine at Loma Linda University. In this capacity she facilitates faculty in the application of their research findings to treat disease and improve health.
Studying Normal B Cell Development and Function to Understand the Mechanisms of Disease
Dr. Payne's research relies heavily on translational approaches that are focused on applying bench research in ways that can address clinical problems. Her studies of normal B cell development and function are aimed at translating data obtained from mouse studies into human systems or hybrid human-mouse xenograft models and using these systems to answer questions that cannot be addressed in animal studies (Immunity, PMID 17582340). Under K01-funded studies Dr. Payne developed a novel human-only in vitro model of human B cell development that is allowing the laboratory to gain a better understanding of the factors that are critical in early stages of normal and malignant B cell development (Eur. J Immunol, PMID: 27325567).  Her laboratory used this model to identify IL-7 as an essential cytokine in the production of B cells in adults (Journal of Immunology, PMID 19299724). Under NIH-R21 funded studies, Dr. Payne's research team developed a novel patient-derived xenograft (PDX) model (Haematologica, PMID: 26611747) that her lab uses to study the role of the IL-7-like cytokine, TSLP, in B-ALL and normal B cell development and (Eur. J Immunol, PMID: 27325567).
Identifying Targets for Treatment in Childhood Cancer Health Disparities
B-Cell Acute Lymphoblastic Leukemia (B-ALL) is the most common childhood malignancy. A form of B-ALL caused by overexpression of the cytokine receptor, CRLF2 (CRLF2 B-ALL), occurs five times more frequently among children of Hispanic/Latino ethnicity than others and is associated with poor outcome. Patient-derived xenograft (PDX) mice produced by transplanting human B-ALL cells into immune deficient mice currently provides the best in vivo model for studying mechanisms and identifying therapies for human leukemia. Dr. Payne's laboratory has established a unique human B-ALL PDX model that is allowing them to study the CRLF2 signaling pathway in B-ALL. The development of this model was funded by an NIH Health Disparities R21 award. The CRLF2 alteration is frequently accompanied by defects in the Ikaros tumor suppressor gene (Leukemia Research. PMID 19892402). Dr. Payne is collaborating with Physician Scientists in the Department of Pediatrics at Loma Linda University and at other universities across the country to determine the mechanisms by which Ikaros defects contribute to leukemia (J Biol Chem. 2009, 284:13869, Leukemia, PMID: 26639180) and to develop therapies that target them (Blood, PMID: 26219304). New treatments for this disease have the potential to dramatically impact the pediatric leukemia patients at Loma Linda University Children's Hospital who are predominantly Hispanic and disproportionately impacted by this disease. Dr. Payne's studies to determine the mechanisms by which the CRLF2 signaling pathway contributes to leukemia have been funded by a St. Baldrick's Foundation Research Award and a Hyundai Hope On Wheels Research Award, as well as an NIH R01 award.
Dr. Payne's work has been presented at national and international conferences where she has chaired a number of block symposia. Dr. Payne served as a symposium organizer and a featured speaker at the annual Experimental Biology meeting in 2015. She was an Invited Speaker, for the International Cooperative Leukemia Group and International Cooperative Laboratory of Hematology, Zhongda Hospital and Southeast University, Nanjing, China in 2016. She was also a featured speaker at the 2018 annual meeting of the American Association of Pediatric Hematology/Oncology. Dr. Payne has served as an ad hoc reviewer for  a number of journals including: Leukemia, Journal of Immunology, Experimental Hematology, Stem Cells, Human Immunology, Leukemia Research, Leukemia and Lymphoma, Frontiers in Immunology, and Nature Immunology,  Dr. Payne has served on a national and international grant review panels for organizations including the DOD, NIH, Pediatric Cancer Research Foundation, and Bear Necessities Research Foundation. Her service has included chairing the NIH Cancer Health Disparities/Diversity in Basic Cancer Research and the Technical Evaluation Panel (TEP-7B) grant review panels in 2018.
Selected Publications from the past 4 years:
Francis OL, Milford TM, Martinez SR, Baez I, Coats JS, Mayagoitia K, Concepcion KR, Ginelli E, Beldiman C, Benitez A, Weldon, AJ, Arogyaswamy K, Shiraz P, Fisher R, Morris CL, Zhang XB, Filippov V, Van Handel B, Zheng Ge, Song C, Dovat S, Su RJ, and Payne KJ. A novel xenograft model to study the role of TSLP-induced CRLF2 signals in normal and malignant human B lymphopoiesis. Haematologica. 2016. 101(4):417-26. PMID: 26611747.

This article was featured in an editorial highlight at publication: Editorial: Haematologica. 2016. 101(4): 391-3. doi: 10.3324/haematol.2016.142448.

Milford TA, Su RJ, Francis OL, Baez I, Martinez SR, Coates JS, Weldon AJ, Calderon MN, Nwosu MC, Botimer AR, Suterwala BT, Zhang XB, Morris CL, Weldon DL, Dovat S, and Payne KJ. TSLP or IL-7 provide an IL-7Rα signal that is critical for human B lymphopoiesis. Eur. J Immunol. 2016 Sep;46(9):2155-61. PMID: 27325567
Song C, Gowda C, Pan X, Ding Y, Tong Y, Tan BH, Wang H, Muthusami S, Ge Z, Sachdev M, Amin SG, Desai D, Gowda K, Gowda R, Robertson GP, Schjerven H, Muschen M, Payne KJ, Dovat S. Targeting casein kinase II restores Ikaros tumor suppressor activity and demonstrates therapeutic efficacy in high-risk leukemia. Blood. 2015. 126(15):1813-22. PMID: 26219304

This article was featured in editorial highlight in Inside Blood: Blood 2015 126: 1735-1736. doi:10.1182/blood-2015-08-662544

Liu A, Wang Y, Ding Y, Baez I, Payne KJ, Borghesi L. Cutting Edge: Hematopoietic Stem Cell Expansion and Common Lymphoid Progenitor Depletion Require Hematopoietic-Derived, Cell Autonomous TLR4 in a Model of Chronic Endotoxin. J Immunol. 2015. 195 (6) 2524-2528. PMID: 2627687.
Song C,  Pan X, Ge Z, Gowda  C, Ding Y, Li H, Li Z, Yochum G,  Wang H, Muschen M, Li Q,  Payne KJ, and Dovat S. Epigenetic regulation of gene expression by Ikaros, HDAC1 and Casein Kinase II (CK2) in leukemia. Leukemia, 2016 Jun; 30(6):1436-40. PMID: 26639180
Wang  H, Song C, Ding Y, Pan X, Ge Z, Tan BH, Gowda C, Ouyang H, Lai L, Francis OL, Morris  CL, Abdel-Azim H, Dorsam G, Xiang M, Payne KJ, and Dovat S. Transcriptional Regulation of JARID1B/KDM5B Histone Demethylase by Ikaros, by Histone Deacetylase 1 (HDAC1) and Casein Kinase 2 (CK2) in B Cell Acute Lymphoblastic Leukemia. J Biol Chem. 2016. 291(8):4004-18. PMID 26655717
Francis OL, Milford TA, Stoian C and Payne K. Fine-Tuning Patient-Derived Xenograft Models for Precision Medicine Approaches in Leukemia. J Investig Med. 2016 Mar. 64(3): 740-4. PMID 26912005.
Ge Z, Gu Y, Zhao G, Li J, Chen B, Han Q, Guo X, Liu J, Li H, Yu MD, Olson J, Steffens S, Payne KJ, Song C, and Dovat S. High CRLF2 expression associates with IKZF1 dysfunction in adult acute lymphoblastic leukemia without CRLF2 rearrangement. Oncotarget. 2016 Aug 2;7(31):49722-49732. PMID: 27391346
Coats J, Baez I, Stoian C, Milford TM, Zhang XB, Francis OL, Su RJ, Payne KJ. Expression of Exogenous Cytokine in Patient-Derived Xenografts Via Injection with a Cytokine-Transduced Stromal Cell Line. J. Vis Exp  2017 May 10;(123). PMID: 28518123
Dovat S. and Payne KJ. STAT5 Alters the State of Transcriptional Networks Driving Aggressive Leukemia. Nat Immunol. 2017 May 18;18(6):597-598. PMID: 28518152
Zheng Ge, Qi Han, Yan Gu, Qinyu Ge, Jinlong Ma, Justin Sloane, Goufeng Gao, Kimberly J. Payne2, L. Szekely, Chunhua Song, and Sinisa Dovat. Aberrant ARID5B expression and its association with Ikaros dysfunction in acute lymphoblastic leukemia. Oncogenesis. 2018 Nov 12;7(11):84.
Yali Ding, Bo Zhang, Jonathon L. Payne, Chunhua Song, Zheng Ge, Chandrika Gowda, Soumya Iyer, Pavan K. Dhanyamraju, Glenn Dorsam, Mark E. Reeves, Dhimant Desai, Suming Huang, Kimberly J. Payne, Feng Yue and Sinisa Dovat. Ikaros Tumor Suppressor Function Includes Induction of Active Enhancers and Super-Enhancers Along with Pioneering Activity. Leukemia. 2019 May 9; doi: 10.1038/s41375-019-0474-0. [Epub ahead of print] PMID 31073152
Current Funding
R01CA209829
07/01/16 – 06/30/21
Sponsor: NIH/NCI
Title: Targeting CRLF2 and Ikaros Alterations to Reduce Health Disparities in Childhood Leukemia
Goals: To establish the in vivo therapeutic efficacy of targeting CRLF2 downstream pathways and their role in CRLF2 B-ALL in Hispanic pediatric patients and evaluate the in vivo efficacy and mechanisms of combination therapy that restores Ikaros tumor suppressor activity and inhibits the mTOR pathway in Hispanic pediatric CRLF2 B-ALL.
Role: Principal Investigator
1 R43 CA224723
09/25/17 – 08/31/19
Sponsor: NIH/NCI
Title: Biologic for the Treatment of High Risk B Cell Acute Lymphoblastic Leukemia
Goals: The proposed studies will evaluate the therapeutic efficacy of the cytokine, TSLP, as a biologic for the treatment of CRLF2 B-cell acute lymphoblastic leukemia (B-ALL). CRLF2 B-ALL is a high-risk form of leukemia that is 5 times more common in Hispanic children than others. TSLP is selectively targets the CRLF2 signaling pathway to kill leukemia cells and restore normal B cell production with the goal of reducing childhood cancer health disparities.
Role: University Principal Investigator