Professor - In Memoriam
Division of Human Anatomy
Department of Pathology and Human Anatomy
School of Medicine
Loma Linda University
Loma Linda, CA 92350
U.S.A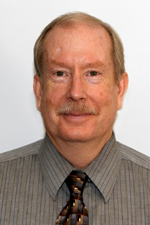 Research Interest
Neuroscience (Neurophysiology and Neuroanatomy) with special concentration in Developmental Neurobiology, neural mechanisms in labor and parturition.
Current Projects:
The ontogeny of ganglion cell class in the fetal monkey retina.
The centro-peripheral gradient of retinal ganglion cell maturation in the fetal monkey.
Genetic determinants of ganglion cell proliferation.
Morphogenesis of retinal ganglion cells during formation of the fovea in the rhesus macaque.
Effects of microbeam proton irradiation on the LGN of the cat central nervous system.
Effects of microbeam proton irradiation on the developing central nervous system of the cat.
Functional and structural reorganization of the cat's retinocollicular projection following fetal enucleation.
Morphological maturation of horizontal cells in the retina of fetal rhesus monkey.
Photoreceptor distribution in the retina of the baboon.
Topographic organization of the retinocollicular projections in the fetal cat.
Functional reorganization of the primate fovea following cortical destruction.
Neural Mechanisms Controlling Parturition
Selected Publications
Michael A Kirby, Anne C Heuerman BS and Steven M Yellon (2018). Utility of Optical Density of Picrosirius Red Birefringence for Analysis of Cross-Linked Collagen in Remodeling of the Peripartum Cervix for Parturition. Integr Gyn Obstet J Volume 1(2): 1–5. PMC6117116
The Rise of Fetal and Neonatal Physiology, Basic Science to Clinical Care, 2018, 2nd edition, pp. 1-860. Author, Lawrence D. Longo (posthumously), with Kent Thornburg (Foreword). Senior Eds., S Yellon, M.A. Kirby, with  R. Goyal, C. P. Gheorghe, J. Alonso, co-editors. Publisher: Springer, New York, NY.  ISBN 978-1-4939-7483-2.
M.A. Kirby,  Ph.D.,  A. C. Heuerman, M.Custer, A. E. Dobyns1, R. Strilaeff, K.N. Stutz, J. Cooperrider, J. G. Elsissy, and Steven M. Yellon (2016). Progesterone receptor–mediated actions regulate remodeling of the cervix in preparation for preterm parturition. Reprod. Sci., 23(11), p.1-11. PubMed PMID: 27233754
S.M. Yellon, A.E. Dobyns, H.L.Beck, J.T. Kurtzman, R.E. Garfield, M.A. Kirby (2013). Loss of progesterone receptor-mediated actions induce preterm cellular and structural remodeling of the cervix and premature birth. PLOS ONE, 8, issue 12, p.1-9. PubMed PMID: 24339918
Clyde, L.A., Lechuga, T.J., Ebner, Charlotte, A., Burns, A.E., Kirby, M.A., Yellon, S.M. (2011). Transection of the pelvic or Vagus nerve forestalls ripening of the cervix and delays birth in rats. Biol. Reprod., 84, 587-594. PMID: 21106964
S.M. Yellon, L.A. Grisham, G. Rambau, T.J. Lechuga, M.A. Kirby (2010). Pregnancy-related reduction in connections from the cervix to forebrain and hypothalamus in mice. J. of Reproduction, 140, 1-10.
M.A. Kirby, M. M. Groves, and S. M. Yellon (2009). Retrograde tracing of spinal cord connections tothe cervix with pregnancy in mice. J. of Reproduction, 139:1-10,2009.
Boyd J.W., T.J. Lechuga, C.A. Ebner, M.A. Kirby, Yellon S.M. (2009). Cervix remodeling and parturition in the rat: lack of a role for hypogastric innervation. J. of Reproduction 137: 739-748.
Yellon S.M., Bur ns A.E., J.L. See, T.J. Lechuga, M.A. Kirby (2009). Progesterone Withdrawal Promotes Remodeling Processes in the Nonpregnant Mouse Cervix. Biol. Reprod. 81: 1-6.
Kirby L.S., M.A. Kirby, J.W. Warren, L.T. Tran, S.M. Yellon (2005). Increased innervation and ripening of the prepartum murine cervix. J. Soc. Gynecol Invest. 12:578-85.
S.M. Yellon, A.M. Mackler, M.A. Kirby (2003). The role of leukocyte traffic and activation in parturition. J. Soc. Gynecol. Invest. 10: 323-338 (invited review).
S.M. Yellon, A.M. Mackler, M.A. Kirby (2003). Contribution of leukocyte trafficking and activation in the pregnant uterus and cervix at term to an immune hypothesis for parturition. J. Society for Gyne. Invest. 10:323-338.
M.A. Kirby (2003) The Brain Atlas. J. of Neurosurgery.
M.A. Kirby (2003). Probabilistic Models of the Brain. J. of Neurosurgery.
M.A. Kirby (2002)  Cerefy Brain Atlas. J. of Neurosurgery, 1481-1482.
M.A. Kirby, D.H. Rapaport (2001). Human Neuroanatomy. J. of Neurosurgery, 95:912-913.
Allan, G., Liu, J-W, Kirby, M.A., M. DeLeon (2001). Induction and axonal localization of E-FABP in retinal ganglion cells is associated with axon regeneration. J. Neuroscience Research, 66:396-405.
Christensen, D.W., Kisling, R., Thompson, J., and M.A. Kirby (2001). Deferoxamine Toxicity in Hepatoma and Primary Rat Brain Cultures. Human and Experimental Toxicology, 20:1-12.
Erkman, L., P.A. Yates, T. McLaughlin, R.J. McEvilly, T. Whisenhunt, S.M. O'Connell, A.I. Krones, M.A. Kirby, D.H. Rapaport, J.R. Bermingham, D.D.M. O'Leary, & M.G. Rosenfield (2000). Cell autonomous regulation of axon pathfinding in the vertebrate visual system by a Brn-3.2 dependent transcriptional program. Neuron, 28:779-792.
Reder, C.S., M. Moyers, and M.A. Kirby (2000).  Physiological Alteration of CNS cells following Proton Irradiation, Intern. J. of Radiation Oncology, Biology, and Physics, 46:1247-1257.
M.F. Moyers, R.A. Galindo, L.T. Yonemoto, L. Loredo, E.J. Friedrichsen, M.A. Kirby, J.D. Slater, and J.M. Slater (1999). Treatment of macular degeneration with proton beams. Medical Physics, 26:777-782.