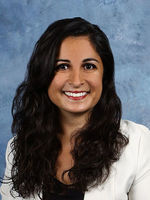 Dr. Tanya Minasian is a Pediatric Neurosurgeon at Loma Linda University Children's Hospital. She has helped lead the Pediatric Neurosurgery division for the last five and a half years, joining Loma Linda after completing her fellowship training at Children's Hospital Los Angeles. Her special interests include management of Neurotrauma, Craniofacial disorders, brain and spine tumors, and endoscopic treatment of childhood congenital diseases.
Dr. Minasian is a physician leader within the Children's Hospital and is currently the vice president of the Children's Hospital Medical Staff Executive Committee. She enjoys teaching and is the associate program director for the Neurosurgery Residency program and is co-director for the Neurosurgery clerkship at Loma Linda University School of Medicine.
She is a strong advocate for diversity, equity, and inclusion, particularly in the field of surgery, mentoring many female medical students interested in pursuing a career in surgery. She works closely with the Association of Women Surgeons (both Nationally and at the LLU School of Medicine Chapter). She is a leader on the national stage of neurosurgery as well, and is currently chair-elect for the American College of Osteopathic Surgeons Neurosurgery Discipline.
Dr. Minasian is a tireless advocate for her patients and their families. She is passionate about providing community education, having founded the only pediatric brain and spine tumor support group in the region. She also works to create awareness for prevention of certain conditions, both here in the community and nationally. She started ThinkFirst For Your Baby, partnering with a national program to provide free seminars to help prevent shaken baby syndrome in the region.
Southern California is home to Dr. Minasian and she is honored to provide care to the children of this region and give back to the community she loves dearly. Dr. Minasian is an avid tennis player, and had the opportunity to attend the Rafa Nadal Tennis Academy in Mallorca, Spain this past year - an adventure of a lifetime!