By Hillary Angel - February 1, 2022
Throughout the month of February, Loma Linda University School of Medicine is hosting a speaker series and student activities focused on the theme of Healing and Hope in Advocacy.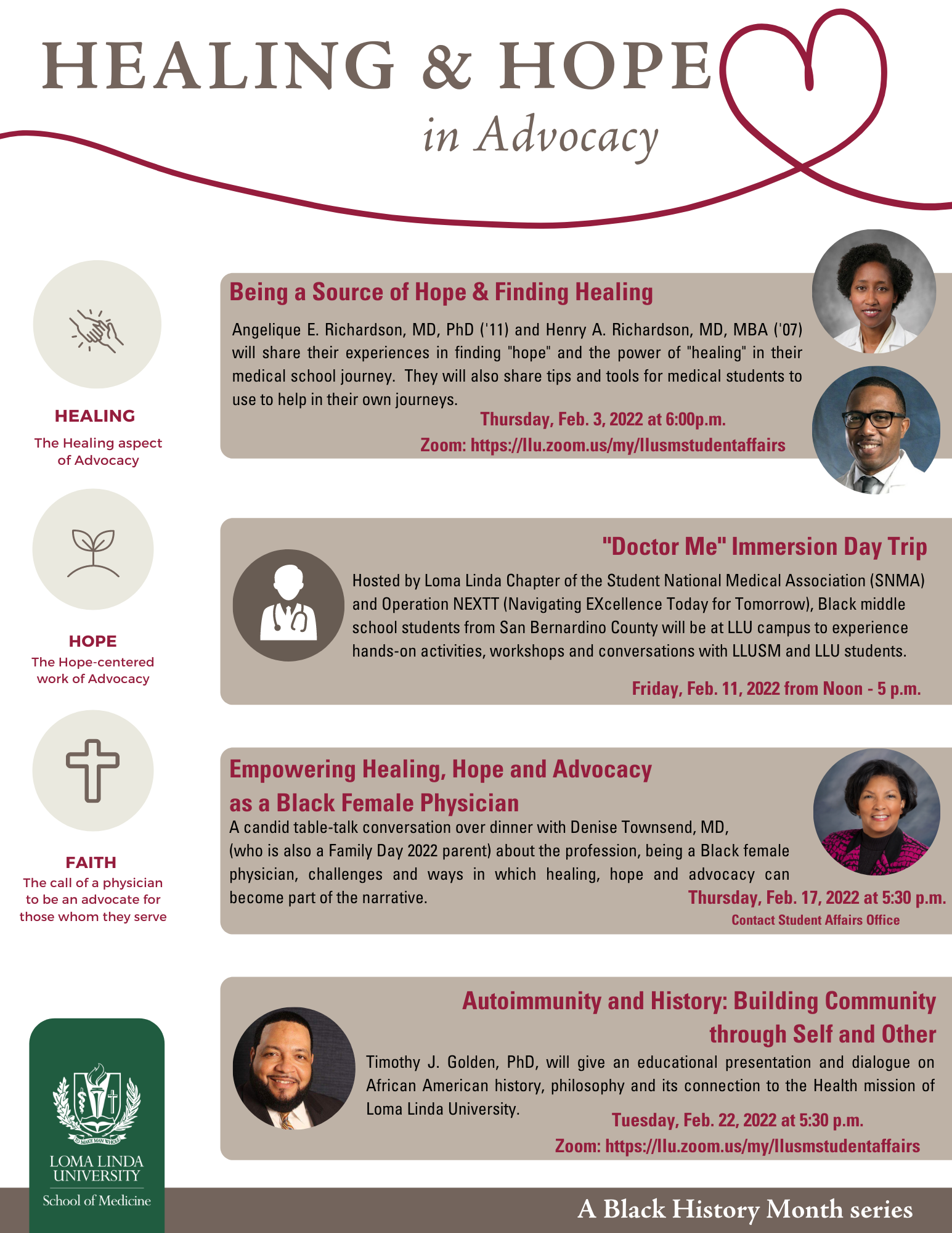 Thursday, February 3, 2022 - Being a Source of Hope & Finding Healing
Virtual event begins at 6 p.m. | Join Zoom session: https://llu.zoom.us/my/llusmstudentaffairs 
School of Medicine alumni, Angelique E. Richardson, MD, PhD ('11) and Henry A. Richardson, MD, MBA ('07) will share their experiences in finding "hope" and the power of "healing" in their medical school journey. They will also share tips and tools for medical students to use to help in their own journeys.   
Friday, February 11, 2022  - "Doctor Me" Immersion Day Trip 
Hosted by Loma Linda Chapter of the Student National Medical Association (SNMA) and Operation NEXTT (Navigating EXcellence Today for Tomorrow), Black middle school students from San Bernardino County will be at LLU campus to experience hands-on activities, workshops and conversations with LLUSM and LLU students. Event will be on campus from Noon - 5 p.m
Thursday, February 17, 2022 - Empowering Healing, Hope and Advocacy as a Black Female Physician
A candid table-talk conversation over dinner with Denise Townsend, MD, (who is also a Family Day 2022 parent) about the profession, being a Black female physician, challenges and ways in which healing, hope and advocacy can become part of the narrative. Thiis event is private - contact student affairs for more information. 
Tuesday, February 22, 2022 -  Autoimmunity and History: Building Community through Self and Other
Virtual event begins at 5:30 p.m. I Join Zoom session: https://llu.zoom.us/my/llusmstudentaffairs  
Timothy J. Golden, PhD, will give an educational presentation and dialogue on African American history, philosophy and its connection to the Health mission of Loma Linda University.