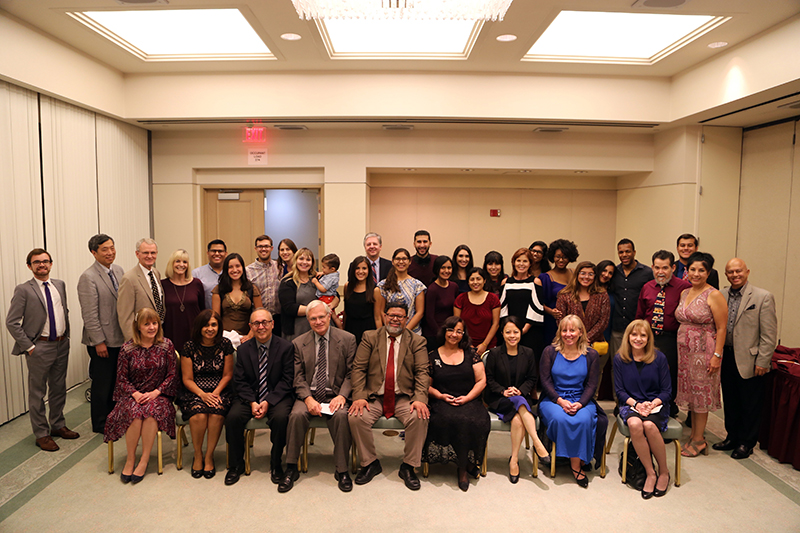 By khwang - November 9, 2017
The keynote speaker at the 4th annual Hispanic Heritage Vespers and Dinner, which was held Friday, Oct. 13, as a presentation of the Loma Linda University School of Medicine's office of diversity, offered a blessing for the future medical students in attendance.
Ernesto Cruz, MD, a Redlands pediatrician who was born in Puerto Rico and graduated from the School of Medicine in 1981, blended equal parts inspiration, interactivity and humor in his presentation. 
While displaying photographs of himself and his classmates in the late 1970s and early '80s, Cruz recalled the sense of God's leading in their individual career decisions and medical specialties. He said he personally never looked back after choosing pediatrics.
"May you land in a niche that you really, really enjoy so you can always look forward to going to work every day," Cruz told members of the class of 2018 and other future physicians.
Cruz encouraged the students to cultivate spiritual aspects of health ministry, saying some of his greatest joys have come when former patients have told him, years later, that his influence led them to a deeper commitment to God. "You never know what impact you will have on people," he said.
In addition to Cruz, several other individuals participated in the program. Sarah Roddy, MD, associate dean for admissions and recruitment, offered the opening prayer. Daisy De Leon, PhD, professor and assistant to the dean for diversity, drew laughs from the crowd with her comments about Alice Wongworawat, MBA, associate dean for finance and administration. "Alice can account for every penny we spend," De Leon said. "I like to have her here so she can enjoy how our pennies are spent."
Roger Hadley, MD, dean of the school, invited third-year medical student Ruby Perez to join him at the podium to discuss her decision to take a one-year leave of absence at the end of her second year to pursue a master's degree in theological studies at La Sierra University. "The year off made a difference, it helped me grow emotionally and spiritually," Perez said.
Carlos Casiano, PhD, professor of basic sciences and medicine, reflected on the struggles Latino students sometimes face. He recounted how family members sometimes encourage them to enter a career right after high school or college to help support the family, or discourage them from moving away from home to attend graduate school.
In introducing a video presentation highlighting the accomplishments of prominent Hispanic physicians and research scientists, Casiano recounted the prejudicial advice of a graduate school professor at another university who tried to discourage him from completing his doctoral studies because of his Puerto Rican heritage.
Two students provided worshipful music for the vespers program. Laryssa Do Ouro Rodrigues, a second-year medical student, sang "Via Dolorosa,"and Sam Bolivar, a senior at La Sierra University, sang "Give Me Jesus" and "My Soul Has Been Anchored in the Lord." Tamara Thomas, MD, vice dean for academic affairs, brought the meeting to a close with prayer.
Afterward, Daisy De Leon reflected on the purpose of National Hispanic Heritage Month, which is held from Sept. 15 to Oct. 15 to recognize the contributions and presence of Hispanic and Latino Americans to the United States.
"Hispanics have had a profound and positive influence on our country through their strong commitment to family, faith, hard work, and service," De Leon said, noting the influence of traditions that reflect multiethnic and multicultural customs.
"At Loma Linda University School of Medicine, we especially cherish this celebration because we believe Hispanics contribute to our mission and commitment to educate Christian healers who can work to create a better world," she said.
Article by James Ponder. This article originally appeared on LLUH News.