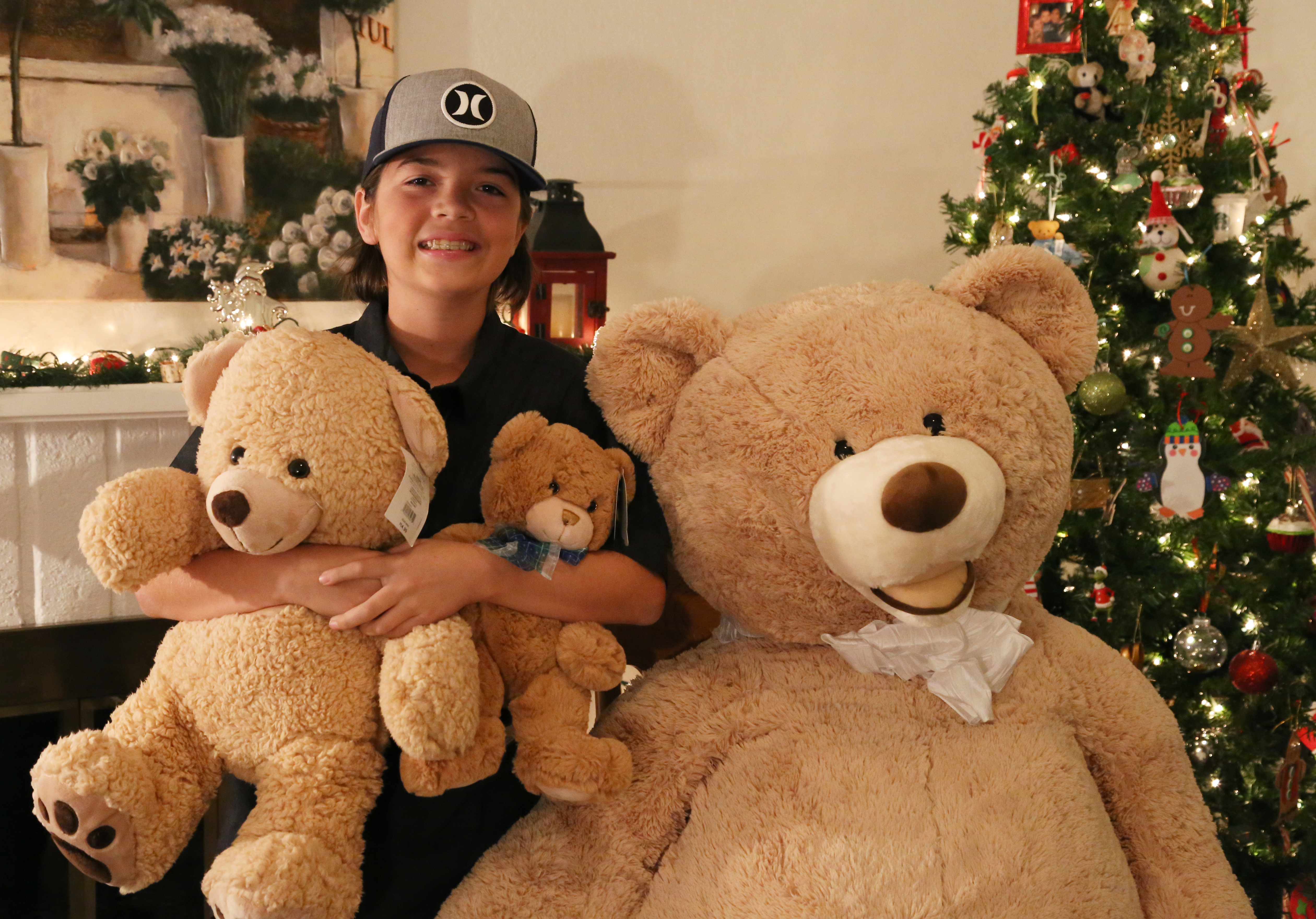 By khwang - December 8, 2017
When Caden Henderson was admitted to the Loma Linda University Children's Hospital last year, his mother, Jill, was beside herself. Caden had never been sick enough to need to stay at the hospital before. What was she supposed to do?
She grabbed an old teddy bear from their house and brought it to his hospital room. Caden, who was 11 at the time, had outgrown stuffed animals but she thought a small piece of home would be comforting. Immediately, physicians, nurses and other staff members latched onto the bear, inquiring about its name and story.
"It was a really good ice breaker as far as our guests went. He brought a lot of life to the room," Jill said.
Caden and Jill were so touched by their experience at the hospital, that they've started collecting teddy bears to give to kids at the hospital on Christmas day.
"It would really stink to be in the hospital and not at home especially during Christmas and the holidays, so it will bring them some cheer," Caden said.
His goal is to collect 250 bears, and at 175 he's well on his way to meeting that goal.
Pediatric gastroenterologist Trinh Truong, MD, who treated Caden while he was in the hospital, said she was impressed by his maturity and desire to help other sick children.
"I've had good experiences in my life, but I don't know that at age 12 I would be thinking 'Wow I had such a good experience I'm going to throw a teddy bear drive,'" Truong said. "He has a good heart."
Most of the time physicians don't know what happens to patients once they leave the hospital, she added, so it's encouraging to hear that a patient is doing well.
"You want the best outcome for every patient but you don't always know what happened to them," Truong said. "It's nice to know that they had a great experience, so much so that they even want to give back."
The community response to the teddy bear drive has been overwhelmingly positive, Jill said. Local businesses have set up donation boxes, and radio and TV personality Ryan Seacrest even donated $1,000 to the cause on KIIS FM. Caden thinks they'll exceed their goal of 250 bears, and any extra bears will be given to the Cancer Center at LLUH.
Seeing the community rally together has meant a lot to the mother and son.
"Going to the hospital is terrible and scary – but then Loma Linda worked so hard to make it not scary for the kids and make it as enjoyable as possible," Jill said.  "To be a small part of that and give back to the people who helped us, to me that's really powerful."
To donate, bring new, unwrapped bears to the Children's Hospital Foundation Office at 11175 Mountain View Ave, Suite B, before December 15.