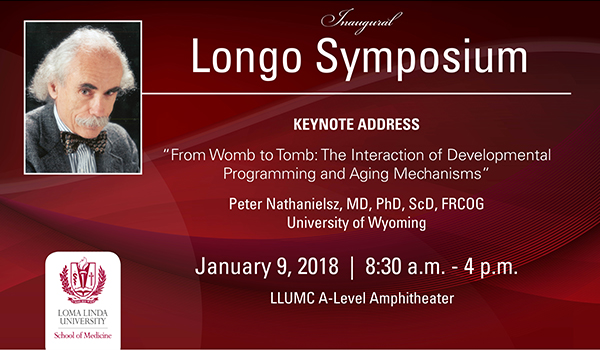 By khwang - December 27, 2017
By Larry Kidder
One of the leading experts in fetal development will give the keynote address at the inaugural Longo Symposium on January 9 at Loma Linda University Medical Center.
Peter W. Nathanielsz, MD, PhD, ScD, distinguished research professor in Life Course Studies at the University of Wyoming's College of Agriculture and Natural Resources, will give his presentation "From Womb to Tomb: The Interaction of Developmental Programming and Aging Mechanisms." 
Nathanielsz is one of eight translational research experts speaking at the symposium, which will be held from 8:30 a.m. to 4 p.m. in the Roger W. Barnes Amphitheater on the Medical Center's A-Level.
"The main purpose of the symposium is to honor Dr. Longo's legacy in maternal and developmental physiology," explained Lubo Zhang, PhD, director of the Loma Linda University School of Medicine Lawrence D. Longo, MD Center for Perinatal Biology, "and to inform and inspire those who are interested in basic and translational research in the field."
Lawrence D. Longo, MD, was an internationally recognized perinatal researcher. For five decades, he studied the regulatory mechanisms in the developing fetus, the role of exercise in pregnancy, the importance of oxygen to both mother and baby and numerous related subjects. He also founded the Loma Linda University School of Medicine's Center for Perinatal Biology, and served as the Bernard D. Briggs Distinguished Professor of Physiology and a professor of obstetrics and gynecology.
Longo passed away on January 5, 2016, at the age of 89.
"Dr. Longo was the original physician-scientist," Zhang said, "applying his knowledge and experience in the clinical sector and pursuing research objectives to help solve the problems that mothers and babies face."
Two decades ago, as part of a National Institutes of Health Program Project Grant, he introduced the Visiting Scientist Program, which continues to bring researchers from around the world to the Center where they lecture to clinical and research faculty, students and fellows. 
"The annual Longo Symposium will honor Dr. Longo's passion for science and the collaborative spirit of research that continues in our center today," Zhang added. "We've invited four outside speakers and four internal speakers to present at this year's inaugural symposium. These speakers are national and international leaders and experts in maternal and fetal/neonatal physiology, endocrinology, and neurobiology."
In addition to Nathanielsz, external speakers at the inaugural event include Maureen Keller-Wood, PhD, University of Florida; Leslie Myatt, PhD, Oregon Health & Science University; and Philip W. Shaul, MD, University of Texas Southwestern Medical Center. Speakers from Loma Linda University include Marino De León, PhD; William J. Pearce, PhD; Steven M. Yellon, PhD; and John H. Zhang, MD, PhD.
Find the symposium and speaker schedule here.