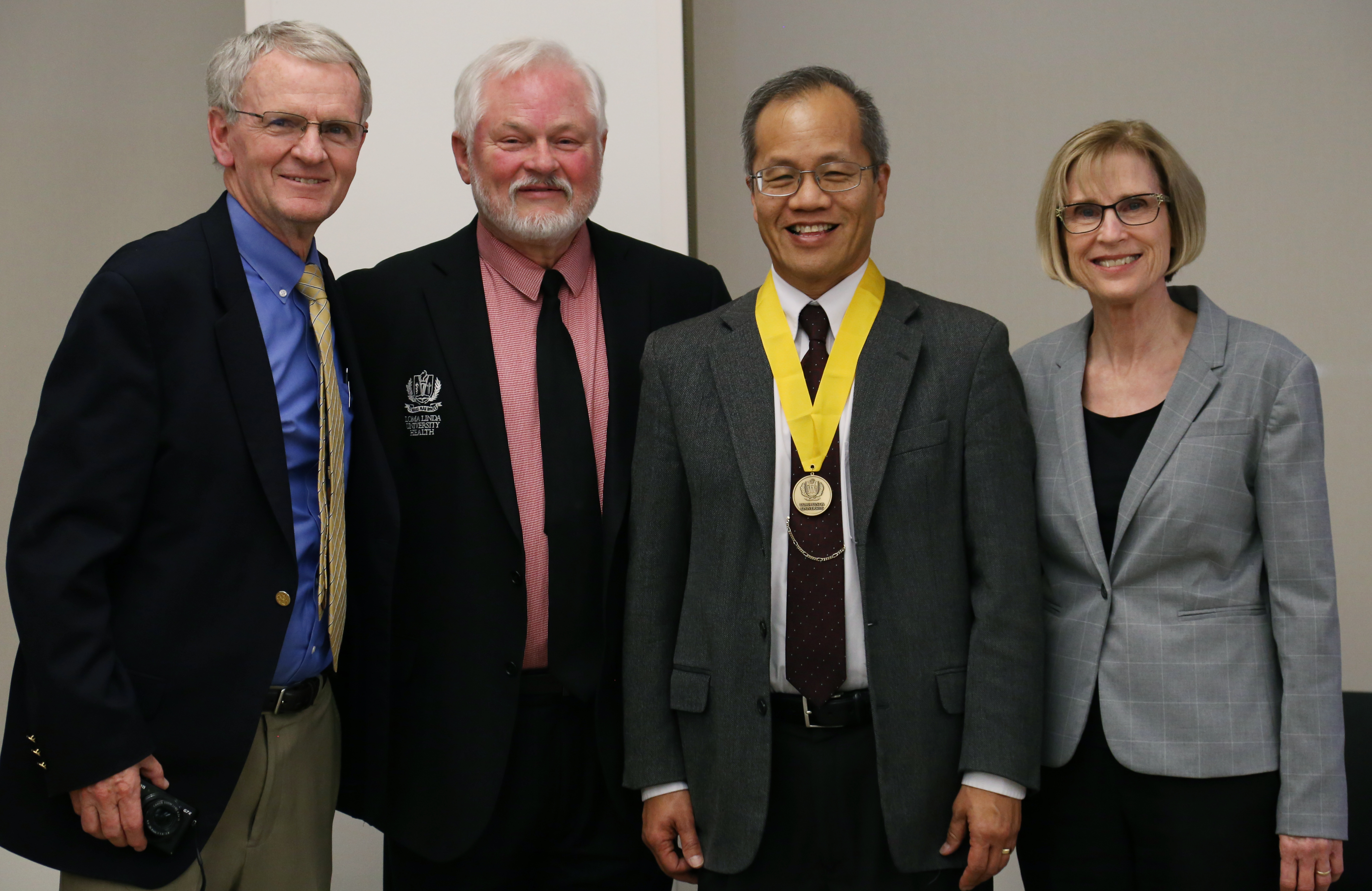 By khwang - March 19, 2018
On February 8, Associate Dean of Educational Quality and Outcomes Lawrence Loo, MD, became the sixth recipient of the Kinzer-Rice Award, which honors faculty who exemplify excellence in teaching at Loma Linda University.
The presentation ceremony for the award took place during the Faculty Development Showcase. Loo was also honored, along with associate professor Timothy Young, MD, and professor Barbara Hernandez, PhD, as one of the top five presenters of the showcase.
School of Medicine Dean Roger Hadley, MD, said there is no person as knowledgeable as Loo on what it takes to move students from their first years in college to practicing physicians.
"I consider Larry Loo a first round draft choice," Hadley said during the award ceremony. "That is if I have a blank slate and say 'OK I have to run a medical school, who do I start with?' Well, the first round would be Larry Loo." 
In a field where research and innovation quickly change the "medical facts" as we know them, Loo said one of the most important things teachers can do "is to role model and instill the values and attitudes that represent the best of our profession and the institution we are all blessed to serve."
"There are so many of my teachers, especially during my time here at Loma Linda, that I am so appreciative and feel deeply indebted to," Loo said. "I often wonder how to thank them enough over the years.  I thought one of the best ways to thank them was to 'pay it forward.' So in many ways, receiving this award is also a way of expressing appreciation to all my teachers of the past.  When students or residents come to thank me, I've often passed this model on and asked them to continue to 'pay it forward' to the next generation of physician learners."
Loo, who also serves as assistant dean for continuing medical education, received his medical degree from UC San Diego and began his career at LLUH as an internal medicine intern in 1981. As he moved through residency and postdoctoral training, Loo began teaching LLU medical students, becoming an assistant professor in 1986 and a professor in 2010.
He holds the Chauncey L. Smith Endowed Chair for the Department of Medicine and serves as Vice-chair for Education and Faculty Development in the School of Medicine. 
Both the Loma Linda VA and Riverside University Health System have shared in Loo's expertise, where he has held continuous appointments beginning in 1985 and 1995 respectively.  
Between 2004-2008, Loo served as governor for the American College of Physicians, Southern California Region II. 
Loo has published numerous papers on medical student education and faculty development, and has been recognized by LLU and the American College of Physicians as a master teacher. In 1989 and again in 2004, the School of Medicine recognized Loo with the Walter E. Macpherson Society Teacher of the Year Award.
"Larry, this is just a tip of the comments that you have received," Provost Ronald Carter, PhD, said. "We so greatly appreciate your contributions to this community and all the lives you've touched."
In a video tribute to Loo, he said that he couldn't imagine being anywhere but in a teaching environment.  
"I can't think of anything more important than to train the next generation of physicians in concert with the mission of the School of Medicine to foster the formation of Christian physicians and provide whole-person care," he said. "Whole-person care is the way I believe medicine should be practiced, and I am privileged to be at an institution that believes that is the way young physicians should be taught."