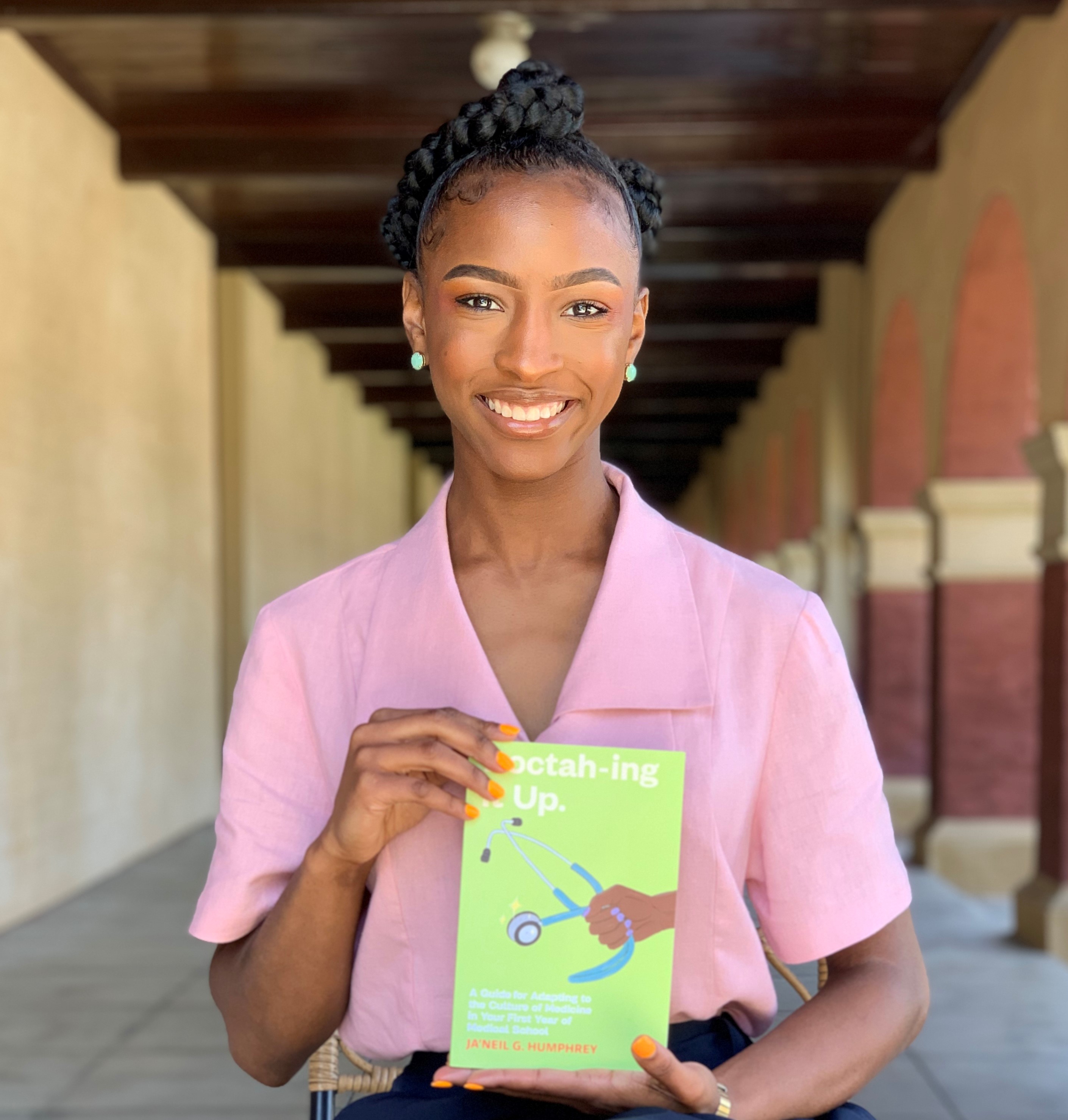 By Hillary Angel - April 26, 2022
We sat down with Ja'Neil Humphrey, a second-year medical student, who recently published her first book titled "Doctah-ing it Up: A Guide for Adapting to the Culture of Medicine in Your First Year of Medical School."
What inspired you to write this book?
My first year of medical school was unconventional, to say the least. I began this journey thousands of miles from home on a new coast, in the middle of the pandemic, and at a time of heightened racial and political divide. These elements made for a very unique transition into medical school. That year, I searched for comprehensive records of others going through similar fears, excitements, and first-year "jitters" to no avail. And when I did find some advice, it didn't specifically address the spectrum of non-academic things I experienced. Thankfully, I eventually found my way and successfully made it through the year. 
After my first year, during a period of reflection, I looked back on everything I learned and compiled these items into a note on my MacBook. I did this as an exercise to affirm my endurance despite an unusual first year. But, after periodically adding to the note and reading it over, it dawned on me that this information was substantial enough to be shared with others. That's when I decided to convert it into book form. 
What is the book about?
"Doctah-ing it Up" is my attempt to validate the experiences of first-year med students who, like I did, need to hear (or read), in plain and simple English, that they are on the right path despite the struggles they will face along the way. It is also my way to provide mentorship in a book for first-years who may not have access to current physicians and med students who look like them.  Most importantly, I hope this book helps further the movement of increasing diversity in medicine, and the Black experience in overall medical education.
 
Who is the audience?
My audience is anyone who wants to know what it's like to be in medical school. I wanted to make the book as fun and conversational as possible so people from all walks of life could relate to what is covered. 
What did you learn when writing the book?
While writing this book, I realized how misleading the term "traditional medical student" was -  one who started med school right after finishing undergrad I tried my best to organize the book by grouping elements of the first-year experience into seven distinct sections, but while editing, I found myself adding qualifier after qualifier. I felt obligated to do so because my experience as a "traditional" first-year med student was one of the thousands of unique combinations of life experiences that make up this leg in a physician's career. I would be lying if I said I captured all aspects of the first year in a mere 120 pages, but I sure hope that I've at least championed the beauty of unconventionality that exists as part of every medical student's experience. 
What do you want the reader to takeaway from the book?
I desire that all who read the book realize that success in this career is not based on luck, pure talent, or innate intelligence, but that this journey to becoming a doctor is a full-body fight to continually grow as a learner and individual.  What I've attempted to capture in the book is a glimpse of the tireless effort and determination, rather than inherent skill, that goes into adjusting to the world of medical education; in hopes that someone will find this type of success to be enough within their reach to give it a try. 
How did you find time to write this book? 
It was a group effort. After sharing my idea with a group of colleagues and a few of my mentors last summer, they supported and contributed to the book. 
From the cover art (designed by Jasmine Haddad, LLUSM Class of 2024), to section editing, to the glossary concept, to campus promotion, I had a team, fourteen minds strong, cheering me on to the finish line of self-publishing my first book only a few months into my second year.  'm so grateful for the response the book has received thus far and am looking to release a second edition soon.