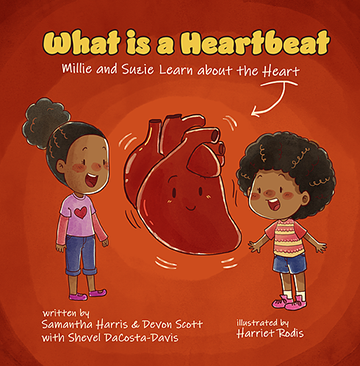 By Hillary Angel - March 4, 2021
Two Loma Linda University School of Medicine students, Samantha Harris and Devon Scott, have released their fourth book as part of their series to teach children about health topics and the variety of medical specialties.
The new children's book, "What is a Heartbeat," features two sisters, Millie and Suzie, going to the doctor with their grandmother where they learn about the heart, how it beats and how it helps deliver oxygen to the body. One of the characters in the book is a family medicine doctor who is portrayed by Shevel DaCosta-Davis who is a co-author and a fourth-year medical student.
As minority students in medicine, Scott and Harris said the foundation of these books is to feature children and physicians of color. They incorporated a special section at the back of the book to spotlight James Hutchinson, MD, who was first African-American doctor in California and is the oldest practicing family medicine physician.
The duo released their first book, "Why We Stay Home," in April 2020 to help children understand the coronavirus pandemic by discussing germs and concepts such as quarantine and social distancing. The book series follows Millie and Suzie as they learn about different body systems, from bones to skin to hearts. They have also published "What Happens When You Break a Bone," and "Why Your Skin is Beautiful."
While juggling their last year of medical school and preparing for residency, Scott and Harris are already working on their fifth book focusing obstetrics and gynecology. The story will be about a pregnant mother, and Millie and Suzie will learn about how the baby grows and why it's important to remain healthy for the arrival.
In addition, Scott and Harris are working on a YouTube channel to share their experience of becoming authors, being African-American students in medicine, and to share advice to those who want to launch a passion project.
Harris is an aspiring pediatrician and Scott is going into orthopedic surgery. They both share a passion for kids, medical education and encouraging the next generation that they can be whatever they want to be.