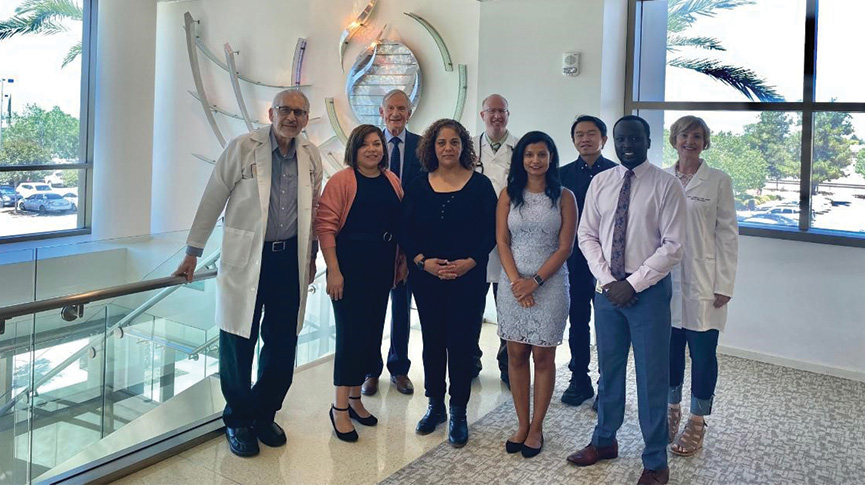 By Hillary Angel - August 16, 2022
Loma Linda University is participating in a study that will involve the use of the anti-diabetic medication Semaglutide to address health disparities in the Hispanic/Latino population.
Latino adults have the second-highest obesity burden among ethnic minority groups in the United States, with a rate of 47.8%, according to the Centers for Disease Control and Prevention.  Some in the Latino community are faced with limited medical care access and are less involved with weight management programs, which yields a lower participation rate in research studies. 
Semaglutide 2.4 mg has demonstrated a 14.9% average weight loss in five multinational, multi-site studies of one or more years. 
To recruit and reach the local Latino community, Loma Linda University is collaborating with the local nonprofit organization El Sol Neighborhood Educational Center and its Community Health Workers (CHW), which have successfully assisted Loma Linda University research and clinical projects in the past.
One hundred participants are randomized to receive a self-administered weekly Semaglutide 2.4 mg or placebo injection for six months. All participants also receive Intensive Lifestyle support using the Latino-adapted Full Plate diet. Individuals participate with personal and virtual visits, instruction and support for sleep hygiene, stress control, and exercise.
Each month, the study participants and their assigned CHW will visit the School of Public Health's Nutrition Research Center (NCR) where nutrition instruction will be provided by the Dietician department of the School of Allied Health Professions. Coordination of services with the El Sol organization will be provided by the School of Behavioral Health.
Five schools within Loma Linda University are participating in the study, coordinated by Warren Peters. The research team includes Johnny Figueroa from the School of Medicine; Ike De La Pena from the School of Pharmacy; Maud Joachim-Célestin and Susanne Montgomery from the School of Behavioral Health; Ed Bitok and Lee Berk from the School of Allied Health Professions; and Amandeep Kaur from the School of Public Health. Steve Cole from the University of California Los Angeles has added his novel genomic expertise to this GLP-1 study.
In addition to these academic and community resources, churches associated with the Southeastern California Conference of Seventh-day Adventists have committed to the promotion of the LSS project.
Loma Linda University is anticipating that similar weight management results will occur in its Latino study population and that it will lead to a higher participation in medical weight management services. Genomic studies have not previously been conducted with the use of this class of glucagon-like peptide (GLP-1) medications.
By demonstrating potential genomic pathways, Loma Linda University researchers may be able to better address the epidemic and biological features of the disease of obesity.
The university-wide Latino Semaglutide Study is funded by Novo Nordisk, the Denmark-based maker of the drug.