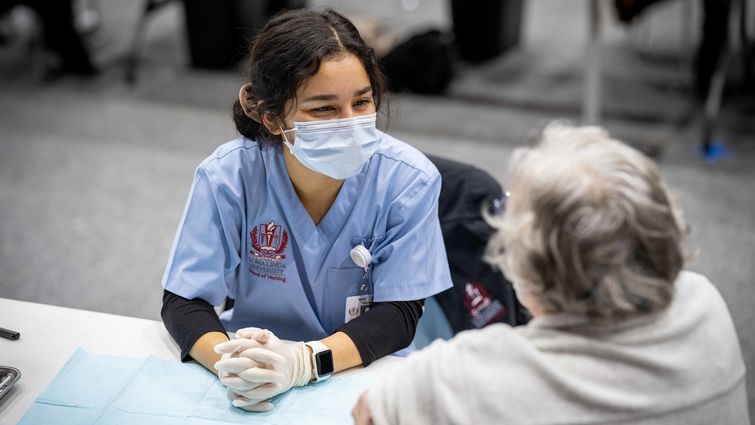 By DonaJayne Potts - February 24, 2021
A Loma Linda University School of Nursing student chats with a community member about what to expect from the COVID-19 vaccine.
Loma Linda University health professions students are playing a crucial role in the distribution of COVID-19 vaccines in San Bernardino County by administering tens of thousands of vaccines to patients from throughout the Inland Empire.
Several hundred students from School of Allied Health Professions, School of Medicine, School of Nursing and School of Pharmacy have volunteered to administer vaccines in a number of community vaccine clinics, including Loma Linda University Health's two vaccine sites at the Loma Linda University Drayson Center and Faculty Medical Clinics, where up to 2,000 community members are vaccinated daily.
Third-year PharmD pharmacy student, Gilma Garcia, says it was rewarding to be a part of an all-hands-on-deck response. 
"To know that by volunteering we were helping to take some of the pressure off frontline healthcare workers, who are busy saving lives, was a blessing," Garcia said. "It was also truly special to see how happy people in the community were to get the vaccine."
Michael Hogue, PharmD, FAPhA, FNAP, dean of LLU School of Pharmacy, has played an integral role in establishing clinics in line with CDC and California state guidelines and says students receive training and serve the public under licensed supervision. 
"The response from Loma Linda University students to the call for volunteers has been tremendous," he said. "They are working to end the pandemic as quickly as possible by helping us reach the goal to see 80% of our population vaccinated."
Pharmacy students were the driving force behind a mobile clinic that served Black and Latinx populations in the city of Adelanto, vaccinating over 1,400 individuals in one week. 
Last month, students from the School of Medicine volunteered at community vaccine clinics, and incoming freshman served as runners at the drive-thru testing sites at SAC Health System after severe staff shortages affected the operation of COVID-19 testing drive-thru lines.
Students are also helping to vaccinate the underserved who live in the poorest parts of the city of San Bernardino. Teams of students from the respiratory care program at the School of Allied Health Professions have administered hundreds of vaccines in parking-lot clinics.
Loma Linda University is reportedly the first bachelor of science entry-level respiratory care program in the United States to include both COVID-19 vaccinator training in its curriculum and to schedule students to provide COVID-19 vaccinations to the public, according to the department's program director. 
For more information about vaccines and to read answers to common questions about COVID-19, visit lluh.org/coronavirus. To learn more about Loma Linda University's eight schools visit llu.edu/heroes.