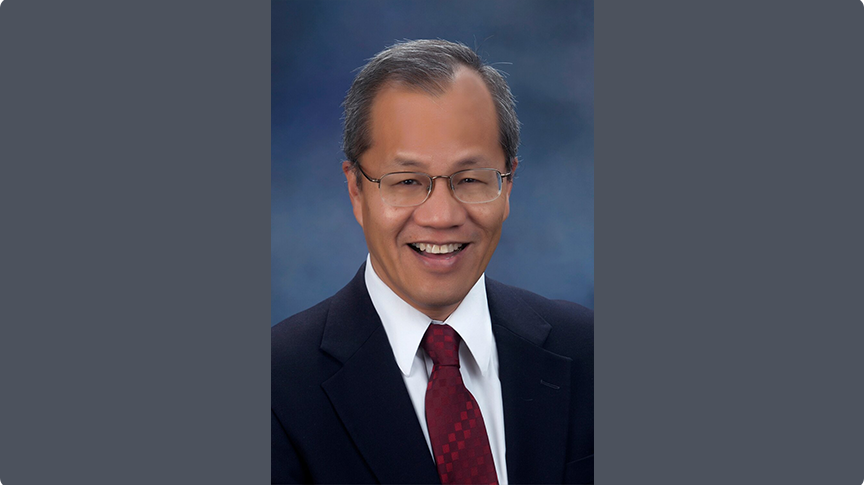 By Hillary Angel - May 4, 2023
The American College of Physicians (ACP), the largest medical specialty organization in the United States, recognized Lawrence Loo, MD, MACP, with the Jane F. Desforges Distinguished Teacher Award at its annual conference last week in San Diego.
Established by ACP's Board of Regents in 1968, the award is bestowed upon a recipient of a Mastership at the American College of Physicians (MACP) who has shown qualities of a great teacher as judged by the acclaim and accomplishments of former students who have been inspired and have achieved positions of leadership in the field of medical education, primarily as teachers.
Dr. Loo is the first Loma Linda University School of Medicine faculty member to receive this award. He joins 63 icons of American medical education including Tinsley Harrison J Willis Hurst, Robert Petersdorf, Faith Fitzgerald, and others. 
"I feel enormously privileged and honored to be a recipient of this award. I have learned from and admired many of the past award recipients that are extraordinary individuals in medicine," said Dr. Lawrence Loo.
Dr. Loo is an active ACP member, a "Master" of the ACP.  Dr. Loo was Governor of ACP California Region 2 from 2004 to 2008 and received a Mastership from the ACP (MACP) in 2015. 
Dr. Loo is a graduate of the University of California San Diego School of Medicine and came to Loma Linda in 1981 as an internal medicine resident. He developed his clinical career in the and refined his skills and pedigree as an educator within the Loma Linda University Health system.
He has served multiple administrative and academic medicine roles and currently serves as vice chair, education and faculty development, professor of medical education and emeritus professor of medicine.
Dr. Loo has contributed over 60-peer-reviewed publications in journals including the Annals of Internal Medicine, New England Journal of Medicine, Academic Medicine, and Journal of Graduate Medical Education.  He and collaborators regularly present their work at national meetings.
He is a five-time recipient of Loma Linda University Medical Student Faculty Recognition Awards, an eight-time recipient of "Resident Teacher of the Year," and named "Master Teacher" by the School of Medicine. Other Loma Linda University awards includes Teacher of the Year Award, Distinguished Academic Service Award, and Kinzer-Rice Award.  In addition, Dr. Loo was recently selected as the recipient of Chauncy and Lenna Smith Endowed Chair for Medical Research. 
Please join us in congratulating Dr. Loo for his outstanding accomplishments.