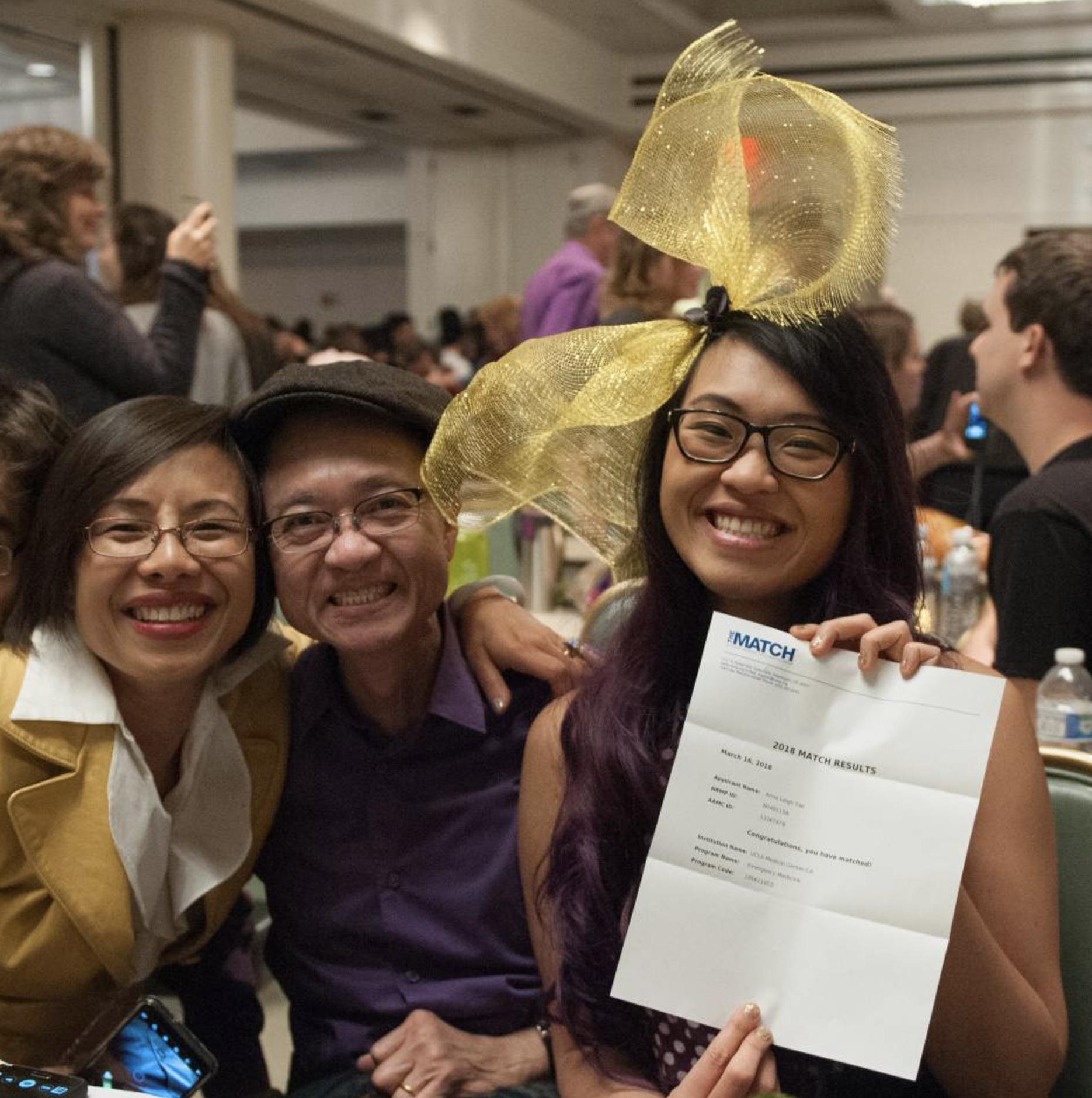 By khwang - March 19, 2018
By Genesis Gonzalez, LLUH News
The day medical students dream about has finally arrived — Match Day. Eager fourth-year medical students at Loma Linda University (LLU) School of Medicine and across the country have just learned where they will be spending the next few years of their careers. This pivotal moment has been much anticipated for fourth-year medical student Anna Yap.
"I'm nervous where life will take me, but Loma Linda University has prepared me for this day and this moment," Yap said.
Match Day is a national day recognized by more than 150 medical schools in the U.S. It is held every year on the third Friday in March, in which fourth-year medical students receive their match for a residency program. Yap and her fellow fourth-year students at LLU School of Medicine gathered this morning on campus in the Wong Kerlee International Conference Center to learn where they would match.
According to Kevin Codorniz, MD, assistant dean of clinical education, students at LLU School of Medicine competed for a residency program with 37,000 other students across the country. He shared with students and their families that 60 percent of LLU medical students will remain in California and another 34 percent will work as a resident at Loma Linda University Health.
Over the last few months, Yap interviewed for an emergency medicine residency with various institutions — many of them based in California — including UCLA Harbor, USC Los Angeles County, University of California San Francisco and Stanford. "I'm a California girl born in Fontana and grew up in Loma Linda," said Yap. "I'm incredibly thankful to have had the opportunity to attend LLU School of Medicine and spend as much time with parents."
Yap's father works as a physician assistant and her mother a nurse. Both of her parents are first generation Americans. Her mother received a visa to come to the United States from Malaysia to attend Loma Linda University School of Nursing. Growing up in a healthcare household heavily influenced her decision to pursue a career as a physician.  
"I have fond memories of my dad taking care of patients and holding their hands during difficult times," Yap said. Though healthcare always fascinated her, she pursued both music and integrative biology at UC Berkeley. But, Yap wasn't one to limit herself. She served as a marketing director following her undergraduate degree and worked in the nonprofit sector.  
Ultimately, Yap realized she had a strong passion for helping others and serving as a voice for those who often are underserved with healthcare.  
"I went to medical school to help disadvantaged populations," Yap said. "I saw how important health policy is in shaping their environment and health."
During her first year of medical school, Yap became a representative for the American Medical Association and California Medical Association. She has sat on numerous councils and written over 30 resolutions, including a recent one on patient spirituality in medicine.
Most recently, she met with the policy chief for Nancy Pelosi, minority leader of the United States House of Representatives. It was during this meeting that Yap brought to light the ongoing interests that are top-of-mind for many medical students, including support for Deferred Action for Childhood Arrivals and the Public Service Loan Forgiveness program.
"As medical students, we've committed our lives and youth to medicine," Yap said. "Too many students are left with $250,000 or more in student loan debt."
Yap advocates that there is a strong need for more residency programs in California to meet the growing need of graduating students. She says more physicians tend to practice within 50 miles of their residency program.
Yap is proud to serve as vice president of her graduating class and enjoyed the time spent making this Match Day one-of-a-kind for her fellow classmates. This included, Codorniz, assistant dean of clinical education dressing up like the movie character Willy Wonka and sharing personalized chocolate bars. In fact, six lucky students had the chance to win a golden ticket for a special prize.
After the introductions and morning breakfast concluded, the time for envelopes finally arrived.  
And the envelope read…
"UCLA," Yap exclaimed. "My parents couldn't be happier, this was my first pick."
The crowd of students, parents and families erupted in screams of jubilation for all the countless hours of studying and hard work that have led to this moment. Families and friends hugged one another and took many photos to remember the special day.
She will begin her residency in mid-June. Yap said she plans to continue her passion for healthcare advocacy.
"This moment feels great and I'm so excited to beginning the next step in my career," Yap said. "I'm looking forward to working with a new group of residents."
To see full coverage of Match Day 2018, click here.