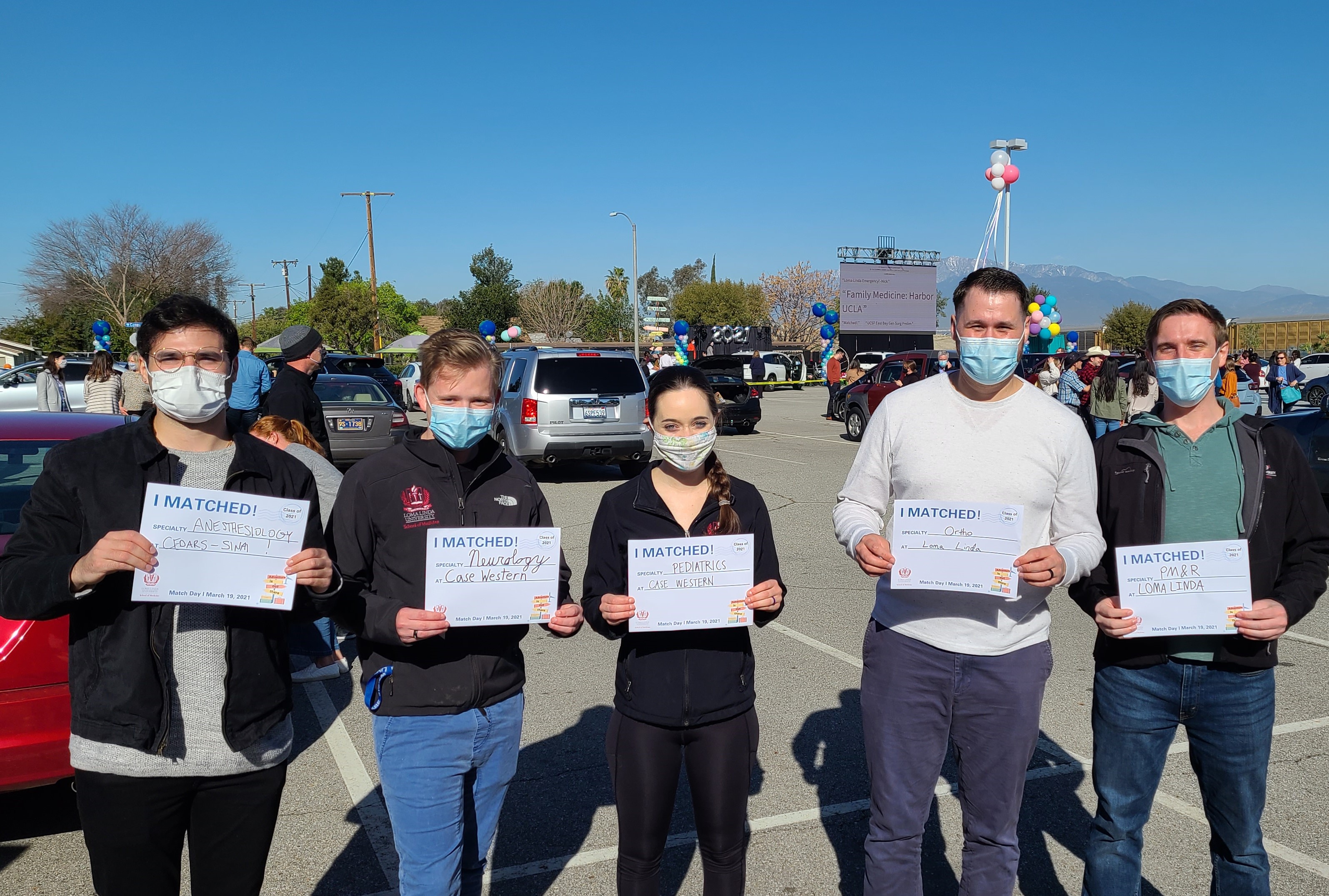 By Hillary Angel - March 19, 2021
Earlier today, fourth-year medical students at Loma Linda University School of Medicine and across the country just learned where they will start their residency training after graduation.
Students from Loma Linda University School of Medicine's class of 2021 will start their residencies at numerous programs across the nation including Massachusetts General Hospital, Johns Hopkins Hospital, Mayo Clinic Rochester, Vanderbilt University, University of San Diego, University of Pittsburgh Medical Center, and University of Washington to name a few.
In compliance with guidelines from the CDC, Loma Linda University School of Medicine fourth-year students had to celebrate Match Day a little bit differently. 
A special drive-in celebration was held in a large parking lot at the Centennial Complex on Loma Linda University campus. The theme was "Adventure is out there" with travel-inspired décor including school deans dressed up in pilot costumes.
Students remained in their own vehicle and tuned into a FM radio station to listen to the program on stage. They also logged into Zoom to connect virtually with fellow students, which was also streamed on the giant screen.
Normally, students would be opening envelopes to read letters from the National Resident Match Program. This year, students eagerly watched their emails in their vehicles to be notified of their match.  Right at 9 a.m., you could see cars rocking with excitement, horns honking and cheers of joy as they learned where they would be spending their next few years training to become surgeons, pediatricians or physicians in other specialties. 
At Loma Linda University School of Medicine, students are supported and encouraged along their journeys, as each one seeks to find his or her best match. The future physicians competed for a residency program with 42,000 other students across the country. Kevin Codorniz, MD, ('05) associate dean of clinic education, shared with students and their families that 57% percent of LLU medical students will remain in California and another 33% will work as a resident at Loma Linda University Health. 
Watch the livestream of Match Day on the School of Medicine's Facebook page.