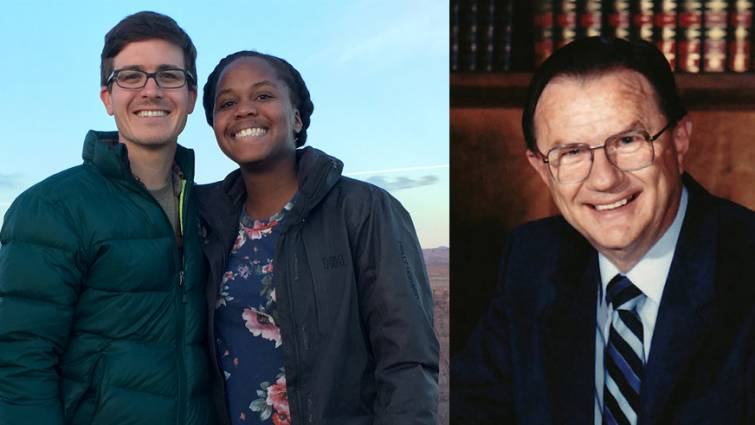 By khwang - January 7, 2019
Landon Sayler, the first student to receive the Arthur Graham Maxwell Scholarship for Excellence in the Study of Religion, remembers being inspired by the ideas of the late Seventh-day Adventist theological statesman before he even knew Maxwell's name.
Maxwell was a professor of New Testament at Loma Linda University for 27 years, among many notable contributions to the church, and is widely known for his writings and teachings on the foundationally loving and trustworthy nature of God. 
As a professor, Maxwell had a passion for educating the future medical professionals studying at Loma Linda University to also have a greater understanding of the Bible and theology.
As the first recipient of the Maxwell Scholarship, Sayler had the same dream for himself. 
"When I applied to the School of Medicine at Loma Linda University, I had dreams of someday in the future pursuing further training in religion, but it was always a distant dream," he said. "Now the opportunity is directly before me and being offered freely."  
Medicine will be Sayler's second career. The native of Canada holds a master's degree in education and taught high school science for seven years, as well as a year of university-level teaching. He also served in lay ministry at a church plant and a health food store aimed to reach a young, non-religious community in Canada. 
Sayler found himself wishing he was equipped to do even more to help people physically, mentally and spiritually. So he sought God's guidance and felt led to apply for medical school at Loma Linda University. 
Loma Linda University School of Religion offers two master's programs that can be taken by students of other LLU schools in a dual degree or enrollment arrangement. One is the Master of Arts in Bioethics. 
The other, which Sayler is pursuing in the 2018-2019 school year, is a recently revamped program called the Master of Arts in Religion and Society. Along with him, two other medical students will spend the upcoming academic year in the program.
The Master of Arts in Religion and Society is designed for those seeking to serve the church and world in the 21st century in a variety of capacities. It is ideal for individuals seeking deeper biblical, theological and philosophical insight — along with spiritual growth, practical competency and cultural literacy — in the context of a range of vocational settings. Healthcare is one of those settings.
Many faculty members in the School of Religion were strongly influenced by the teachings of Maxwell. 
Born in 1921 in Watford, England, Maxwell taught at Pacific Union College in Northern California's Napa Valley from 1944 to 1961. He then taught at Loma Linda University for the next 27 years, serving as director of the Division of Religion for 15 of those years. In 1988, he retired as emeritus professor of New Testament. Maxwell died in 2010 at the age of 89.
Jon Paulien, PhD, dean, notes that the school has a passion to maintain the legacies of influential religion and ethics scholars in Loma Linda University's earlier days who helped establish what became the School of Religion. He said, "The Maxwell family allowed us to use his name and generously helped us establish this scholarship endowment."
Paulien continued, "It is exciting, through this scholarship, to encourage medical and dental students to focus seriously on religion here — maybe to create a new generation of Graham Maxwells." 
For Sayler's part, moving to Loma Linda introduced him to the name Maxwell when he and his wife, Andrea, began attending the Pine Knoll Sabbath School in nearby Redlands, a ministry that was started many years ago by Maxwell.
There, Landon and Andrea Sayler realized that ideas they cherished about the simplicity of God's love had been introduced to them by individuals likely influenced by Maxwell's teachings. 
The Maxwell Scholarship comes with a $10,000 gift that will help the Saylers afford the living expenses they have incurred after giving up their jobs and moving from Canada to California.
As part of the award, Sayler also received a collection of Maxwell's books and audio recordings.  
Asked how he would articulate the core of Maxwell's teachings, Sayler said, "The God of Scripture is on the pursuit to reveal himself as a loving God to humanity, and you can see that woven through the entirety of the Bible.
"His message is absolutely still needed today," Sayler said.   
To learn more about religious education at Loma Linda University, visit the School of Religion webpage.