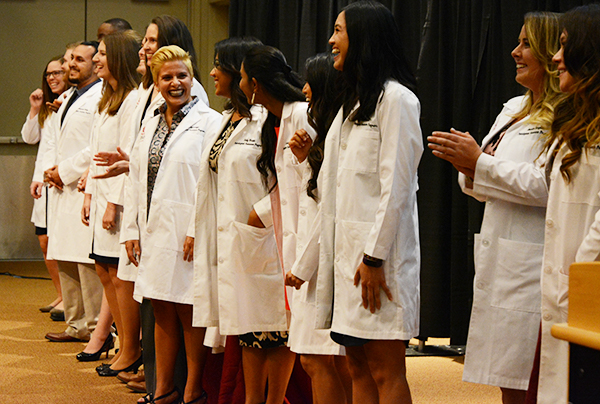 By holson - August 31, 2017
In front of friends and family, 16 students from the Loma Linda University School of Medicine Pathologists' Assistant program received their white coats on Thursday, August 31.  This event marks the beginning of their clinical training and the final year of schooling on their path to receive a Master of Health Science in Pathologists' Assistant.
These students will become the second Pathologists' Assistant class to graduate from LLUSM, helping to fill a need felt by hospitals around the country. The program was established in 2015 as the Medical Center began seeking qualified personnel within the field and the need for a pipeline became clear. 
"Building this program to help fill a high-demand field is something that benefits the students as well as LLU," said Paul Herrmann, MD, Ph.D., chair of the Department of Pathology and Human Anatomy. "I'm particularly proud that Loma Linda can be at the western forefront of this field."
There are 11 Pathologists' Assistant training programs in the U.S. The LLUSM program is the only one on the West Coast.
Pathologists' Assistants aid pathologists in preparing and processing tissue for diagnosis. They are a critical part of an accurate diagnosis.
 "I'm proud to have Loma Linda involved because of the service ethic that is impressed upon our students. This ethic is paramount for proper diagnosis," Herrmann added. "I am certain our students will bring an unparalleled level of technical prowess and integrity to the field."
Program director Cheryl Germain, MHS, P.A. (ASCP), said she was confident the program would become one of the best in the nation.  "This year's class, in particular, showed their commitment to the profession and to one another by lifting each other up and working cohesively," Germain said.
"You are not only representing yourself. You are representing Loma Linda," Germain told the Class of 2018 Thursday. "Our national reputation is growing, I'm glad to say, and it will be through your hard work that it continues to grow."
The program is currently in "Serious Applicant" status (allowing students to take the national ASCP certification exam), with full accreditation expected in early 2018. Clinical Coordinator Michael Weitzeil, MHS, P.A. (ASCP), said the students put their faith in the program and it is through their dedication that it has swiftly become an up-and-coming school.
"The sacrifice that each of them has made is difficult to quantify, but I can attest that each of them has earned their place here," Weitzeil said. "They've earned the white coat and all it represents."