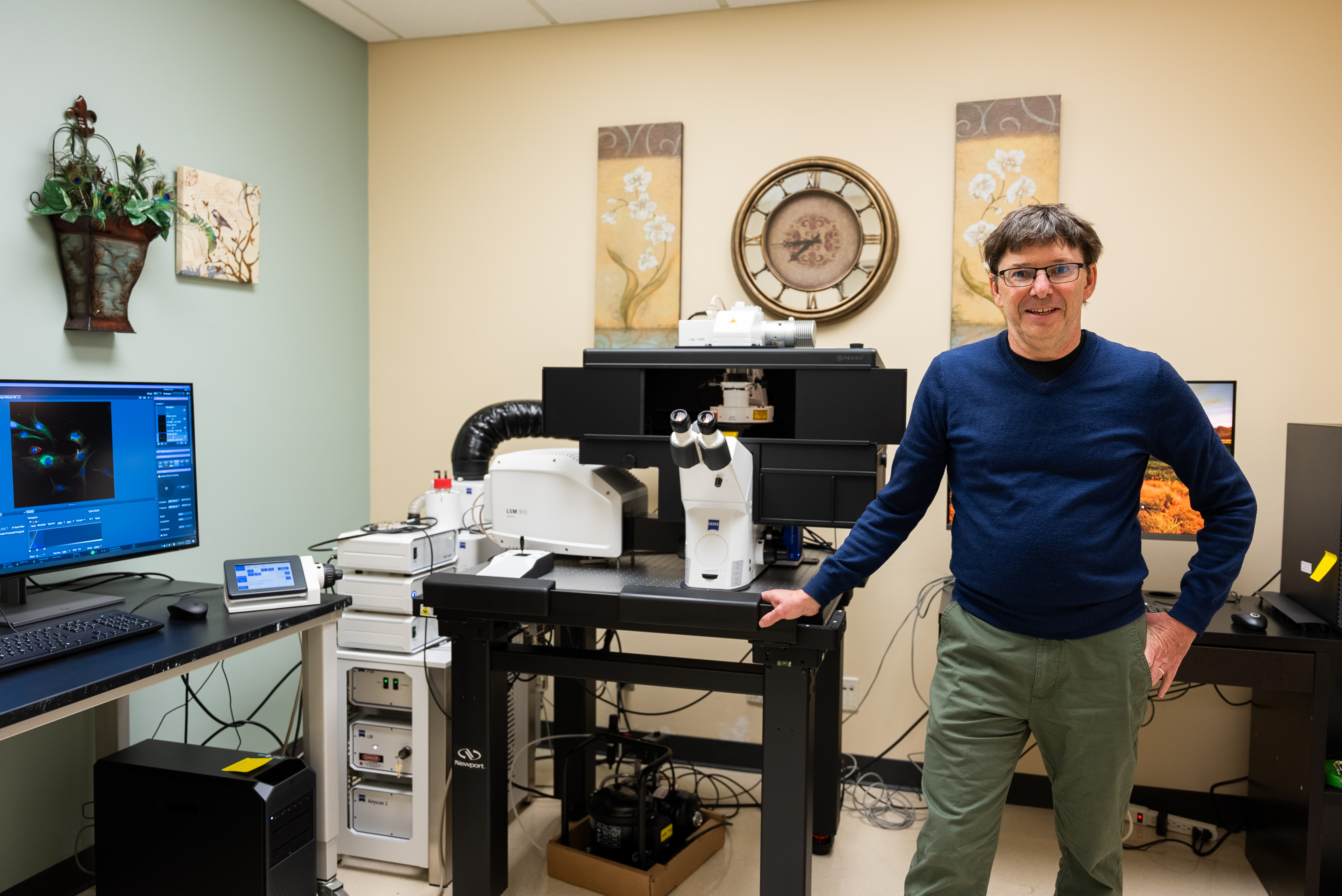 By Hillary Angel - November 10, 2023
Loma Linda University School of Medicine is proud to announce a major advancement in its research capabilities with the addition of a new super-resolution microscope at the Advanced Imaging and Microscopy (AIM) Core Facility. This acquisition, made possible through an NIH equipment grant, equips researchers with a Zeiss LSM 900 laser scanning confocal microscope with super-resolution capabilities.  The advanced microscope is available to campus researchers to perform histochemical analyses and real-time imaging of cells and tissues.
The new confocal microscope is housed in the existing AIM facility, providing continued contemporary instrumentation for this highly used shared-use imaging core. Researchers can use the system to localize various proteins and cells using fluorescent labeling approaches, and to examine the activity of living cells and tissues.  It will also support an array of different research programs on campus ranging from cardiovascular physiology, pregnancy, development, neurobiology, neuroendocrinology, cancer biology, radiation medicine, regenerative medicine, and health disparities.  Many of these projects share a common interest in measuring the spatial apposition between cells, changes in protein expression, localization of proteins within cells, and spatial and temporal sequences involved with cell signaling.
The system will enable researchers and trainees to continue their studies, including cell signaling, in-situ hybridization, protein expression and localization, cell and tissue morphology, interactions between molecules and proteins, spatial reconstruction, spatial-temporal relationships, and subcellular transport. 
The AIM Core Facility is directed by Sean Wilson, PhD and Steven Yellon, PhD, alongside facility manager Eris Albert-Minckler. The purchase of the Zeiss 900 LSM for the Advanced Imaging and Microscopy Core Facility in the School of Medicine was made possible due to the support of NIH S10OD034427. For those interested in learning more about microscope's capabilities, the facility directors and manager can be reached at microscopy@llu.edu.