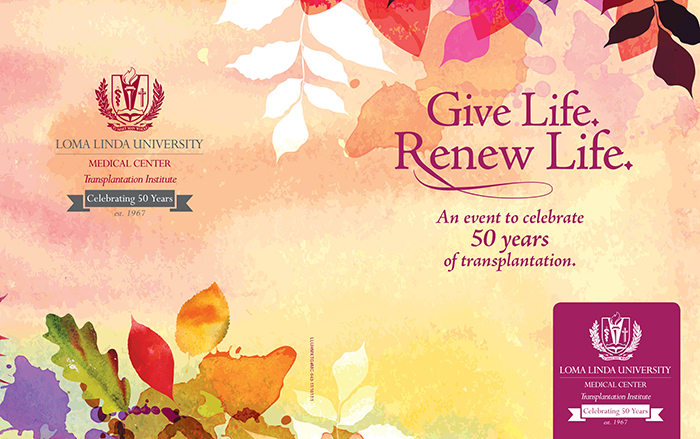 By khwang - November 30, 2017
By Larry Kidder
Half a century ago, Louis Smith, MD, performed the first kidney transplant in the "hospital on the hill"—now Nichol Hall. On Sunday, Nov. 19, his daughter, Patti Smith-Catalano, accepted a bouquet of flowers in her father's memory during a banquet celebrating 50 years of transplantation at Loma Linda University Health.
Close to 250 people attended the Transplantation Institute's 50th anniversary banquet, including patients, transplant employees, administrators, transplant surgeons and family members.
Following the meal, guests listened to presentations by Kerry Heinrich, JD, president and CEO of Loma Linda University Medical Center, who shared updates for the new hospital towers; Roger Hadley, MD, dean of the School of Medicine, who spoke about the history of transplantation and honored Patti Smith-Catalano; and Leonard Bailey, MD, surgeon in chief of pediatric transplant surgery, who reminisced about Baby Fae's historic baboon heart transplant and shared stories about the infant and pediatric heart transplants since.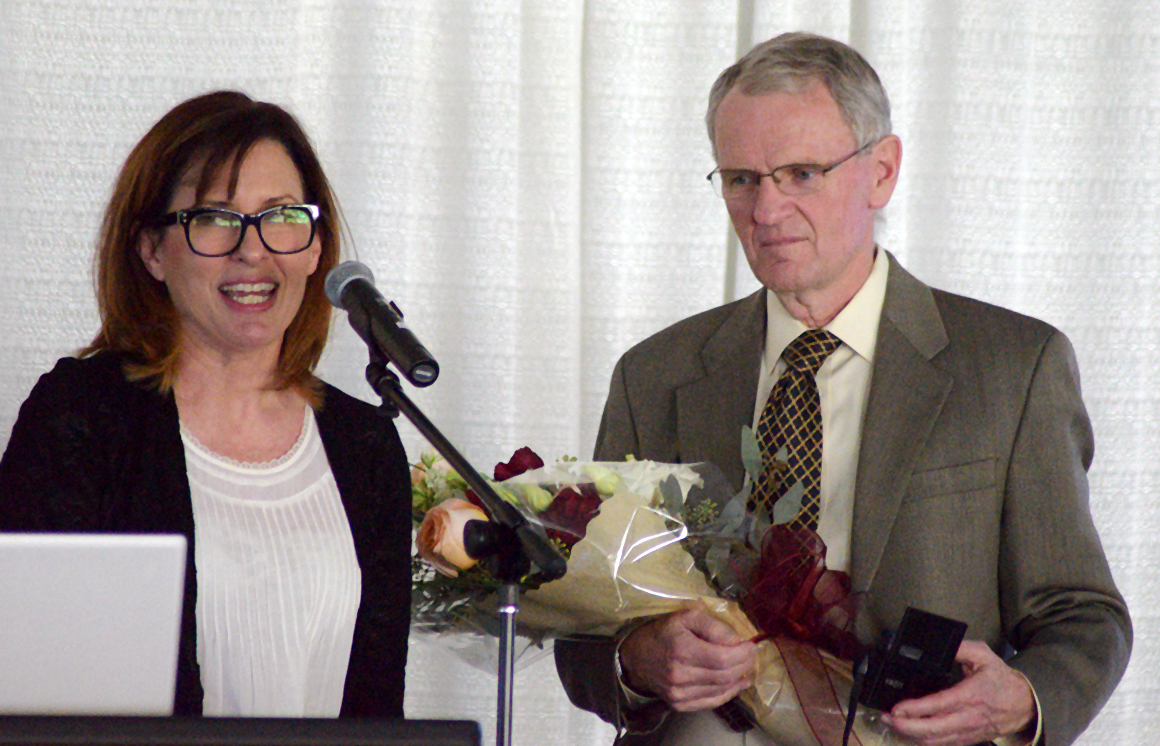 Eddie Anguiano, the second infant to receive a heart transplant by Bailey, is now in his mid-30s—thanks to the discovery of cyclosporin—and holds the distinction of being the longest surviving heart recipient in the world.
Nicknamed Baby Moses to protect his identity, Anguiano now lives and works in the Las Vegas area. His original transplanted heart is still working well. Every so often, Anguiano returns to Loma Linda to visit Bailey and other transplant employees who helped save his life.
Baby Eve became one of "Bailey's transplant kids" in 1986. Now 32, she is married, and has a 5-year-old son and 3-year-old twins.
The keynote address was given by Kenneth Moritsugu, MD, acting U.S. Surgeon General in 2002 and 2006-2007. Moritsugu spoke about the losses of his wife and daughter in two separate tragic accidents. Earlier conversations with both of them led to organ donations that impacted multiple individuals for each. To know that the generosity of both his wife and daughter blessed the lives of so many provided comfort, Moritsugu told attendees.
Patient testimonial stories were shared by kidney donor Lindsay Oneal and liver recipient Claudia Ramos.
In 1967, Smith's first solid organ transplant of a kidney into a 38-year-old man suffering kidney failure, severe hypertension, and generalized seizures, ushered in a new era for Loma Linda University Health.
Cornea transplant followed in 1977, then heart transplantation in 1984 with Baby Fae and in 1985 with Baby Moses—the first infant-to-infant recipient. To date, close to 600 infant and pediatric heart transplants have been performed, with one of the highest long-term success rates in the world.
Liver transplantation commenced in 1993, kidney/pancreas combinations also in 1993, and both bone marrow and stem-cell transplantation in 1999. Multiple organ transplants have become far more common. Diabetic patients with kidney failure have received both a kidney and pancreas, removing their need for both dialysis and insulin. Other combined organ transplant surgeries have saved the lives of individuals who were days or even hours away from death.
Michael de Vera, MD, director of the Transplant Institute, wrapped up the 50th anniversary event, thanking those who continue to play important roles as members of both the pre- and post-transplant teams, as well as the patients and families for putting their faith in Loma Linda University Health.