Department of Plastic Surgery
(909) 558-5500
Lend your hand to the many hands that are essential to help these children lead normal lives.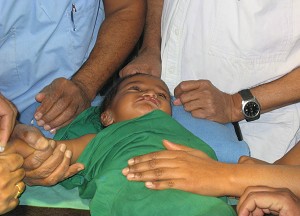 The Department of Plastic Surgery enthusiastically upholds the humanitarian ambition of Loma Linda University "to make man whole," and Operation Good Samaritan tangibly supports this commitment. All who participate in the program's mission trips contribute their services, but there are still significant costs to provide medical and surgical supplies, to transport the team, and to provide housing.
We welcome you to our team. The "ripple effect" of your contributions will be far-reaching.
Gift choices
Support for Operation Good Samaritan can be given in many ways. The greatest need is for gifts of cash for direct support of the program. Gifts of appreciated stocks, property, and real estate also help to ensure continuation of Operation Good Samaritan far into the future. All gifts are tax deductible.
To extend a helping hand, please print the attached response form and mail to:
Operation Good Samaritan
Loma Linda University
Department of Plastic Surgery
11175 Campus Street, Suite 21126
Loma Linda, CA 92350
(909) 558-8085