Areas of Interest
In the Zhang Neuroscience Research Laboratories, we are currently pursuing many areas of research with the primary focus on cerebral vascular diseases (stroke). There are about 795,000 people suffering from stroke each year in the United States. Stroke is the third leading cause of death (130,000 patients per year) and the leading cause of long-term neurological disability in adults. Cerebral vascular diseases can be divided into two groups: hemorrhagic (responsible for <20% of cerebral vascular diseases) and ischemic (responsible for >80%). Due to the different pathogenesis of each type, different treatment strategies are applied. Direct medical expenses, lost income, and decreased productivity after cerebral vascular diseases cost billions of dollars in the United States.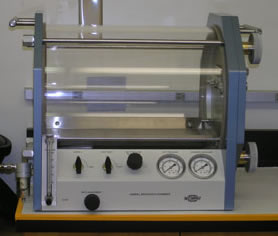 Several stroke animal models are currently being pursued and are outlined below. 
DoD Supported Glioma Studies
The Zhang Neuroscience Research Lab was awarded a Department of Defense (DoD) grant to explore treatment strategies for glioblastoma multiforme with engineered human stem cells produced by the Neuralstem, INC, in 2011.Glioblastoma multiforme has a poor prognosis and is extremely difficult to treat. 
Subarachnoid Hemorrhage and Cerebral Vasospasm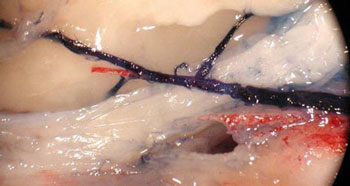 Photo of SAH rat model
We use an established double hemorrhage model to study the signaling pathways and apoptosis in cerebral vasospasm after subarachnoid hemorrhage. In the same animal model, we test gene therapy by using adenovirus as the vector. In addition, we use a blood injection model to evaluate early phases of cerebral vasospasm and its related brain injury. These studies are currently supported by a grant from NIH.
We use an endovascular puncture model to study the signaling pathways in "early brain injury" after subarachnoid hemorrhage and explore anti-apoptotic, neurovascular protection, and hyperbaric therapeutic strategies. These studies are being conducted in close collaboration with Dr. Obenaus from radiation biology and non-invasive imaging on animal MRI, with Dr. Hartman from psychology on neurobehavioral testing, and with Dr. Tang from physiology on molecular biology. Dr. Zhang was awarded a new NIH grant to study early brain injury.
Neonatal Hypoxia-Ischemia
We use an established animal model of neonatal hypoxia/ischemia and test the effect of neuroprotective agents and hyperbaric oxygen treatment. Neuroregeneration, apoptosis, and neurological evaluations are investigated. Collaborative efforts are made with Dr. Hartman on neurobehavioral testing studies. One NIH grant is currently supporting the above mentioned hyperbaric oxygen studies.
Role of erythropoietin and GCSF in brain protection in neonatal hypoxia is under investigation. These studies are supported by NIH and part of the experiments are in collaboration with the Tang Laboratory.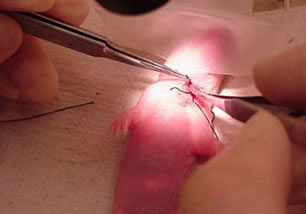 Photo of Neonatal Hypoxia-Ischemia Model
Cerebral Ischemia
We use an established suture focal cerebral ischemia model and evaluate the mechanism of neuroprotection and regeneration as well as hyperbaric oxygen treatment. This study is supported by NIH.
In addition, we use an established 2VO and hypotension global cerebral ischemia model and test the therapeutic effect of G-CSF and its molecular mechanisms. Furthermore, we developed a new 4VO model, which is a one-stage operation, and we use this new model to study preconditioning effect of HBO. More grant supports are being pursued for these projects.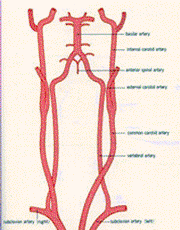 Schematic of four arteries


Cerebral blood flow after 4VO
Intracerebral Hemorrhage
We use two established animal models of ICH: blood injection and collagenase injection and test neuroprotective effect of agents. In addition, we use this same modeling in transgenic mice and studying the genetic regulation of brain edema, blood-brain barrier permeability, intracranial pressure, and cerebral blood flow. We collaborate with the Tang laboratory, which is a NIH supported laboratory.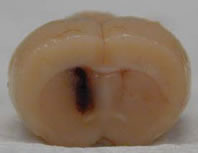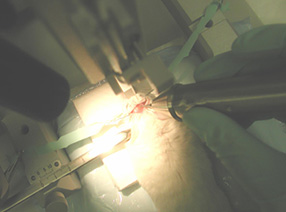 Photos of ICH surgery and hemorrhage
Surgery-Lobotomy Brain Injury Model
We developed a new surgically-induced brain injury model in rats and in mice to mimic surgery-induced brain injury. Neuroprotective agents are being tested. Funding will be pursued.


Brain infarction after MCAO
Research Training
Dr. Zhang's Clinical Neuroscience Laboratories are actively recruiting graduate students who are motivated in clinical neuroscience research for master's and PhD degrees. Since research directions and interests cover animal surgery, physiology and pharmacology, molecular biology, anatomic morphology, neuro-imaging, and neurological functions, students with different backgrounds are encouraged to apply.
In addition, Dr. Zhang's research program is recruiting international fellows with MD or PhD degrees to pursue postdoctoral training in clinical neuroscience research. The goal of the research program is to establish a multiple directional research stage for interactions among young researchers.
Furthermore, neurosurgery and anesthesiology residents and fellows as well as residents from other clinical departments are encouraged to participate in the basic or clinical research training.
Collaborators
Our lab is very proud to collaborate with a large and diverse group of capable researchers.