Four years. 37,000 medical students nationwide. Hundreds of thousands of hours studying and engaging with patients. Countless dreams.
For medical students at Loma Linda University School of Medicine, Match Day is the moment when their lofty aspirations solidify into reality. They will begin their careers as resident physicians in hospitals from Maine to Texas to Florida to right here at home, concentrating in two dozen specialties. In 2018, 146 students matched to top programs of their choice.
As our graduates begin to leave footprints around the world, we are proud of their achievements and confident that they are prepared to deliver whole person care to patients in need.
Quick Facts
48%
Matched to primary care programs
34%
Matched to Loma Linda University Health
60%
Matched to California programs
I'm nervous where life will take me, but Loma Linda University has prepared me for this day and this moment.

Anna Yap, Class of 2018
Relive the excitement of #MatchDay2018 as LLU School of Medicine students discovered where they will complete their residency training.
Watch Video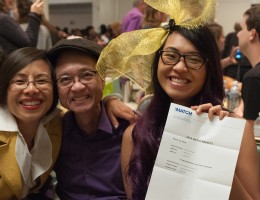 From medical student to resident, fourth-year Anna Yap celebrates Match Day 2018
Read story
What Our Faculty is Saying
Match day is the culmination of years of making connections with colleagues and patients, working incredibly hard to achieve goals and being sustained by the power of God and love of friends and family. Wherever your next stage in this journey is taking you, we hope you will have roots that stay in Loma Linda. We are so proud of each of you, and pray for your happiness and success.