The CSEC provides a variety of learning and assessment activities that promote and evaluate clinical skills development. Students participate in a number of small group activities and Objective Structured Clinical Exams (OSCEs) utilizing standardized patients (SPs) and other simulation modalities. Standardized patients are trained to present the medical history, simulate physical examination findings and portray emotions just like the "real" patient upon whom their case was based. Simulated encounters provide a safe realistic learning environment for learners.
Required Medical Equipment for Medical Students
The Clinical Skills Development course director and faculty have worked with WelchAllyn to provide a package of medical equipment to each student upon enrollment in the course.  The package will be available for pick-up from the Barnes and Noble Campus Store shortly after orientation. The required equipment includes the following:
WelchAllyn #97200-MCL Coaxial Ophthalmoscope, MacroView Otoscope with Throat Illuminator, and Rechargeable NiCad Handle with Hard Case

Tycos Harvey DLX Stethoscope

WelchAllyn Family Practice Blood Pressure Ki
Ultrasound Curriculum
An ultrasound curriculum has been implemented in all four years of medical school. Hands-on ultrasound experience is integrated with the Clinical Skills curriculum, allowing students to associate a visual image with what they are hearing and feeling on physical exam. For example, after students learn to listen to heart sounds using the stethoscope during their cardiac lab, they then use the ultrasound to directly view the heart to assess the ventricles, atria, valves, and cardiac function. An Ultrasound Special Interest Group (USIG) has been formed, with students from all four years participating.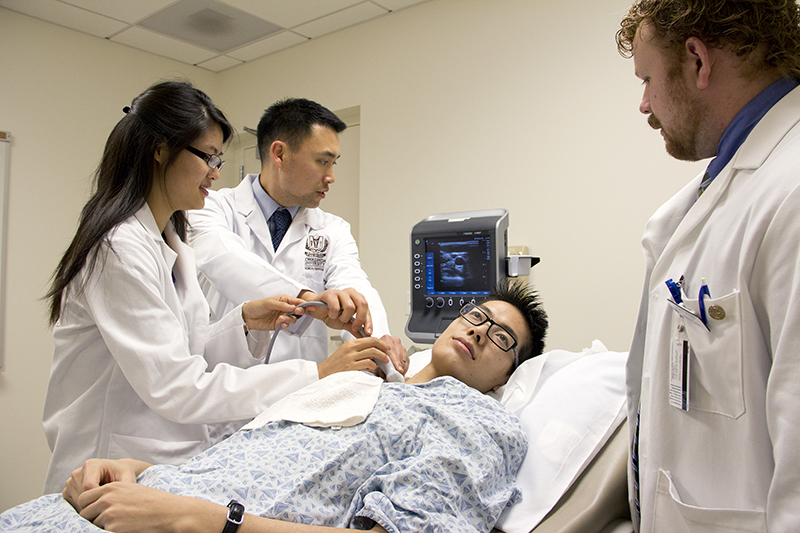 First Year Clinical Skills Development Lab Activities:
Small group, hands-on physical examination and interviewing practice sessions with faculty facilitators
Correlation of physical examination with basic ultrasound
Cardiac auscultation labs utilizing simulated and real heart sounds via infrared system
Harvey simulator cardiac learning modules
OSCE focusing on communication and focused physical exam skills
Six weeks rotation on hospital wards
Second Year Pathophysiology and Applied Physical Diagnosis Lab Activities
Complete physical exam skills evaluated by faculty
Gynecologic and breast exam lab with gynecology teaching associates (GTAs)
Integrative OSCEs assessing clinical skills, promoting clinical reasoning and incorporating basic science concepts into the clinical encounter
Outpatient clinical experience
Clerkship OSCEs and Labs
OSCEs using standardized patients (SPs) at the end of each of the third-year clerkships
Mid-year Clinical Skills Assessment utilizing standardized patient encounters with immediate peer, faculty and self-evaluation
OB/GYN Skills lab utilizing SPs, breast and pelvic manikins, and Noelle, a labor and delivery manikin
Interprofessional Critical Event Workshop utilizing SPs and mannikins simulating trauma victims, as well as other simulations addressing critical event safety principles, management and teamwork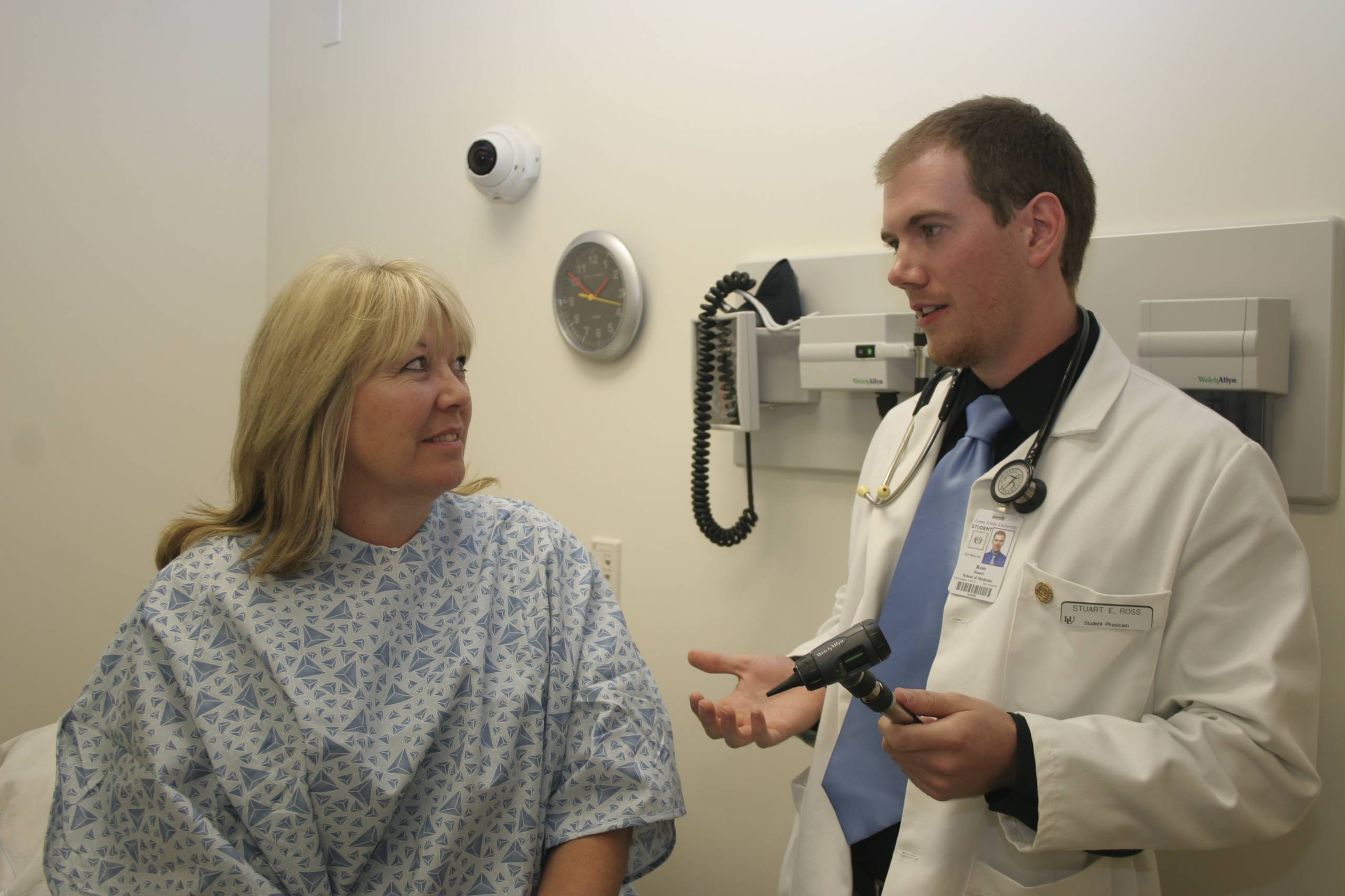 Senior Clinical Performance Exam (CPX)
8-station clinical skills exam utilizing standardized patients portraying real patient scenarios, developed by the California Consortium for the Assessment of Clinical Competence (exam developed by faculty and given to medical students at all California medical schools)
CPX assesses interviewing, physical examination, counseling, patient-physician interaction and patient management skills
Senior Electives
Physical Diagnosis (PDX) Elective - Students spend one month advancing their clinical skills through a variety of experiences – outpatient clinic with a preceptor, workshops by CSEC faculty, standardized patient encounters with feedback from SP and faculty.
Pathophysiology and Applied PDX Elective – Students spend 2-4 weeks reviewing pathophysiology by attending Pathophysiology lectures, tutoring students, referencing evidence-based literature, developing exam questions and assisting with first and second year lab experiences in the CSEC.