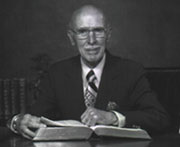 Walter E. Macpherson, MD
Walter E. Macpherson, MD, 1899-1996
Graduated from the College of Medical Evangelists, 1924.
Served the School of Medicine CME/LLU as instructor 1926-36, professor, dean, 1954-62, and president, 1942-48 and 1951-54.
Walter E. Macpherson Society
Founding
Founded in 1963, the Walter E. Macpherson Society was the dream of Drs. Harriman F. Jones '37, Louis L. Smith '49, Leland R. House '34, and Roger W.Barnes '23. These four doctors organized and promoted the new Society within the Alumni Association.
Name
Dr. Macpherson's name was chosen for the Society because he epitomized the ideal of a dedicated physician in his service to the School of Medicine and his students.
Objectives
To promote the advancement of the undergraduate and graduate teaching programs through financial support to the School of Medicine.  
To foster and strengthen unity and loyalty among the School of Medicine Alumni and friends.
Motto
Promoting excellence in medical education.
Contributions
Student Research Scholarships and preparation for the Western Student Medical Research Forum held in Carmel, California, each spring.  
Curriculum Enhancement Fellowships.  
Co-host of the Senior Awards Banquet.  
Building projects. Contribution to the Macpherson Amphitheater in the Medical Center.  
Macpherson Society Student Learning Center. The WEMS Student Learning Center, the most advanced computer learning center on campus, is one of our most successful projects. Connected to many learning resources and to the Internet with a high speed T1 line, it puts the latest information and learning technology at the disposal of our students. It now contains a faculty work station with scanners, photo and video inputs, a CD "burner" and other hardware and software that allows creation and editing of multimedia learning materials.
The Geneva K. Beatty (SM, '37) testing center was funded in 1999 for use in computerized National Board Examinations.
Professorial chairs. Generous funding to the Walter E. Macpherson Chair in Internal Medicine, the Mortenson Chair in biochemistry, and the Chinnock Chair in pediatrics. These Professorial Chairs provide funds for teaching, thus reducing student tuition.
Faculty grants for fellowships and advanced training.
Equipment needed for special projects. The Walter E. Macpherson Society has allocated over $1,250,000.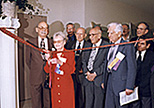 Founding members of the Macpherson Society look on as Geneva K. Beatty (SM, '37) and her husband, Albert Bendelias cut the ribbon at the opening of the Macpherson Society Student Learning Center.
---

This center provides the latest equipment for computer-assisted learning for junior and senior medical students and house staff.